Qmobile mobile Quad series include six smartphones with almost similar specification except with the Noir A500, other phones Noir A950, A900, A700, A600, A20 all have a Quad-core processor with 1GB ram.
| | | | | | | |
| --- | --- | --- | --- | --- | --- | --- |
| Specification | Noir A950 | Noir A900 | Noir A700 | Noir A600 | Noir A20 | Noir A500 |
| Processor | 1.2GHz Quad-core | 1.2GHz Quad-core | 1.2GHz Quad-core | 1.2GHz Quad-core | 1.2GHz Quad-core | 1.2GHz  Quad-core |
| Ram/Rom | 1GB/4GB | 1GB/4GB | 1GB/4GB | 1GB/4GB | 1GB/4GB | 512MB/4GB |
| Display | 4.5" | 4.7" | 5.3" | 5.0" | 4.5" | 4.5" |
| Camera | 8mp | 8mp | 8mp | 8mp | 8mp | 5mp |
| Price in Rs/= | 26500 | 22500 | 22900 | 21000 | 19000 | 16000 |
*Note: All smartphones have front camera, wifi, bluetooth and dual sim support.( 3G is excluded from comparison because there is no 3G service in Pakistan.
So come to the main point people are asking which one to buy from the Qmobile Quad series (above). As you can see in the comparison that all phones have a quad-core processor with 1GB ram except Noir A500 which has a 512 Mb Ram, the only major difference is between the display size and prices.
Noir A950 the most expensive phone in Quad series because

 it has a Super AMOLED LCD Plus touch screen nothing more.
Keep Noir A500 a side, Now come towards the performance. As specifications are same in all  so benchmarks would also be similar but with minor variation because of different display sizes.
A900 Benchmark = 3872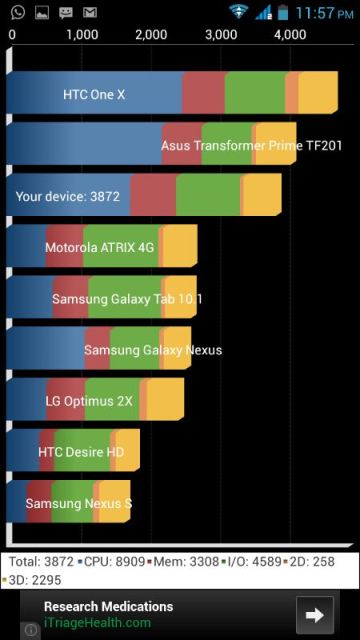 A700 Benchmark = 3968
A20 Benchmark = 3871
Your ads will be inserted here by
Easy Plugin for AdSense.
Please go to the plugin admin page to
Paste your ad code OR
Suppress this ad slot.
Let's have a look on  Noir A500 device, having 512mb ram and still scores 3935 which is impressive.
Conclusion : Noir A500 is good design/benchmark wise so you can go for it, while on the other hand there are five phones left Noir A950, A900, A700, A600 & A20 from these you should go for A900 or A20 as they are better in price and screen size is 4.7″ and 4.5″ are comfortable for handling. Noir A700 comes in phablet category too large in size need big pockets while  A950 too expensive 26500 Rs for a chinese phone instead add few bucks and Go for Sony Xperia SP.
All phones are similar with different screen sizes its upon you whether you like big screens or smaller one's.
Uptill now Qmobile has captured the market share of low & mid range phones and enjoying profits as there is no rivals yet.
comment below which Q smartphone  you like and why ?




Comments

<!-comments-button-->