Pakistan Elections 2013 – Public Awareness Post – I  was not able to find the voters list ( by Name ) on the official ECP site however  I think this information is very useful, The Final electoral  voters stats along with District wise ~ Pakistan Elections 2013.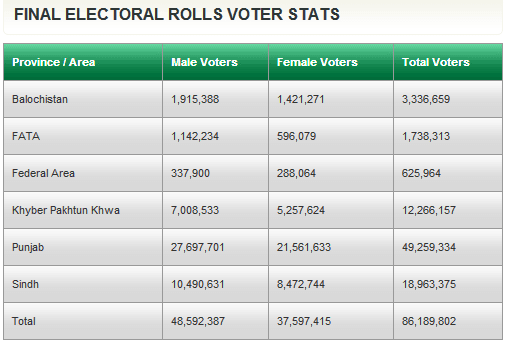 BALOCHISTAN
ISLAMABAD 
PUNJAB
SINDH
Khyber Pakhtunkhwa
FATA


You can also download the PDF file of the Voters Stats  Click here 
Above mentioned Stats are taken from ECP Offical site since the ECP site is having bandwidth issue which usually gets down when many users are on it these days, INCPak is providing the alternate option to view all the information we'll be adding up more information regarding – Pakistan Elections 2013 and you can help us out in sorting and providing us the information by emailing at incpak@gmail.com anytime.Download the Voter handbook in Urdu and English which is useful for all .
INCPak – Elections 2013
Spreading Awareness just we promised !