Google recently undertook a considerable spring cleaning effort in its Play Store, sweeping away nearly 10 percent of the "spammy" apps. Google Play, in recent weeks. App deletions hit a record high in February, with 60,000 apps removed during the course of the month – the largest round of app deletions to date.The news of this massive app removal comes just ahead of the rumored launch of a redesigned version of Google Play (version 4.0), which is expected to arrive soon.
Below is a summary of those findings, indicating which categories were most affected.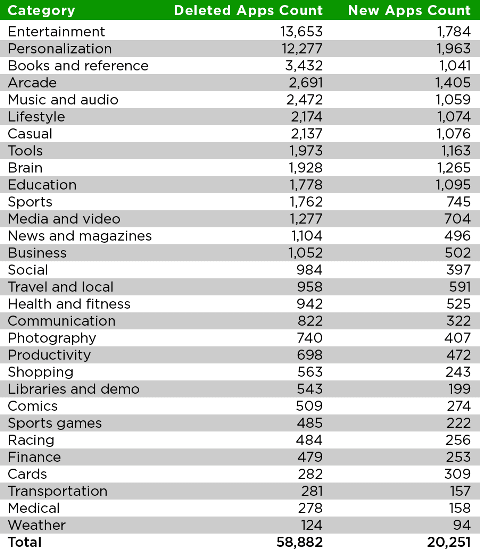 "a company in the mobile app industry" with insight into the process said Google had played a part in the removal of some 60,000 apps since February of this year, TechCrunch reported this week. Some apps are said to have been pulled by publishers themselves, but the scale of the Play Store cleaning suggests that Google itself had a hand in the overall app reduction.Google has deleted applications that were violating its Terms of Service, such as those spreading malware, infringing on others' copyrights, or those with graphic, sexual material.Today's Android users may be more concerned about the quality of the apps that are live and available for download, not the numbers.
Stumble this post
Comments