ISLAMABAD : An audio tape of a telephonic conversation between PTI Chairman Imran Khan and Arif Alvi surfaced Friday in which Khan purportedly appreciated the attack on state-run television in September last year.
"Acha hai, Acha hai….this will put pressure on Nawaz Sharif to resign," Khan responded in the audio when he was told by Alvi that PTV premises was attacked and its transmission has gone off-air.
"You have to put maximum pressure today….," Khan instructed Alvi.
PTI leader Imran Ismail, while talking to Samaa, said that the tape did not prove that the party was behind the attack on PTV.
"We vehemently deny that PTI was directly or indirectly involved in any violent activity,"
Arif Alvi and Imran Khan Conversation leaked.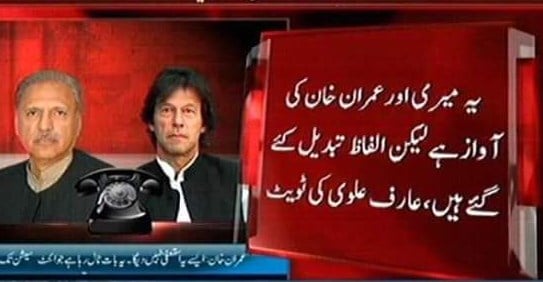 Arif Alvi quits NA committee
Meanwhile, PTI central leader Dr. Arif Alvi announced to quit a National Assembly committee over the phone tape issue.
He expressed doubts that the conversation might be a forgery.
"Even to splice a conversation, 'to mix & match & patch' somebody is recording phone calls without legal authority," Alvi said through his Twitter account.
"I resigned from an NA committee when a huge file of telephone conversations was presented. For suspects too there must be a judicial sanction… Am a stickler for privacy of conversations. I resigned on principle…," he said in his message.
The PTI leader said all political parties, including MQM were contacted to join the anti-government protest that lasted for three months in Islamabad to press Prime Minister Nawaz Sharif to resign.
"We openly requested all parties including MQM at time of Dharna to join us. See talk shows and newspapers to confirm,"