Click Here To Watch Highlights Of Aston villa vs Liverpool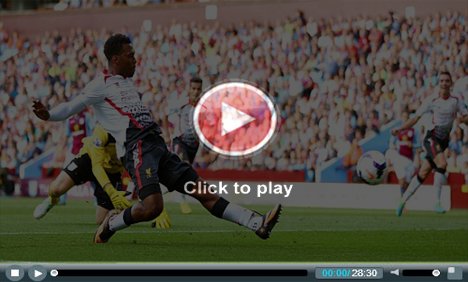 Click Here To Watch Highlights Of Aston villa vs Liverpool
It was The Daniel Sturridge and Simon Mignolet Show for Liverpool once again. Daniel Sturridge teamed with Simon Mignolet to earn Liverpool a win yet, as the Reds downed Aston Villa 1-0 in Birmingham. Sturridge scored the winner for the second consecutive week and Mignolet was massive in goal, leading the way to keep the Reds' perfect start to the season intact.
Philippe Coutinho opened the play up with a wonderful dummy that left Sturridge with the ball on his feet from 15 yards, but the striker had plenty of work left to do from there. He had to elude one defender, which he did. Then he eluded another. Then Brad Guzan closed him down and he had to sidestep him too before finishing from a sharp angle with two men on the line for a terrific goal.
Liverpool dominating the midfield for the rest of the half, overwhelming Aston Villa, but it would be unfair to say they dominated the match. The Reds struggled to create chances and Guzan wasn't called upon with any regularity so while Liverpool never felt threatened, it wasn't as if they were especially good.
Aston Villa played better in the second half and things began to even out. The home side grabbed more of the possession and the chance followed, mostly through Christian Benteke.
The young Villa star's strength was too much for the Liverpool backline to handle and when he quickly turned and fired at goal, it looked like the home side would equalize, but Mignolet made a fine save to deny him. Later on, he found himself free and hit an absolute rocket, but once again Mignolet was there to keep Liverpool in front. A week after saving a penalty to earn the Reds a win, Mignolet once again earned his side a win to make his transfer look like one of the better ones of the summer.
Liverpool had an opportunity to extend their lead in stoppage time when Sturridge got in behind the Aston Villa defense, but Guzan got off his line to knock the ball away just before taking the striker out. The Reds appealed for a penalty and while the referee waved play on, it did not matter. Liverpool were on their way to another win and six points from two matches to start the year.
Aston Villa: Guzan. Luna, Vlaar, Okore, Lowton (El Ahmadi 65′), Westwood (Jensen 83′), Delph, Bacuna, Agbonlahor, Benteke, Weimann (Tonev 73′).
Liverpool: Mignolet. Enrique, Agger, Toure, Johnson, Lucas, Gerrard, Coutinho (Allen 83′), Aspas (Cissokho 69′), Henderson, Sturridge.
Goals: Sturridge 21′