The 3rd match of group A and the 7th match of the ICC Champions Trophy 2013 is of Australia VS New Zealand on 12 June, 2013 at Edgbaston.
Match Starts At:
9:30 AM (GMT)
2:30 PM (PKT)
Team News:
If Vettori is put on ice, New Zealand would likely bring in Colin Munro or Grant Elliott, although Elliott's availability would also depend on how well he has recovered from a calf injury.
New Zealand (possible) 1 Martin Guptill, 2 Luke Ronchi (wk), 3 Kane Williamson, 4 Ross Taylor, 5 James Franklin, 6 Brendon McCullum (capt), 7 Colin Munro / Grant Elliott, 8 Nathan McCullum, 9 Tim Southee, 10 Kyle Mills, 11 Mitchell McClenaghan.
Clarke will again miss out, but Australia have a few backup options in the batting department, unless they want to give Glenn Maxwell a go in place of fellow allrounder Mitchell Marsh. Xavier Doherty might also come under consideration, although the potential for rain on Wednesday could discourage the selectors from bringing him in.
Australia (possible) 1 Shane Watson, 2 David Warner, 3 Phillip Hughes, 4 George Bailey (capt), 5 Adam Voges, 6 Mitchell Marsh / Glenn Maxwell, 7 Matthew Wade (wk), 8 James Faulkner, 9 Mitchell Johnson, 10 Mitchell Starc / Xavier Doherty, 11 Clint McKay.
The Broad View:
At the last Champions Trophy, Australia beat New Zealand in the final to secure their second consecutive title. This year, the two teams meet with Australia's tournament all but on the line. A loss in their opening match against England has left the Australians vulnerable and should they lose to New Zealand, they would not only have to beat Sri Lanka next Monday but they would also need England to lose their remaining two matches to have any hope of scraping through to the semi-finals. Even then, it would come down to net run-rate. Should New Zealand win their progression is not certain, although it would take a similarly intricate series of results for them to miss out to England and Sri Lanka on net run-rate. An Australian victory would keep things fairly even throughout the group.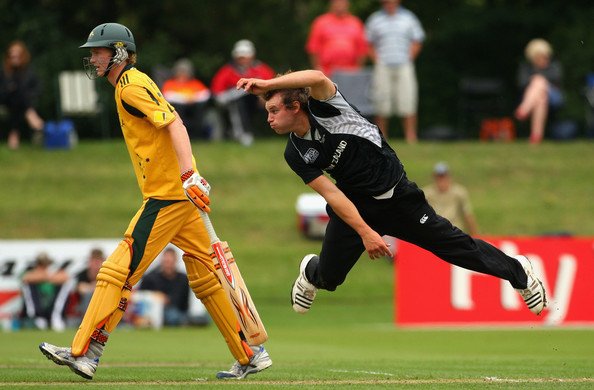 However, the Australians will need to overcome New Zealand without their captain Michael Clarke, who has been ruled out due to a back injury that has plagued him since he arrived in England. The more significant long-term worry will be his availability for the Ashes which follow after. David Warner is a real concern as well, having scored ducks in the two warm-up matches, followed by 9 against England. New Zealand's cordon will be well advised to be on high alert early in Warner's innings, given the way he has been slashing and edging of late.
New Zealand also have an injury concern around a senior player, with Daniel Vettori likely to miss out having had a saline injection in his troublesome left Achilles tendon. "You only have to look at him. He's limping and is a bit ginger walking around the field," the New Zealand fast bowler, Kyle Mills, said on Monday. "He's been doing it since his teenage years at this level and his body is tired. He shows tremendous toughness and hopefully he can rise to the occasion for these next games to get us over the line. He looked jovial getting his toast and cereal at breakfast this morning, but there's obviously a lot of discomfort."
Pitch And Conditions:
Both matches at Edgbaston so far have been won with relative comfort by the team batting first, for scoring appears to become tougher as the matches wear on. There is some rain expected around the Birmingham region on Wednesday and the forecast is for a high of 17°C.
Source – Cricinfo