"Furious 7," starring the late Paul Walker, could become the franchise's biggest movie yet. Universal Pictures
According to the Hollywood Reporter, "Furious 7" made $15.8 million Thursday night during its North American debut – the film gets a worldwide wide release starting Friday. That's the biggest Thursday night box office total since "The Hunger Games: Mockingjay – Part 1" in November. It is also the biggest Thursday night total of any movie in the "Fast and Furious" series, surpassing the $6.5 million brought in by "Fast and Furious 6" two years ago.
'Furious 7' Premiere Sets Record For Thursday Box Office; Will Final Paul Walker Movie Be Franchise's Biggest Film?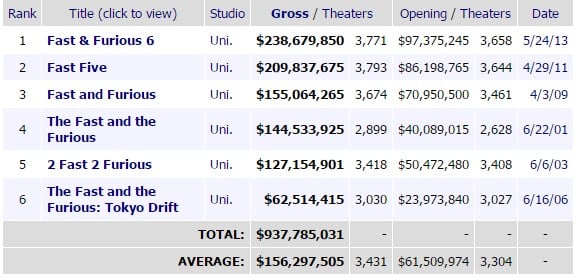 Furious 7 raced away from the starting line Thursday. The latest installment in the popular "Fast and Furious" franchise is on its way to a huge opening weekend after a big first night at the box office. During Thursday's pre-opening night premiere, the film raked in more than $15 million – a figure that could indicate that "Furious 7" will be the franchise's most successful movie yet.
The hype surrounding Furious 7 could lead to the film becoming the franchise's all-time highest grossing film. "Furious 7" will be the last movie featuring the late Paul Walker – who was killed in a car accident in 2013 – and will reunite actors Vin Diesel, Jason Statham, Dwayne Johnson, Tyrese Gibson and Michelle Rodriguez.
The massive Thursday night total has the movie primed to easily exceed $100 million for its opening weekend as it looks to pass "Fast and Furious 6" – at $238 million – as the series' most successful installment. Each "Fast and Furious" movie seems to reach a bigger audience, with the past three movies each breaking the franchise record – an unusual trend for franchises as large as "Fast and Furious."