Click Here To Watch Granada vs Real Madrid Live Match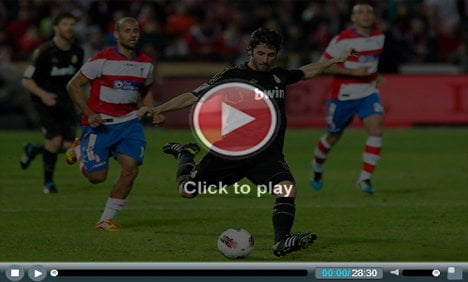 Click Here To Watch Granada vs Real Madrid Live Match
Real Madrid travels to the Estadio Nuevo Los Cármenes for the second fixture of La Liga 2013-2014. After last year's early road losses compromised Real Madrid's ability to catch up to Barcelona in the title race, Ancelotti and his squad will seek to channel those lessons into a victorious performance against a new-look Granada.
As Dennis previewed in his scouting report, Granada acquired the services of some key players this summer. According to Sid Lowe in Real Madrid TV's latest episode of The Match, only 13 players from last season's Granada squad remain with the club. Therefore, Real Madrid should look to strike early to destabilize what may very well be a team-in-progress.
Ancelotti has called up the following players for the clash:
REAL MADRID LINE-UP
Goalkeepers: Casillas, Diego López and Tomás Mejías.
Defenders: Pepe, Sergio Ramos, Arbeloa, Nacho, Marcelo and Carvajal.
Midfield: Kaká, José Rodríguez, Özil, Modric, Casemiro, Isco and Di María.
Forwards: Cristiano Ronaldo, Benzema, Jesé and Morata.
Ancelotti has not revealed who will start between the posts. Looking at the defensive line, it's possible that Arbeloa may start ahead of Carvajal at right back. Carvajal started Real Madrid's first match partially because Arbeloa had been away on international duty earlier that week, so Ancelotti may start Arbeloa to see how he responds to the opportunity. The rest of the defensive line is easy to predict: Sergio Ramos, Pepe and Marcelo.
Due to injuries to Sami Khedira, Illaramendi and Xabi Alonso, Luka Modric will start in the heart of midfield likely partnered by Brazilian youngster Casemiro. Isco and Mesut Özil will likely start in the attacking midfield, although expect Angel Di María to get significant minutes in this match. Road games tend to be gritty and combative, and against a stubborn Granada side Ancelotti may require Di María's pace both on attack and defense. Kaká looked sluggish and unconvincing during Raul's testimonial match, so it's unlikely #8 will see any action.
Offensive talents Cristiano Ronaldo and Karim Benzema will look to bring the heat from the final third as they always do, and Ancelotti may give Jesé and Morata some minutes if Real Madrid finds itself leading by a comfortable margin.
GRANADA ATTACKER YOUSSEF EL ARABI TAUNTS REAL MADRID STAR RONALDO
Granada attacker Youssef El Arabi hopes that Real Madrid ace Cristiano Ronaldo will score another own goal in the upcoming Primera Division encounter between the two sides.
granada 1 real madrid 0 goal cristiano ronaldo…
by wiltoom
The Portugal forward gifted the Andalusians a shock 1-0 win at los Carmenes in February when he beat his own goalkeeper with a stunning header.
Unsurprisingly, El Arabi would love to see Ronaldo net again at the wrong end in Monday's match.
"I hope that Cristiano Ronaldo scores another own goal," the Morocco international told AS when reminded about last year's encounter.
"Real Madrid are a great team and they have a lot of strong individual players.
"However, we hope to get a draw or even win the game."
Match Time: Tuesday 27 August at 12:00 am Pakistan Standard Time