New Zealand Beats Sri Lanka In A Close Thriller by 1 wicket at Cardiff in the 4th match of ICC Champions Trophy 2013 of group A.
New Zealand restricted Sri Lanka to only 138 runs by bowling them out in just 39.5 overs.
McClenaghan took four wickets, with Mills and Nathan McCullum taking two. Kumar Sangakkara was one of three batsmen to reach double figures, but the only one to go past 20. The most striking part of this innings was that this was not an unplayable pitch by any stretch of imagination. The ball did a little bit, but it was mostly disciplined aggressive bowling that did Sri Lanka in. You can imagine a few captains sitting back and allowing easy singles once the early wickets were taken, but there were no soft partnerships here. If you wanted to score runs, you either played exceptional shots or took risks. The risks brought New Zealand timely wickets.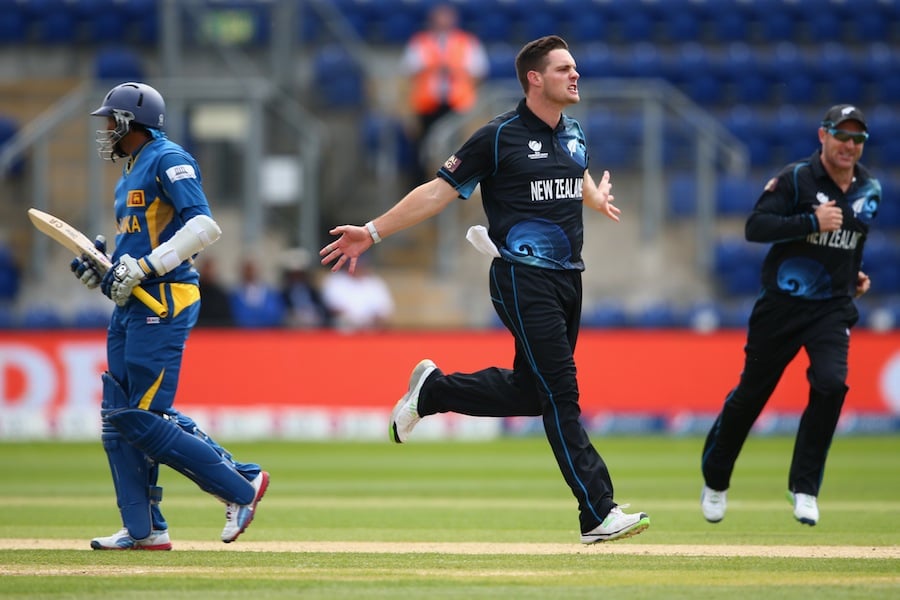 It all began when B McCullum went parallel to the ground at second slip. It was the first ball of the match, many could have been forgiven for still rubbing their eyes. Mills bowled short of a length, got slight seam away from Kusal Perera, who poked at it in Sanath Jayasuriya fashion, but it was flying wide of the slips. Not on Brendon McCullum's watch, though. He went to his left, both feet off the ground, like a football goalkeeper, and got both his hands behind it. Sri Lanka had barely recovered from that when McClenaghan got one – the rare delivery – to swing back in, bursting through the bat-pad gap of Tillakaratne Dilshan, and splitting the off bail into two.
B McCullum made an interesting change then. For the first time in this Champions Trophy, we had a spinner bowling inside the mandatory Powerplay. And it was a man who had last bowled in ODIs more than two years ago, incidentally against the same opposition. Vettori's last ODI wicket was an lbw of Mahela Jayawardene. Here, too, he bowled to Jayawardene. The first ball was a typical slider, which took the inside edge. Two balls later, he turned one big, which left Jayawardene bemused. The knockout punch came next ball. Vettori bowled the expected arm ball, and Jayawardene played for the turn, had his inside edge beaten, and was caught dead plumb.
In the next over, Mills got one to straighten outside off, and Dinesh Chandimal edged it through to Luke Ronchi. Sangakkara and Angelo Mathews tried to recover with a 31-run stand, but Mathews moved too far across to a straight McClenaghan delivery, and had his leg stump go for a walk. In the following overs, Brendon McCullum had as many as seven fielders inside the circle. One of them fielded and threw back to bowler Kane Williamson to find Sangakkara had sold Lahiru Thirimanne down the river, leaving them 82 for 6.
A streaky 36-run partnership between Sangakkara and Thisara Perera ended just before Sri Lanka took the Powerplay. Perera had been dropped and had had an edge clear the man at point, but this time he lobbed McClenaghan to Vettori running back from mid-on. During the Powerplay, looking for quick runs, Sangakkara sliced an N McCullum offbreak to backward point. Sangakkara knew knocking around wouldn't help, and had been taking risks for a while now. This one didn't come off. McClenaghan finished off the innings by going round the stumps and drawing a leading edge from Lasith Malinga.
It had taken New Zealand such little time to dismiss Sri Lanka they were to bat for 25 minutes before lunch.
New Zealand's chase began before the lunch break, and in those six overs they almost cruised to 26 for 1. It was all going swimmingly for them until Malinga made it 48 for 2 with Williamson's wicket. In the next couple of overs, Rangana Herath and Eranga struck. Herath reprised the Mahela Jayawardene dismissal, trapping Ross Taylor lbw. Eranga got one to bounce from short of a length outside off, taking the edge from Martin Guptill, who had raced away to 25 from 24.
Still it should have been a walk for New Zealand, but they fumbled further to spin. Tillakaratne Dilshand and Herath almost cut out all singles, and Dilshan got James Franklin with one that went on with the arm. By now Sri Lanka were appealing almost every ball, and they had lost their review already. However, it was the other team that suffered from the loss of the review.
At the last part of the innings New Zealand just few runs away from their victory Malinga took out both McCullum brothers which turned the game all over. Malinga would have got his 5th wicket and cost New Zealand's 9th wicket when he hit a perfect yorker on the batsman's foot but umpire denied the appeal in the favour of bat hitting the ball first but then the hawkeye showed the ball was hitting his leg first.
It was still not over and New Zealand just needed 5 runs when Thesera Perara hit the stumps and Mills got run out. New Zealand with just 5 runs to get ,got to face Malinga's last over again and Malinga started his terrifying Yorkers to the terrified tail enders but Tim Southee managed to survive through the whole over. At the end the New Zealanders managed to get 5 runs off the over of T. Dilshan and they won it by 1 wicket.
Man Of The Match:
Nathan MC Cullum For His All Round Performance by taking 2 wickets for 23 and scoring 32 runs from 54 balls.
Scorecard:
Points Table:
Source – Cricinfo