Pakistan Vs Australia World T20 Group 2 Match Preview  – Pakistan is the most unpredictable Team in the world, as for Aussies they aren't easy to defeat as well, meanwhile Pakistan Vs Australia on Sunday, India will be facing West Indies which would be challenging as well.
Match Starts At:
09:30 AM (GMT)
02:30 PM (PST)
Aussie skipper George Bailey chats to the media ahead of his side's ICC World T20 opener against Pakistan on Sunday.
Pakistan Vs Australia , T20 World Cup Group 2 Match
Preview 
The Aussies are in roaring form with a series win over South Africa, and two authoritative performances against Sri Lanka and New Zealand in the warm-up matches.
The task for Pakistan starts straight with the openers in the opposition rank. It's been a while now that David Warner has looked invincible and Aaron Finch has been equally consistent in the limited overs for Australia. The two can dominate and crush the confidence of the opposition. Against New Zealand, they smashed 113 in eight overs which indicates how dangerous they can be. With Shane Watson to follow, there's no caution zone to follow for Australia in any part of their innings.
There's one escape route to stop the Australian juggernaut and that's precisely Pakistan's strongest aspect — spin. There's no doubt that the Aussies batsmen can't be kept quiet but their attacking style would mean that Shahid Afridi and Saeed Ajmal become that more threatening. There are days when Ajmal is unplayable and Hafeez will hope it's one of those matches, on Sunday. The Australian middle order does have the firepower in the form of Glenn Maxwell, George Bailey and Brad Hodge to back Finch, Warner's onslaught. And all these three players are good against spin. So it will be an evenly fought contest.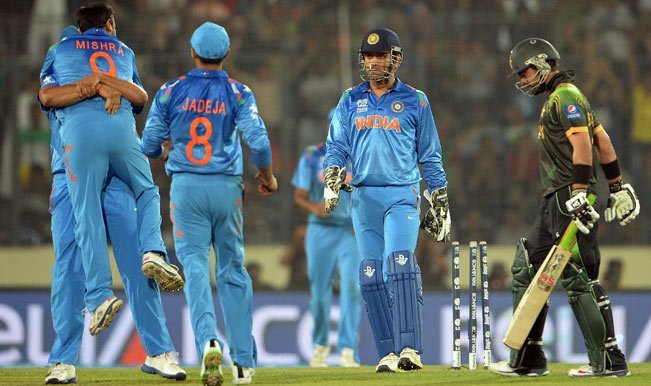 Pakistan's campaign started with a defeat at the hands of India on Friday and while one loss might not hurt their overall chances too much, two from two would make it difficult to fight back into the tournament. It was a lacklustre batting display that set Pakistan on the road to defeat and that is where they require a big improvement in this contest. If any team in world cricket is capable of following a shambles with a success two days later, it is Pakistan.
Pakistan succumbed to pressure against India and played reckless cricket. They looked out of sorts with their batting. Pakistan has always come back strong and they deliver when chips are down. If Pakistan stun Australia tomorrow don't be surprised, this is how they play their cricket, exhilarating one day and dejected the other day.
Weak Link: Australia's deficient batting against spin can let them down and when opposition has best spinners in their ranks the going gets tough for them. Batting has been low key area for Pakistan and this delinquent has been there since ages, individually they look artistic with bat in hand, but time and again when it comes to collective effort they fail to deliver.
Pitch and conditions
 Spin played a key role in the first game at this venue, the Bangladesh victory over Afghanistan, and again in Friday's India-Pakistan match. Again the slow bowlers should have plenty to work with. However, the teams will have to keep an eye towards the skies; it rained in Dhaka on Saturday and more wet spells are forecast for Sunday afternoon.
Australia Squad 
GJ Bailey*, DE Bollinger, DT Christian, NM Coulter-Nile, JP Faulkner, AJ Finch, BJ Haddin†, BJ Hodge, GB Hogg, GJ Maxwell, JM Muirhead, MA Starc, DA Warner, SR Watson, CL White
Pakistan Squad 
Mohammad Hafeez*, Ahmed Shehzad, Bilawal Bhatti, Junaid Khan, Kamran Akmal†, Mohammad Talha, Saeed Ajmal, Shahid Afridi, Sharjeel Khan, Shoaib Malik, Sohaib Maqsood, Sohail Tanvir, Umar Akmal†, Umar Gul,Zulfiqar Babar
WATCH LIVE