There is a fake notification trending on social media regarding the Price and Booking details of the new Honda Civic 2022 in Pakistan. However, the company has not made any official announcement in this regard and took to social media to warn customers of the fake 2022 New Honda Civic Booking and Price letter.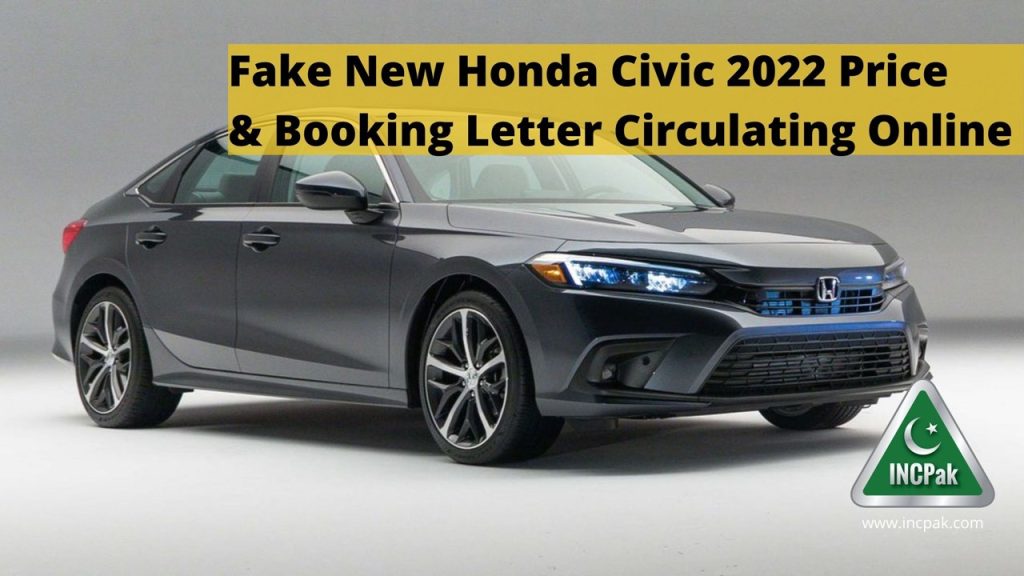 "We have been made aware of a letter circulating on Facebook regarding the booking / prices of the 2022 New Honda Civic." said the company. "We strongly condemned this and the concerns responsible (individual or organization) who created, generated or promoting this letter."
"Honda Atlas Cars (Pakistan) Limited has not made any announcement regarding the booking of the new Honda Civic or its price." the company added. "The company reserves the right to take legal action against anyone circulating such fake news."
Copy of All New Honda Civic 2022 Fake Notification
New Honda Civic 2022
The new Honda Civic 2022 is one of the most anticipated cars at the moment and the vehicle is expected to be unveiled by Honda Atlas in the first quarter of the year. However, the company is yet to provide any official statement regarding the matter.
A camouflaged Completely Built Unit (CBU) of the new Honda Civic 2022 has been spotted several times in Karachi, which means that the company is in the process of testing the new vehicle for a launch in Pakistan. However, we have to wait until the company makes an official announcement of the launch of the new Honda Civic 2022.
Read more: Honda Civic 2022 Expected Price in Pakistan.
Follow INCPAK on Facebook / Twitter / Instagram for updates..