If you are looking to buy Honda CD 70 2023 and you are a little short on budget, you may consider getting the motorcycle on an easy installment plan with zero markup. Atlas Honda in collaboration with MCB is offering up to 6 months Installment Plan for Honda CD 70 2023 with zero markup for credit card holders so you don't have to worry about paying interest.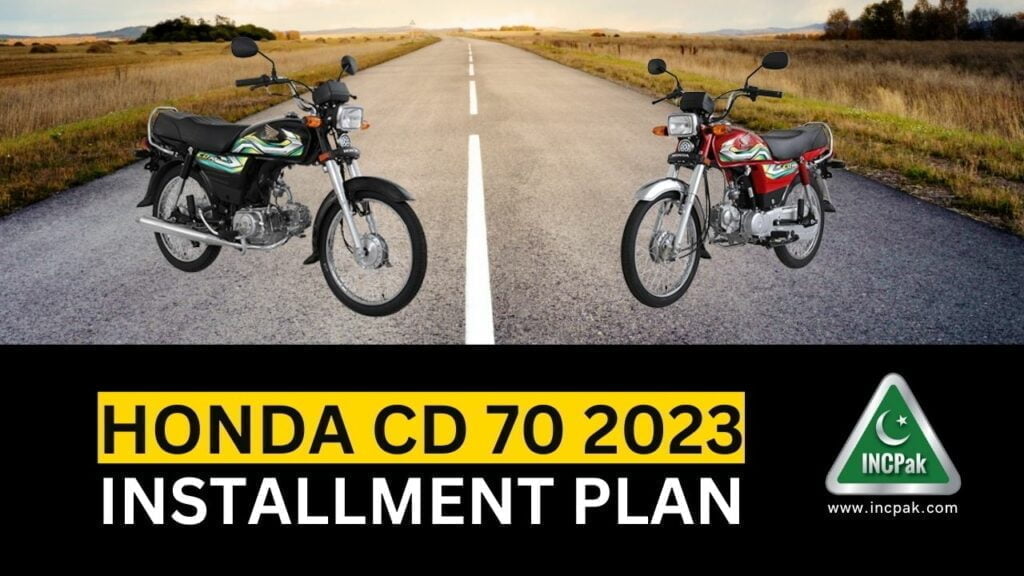 The installment plan for Honda CD 70 2023 provides riders the facility to buy the motorcycle without having to pay the entire amount upfront, which may be difficult for many people considering rising inflation in the country.
Honda CD 70 Overview
Honda CD 70 was first released in 1984 by Atlas Honda and quickly became one of the most popular motorcycles in the country due to no real competition at the time as it was ahead of its time. The bike ended up destroying the market for the Vespa, which was a popular mode of transportation for many people at the time, as it proved to be a real asset with a good fuel-average and durability.
The motorcycle has remained more of less the same since its initial release with small cosmetic changes and upgrades to meet the Euro II standard. However, the bike has retained its overall design, which is a point in its favor as it allows for it to be easy maintenance vehicle with easily accessible parts.
Technical Specifications
The Honda CD 70 2023 comes with a 4-stroke OHC single cylinder engine (Air Cooled) with a displacement of 72cm3 (or 70cc) mated with a 4-speed manual transmission. Furthermore, the motorcycle offers an 8.5 litre fuel tank capacity, which is enough considering the high mileage per litre of petrol.
Here are the complete specifications:
| | |
| --- | --- |
| Engine | 4-Stroke OHC Air Cooled |
| Displacement | 72 cm3 |
| Bore & Stroke | 47.0 x 41.4 mm |
| Compression Ratio | 9.3:1 |
| Clutch | Multiple Wet Plates |
| Transmission | 4 Speed Constant Mesh |
| Starting | Kick Start |
| Frame | Backbone Type |
| Dimension(LxWxH) | 1897 x 751 x 1014 mm |
| Ground Clearance | 136 mm |
| Petrol Capacity | 8.5 Liters (Reserve: 1.0 Liter) |
| Tire at Front | 2.25 – 17 (4 PR) |
| Tire at Back | 2.50 – 17 (4 PR) |
| Dry Weight | 82kg |
However, the overall features of the Honda CD 70 2023 are the same as the older model (2021) and the company has only introduced minor cosmetic changes this year as well, including the brand new adhesive sticker, which is one of the main selling points of the vehicle as people like to stay updated in terms of the motorcycle graphics.
Colors
The motorcycle comes in two colors:
Red
Black
Honda CD 70 2023 Price in Pakistan
The price of Honda CD 70 2023 model is Rs. 121,500 (w.e.f 1 November 2022) for the latest model which was introduced by the company on 17 August 2022 and it was met with a lot of enthusiasm from Honda Fans, some of whom bought the newly model just to upgrade their sticker.
New Model Pictures
Honda CD 70 2023 Installment Plan
Atlas Honda has made it easy for customers to buy Honda CD 70 2023 via easy and interest-free (no markup) installment plan provide by various banks. However, we are going to focus primarily on MCB and its installment plan for the Honda CD 70 2023 using the bank's credit card. Furthermore, it must be noted that below mentioned plan is specifically available for credit card holders only.
According to the details, MCB provides customers with installment plans up to 36 months. However, these long installment plans do not offer zero markup and customer ends up paying interest, which is strictly prohibited from a religious perspective.
Therefore, MCB bank is providing interest-free (or zero markup) 3-6 month installment plan for Honda CD 70 2023 so customers can get their desired motorcycle without any worry about paying any type of interest. However, it bears mentioning that customer will need to pay some extra cash in form of processing fee.
Installment Plan Breakdown
| | |
| --- | --- |
| Price | Rs. 121,500 |
| 3 Months Installment | Rs. 40,500 |
| 6 Months Installment | Rs. 20,250 |
Note that exact monthly rental / installment depends on the down payment as well so please refer to the bank or Atlas Honda for further details.
Conclusion
The above mentioned installment plan for Honda CD 70 2023 provides easy and interest-free (zero markup) facility for buyers and brings the motorcycle in ones budget, who would otherwise find it difficult to pay the entire amount upfront.
Read more about other installment plans in our Automotive Section.
Honda CD 70 2023 Review
Moreover, please remember to check out our review of the Honda CD 70 2023.
Read more: Honda CD 70 2023 Detailed Review.
Moreover, check out the installment plan for Honda CG 125 2023 as well.
Read more: Honda CG 125 2023 Installment Plan – Zero Markup.
Similarly, Pak Suzuki Motor Company (PSMC) is also providing easy monthly installment plans for customers with no interest in order to compete with other players in the market.
Read more: Special Offer – Suzuki GS 150 Installment Plan With No Interest.