Atlas Honda has made motorcycle purchase very easy through bank financing and you can now avail Honda Pridor 2023 on easy installment plan via MCB Bank if you're a credit card holder, allowing you to get your desired motorcycle without having to pay the full amount upfront.
Atlas Honda in collaboration with MCB is offering up to 6 months installment plan for Honda Pridor 2023 with zero markup, which allows you get the motorcycle without any interest. However, the installment plan being offered is only available to MCB credit card holders.
The installment plan for Honda Pridor allows you to buy Honda Pridor 2023 on 6 monthly installments through your MCB credit card and may no extra amount as interest or markup, which brings the motorcycle within reach of many people considering rising inflation in the country.
The current economic conditions of the country have already put a strain on the automotive industry and hampered sales of motorcycles, which have fallen for significantly for the first time in years. Therefore, an installment plan such as the one for Honda Pridor 125 2023 is a good option for many people.
The installment plan as mentioned on Atlas Honda's official website states four main feature of the installment plan as mentioned below:
Installment Plans Available for 3 to 36 months.
0% mark-up for up to 6 months installments.
Applicable for all cities of Pakistan (unlike certain installment plans being offered by Yamaha Pakistan).
Free delivery at nearest dealership available all over Pakistan.
However, let us discuss the features of the Honda Pridor 2023 before diving into the installment plan details.
Honda Pridor Overview
Honda Pridor was initially introduced by Atlas Honda in November 2012 to meet demands of the changing market and a niche of customers who demanded something different and a lot modern compared to the CD 70 or CG 125.
Take a look at the first ever introductory video released by Atlas Honda back in 2012 to hype up customers before the launch of the motorcycle.
Therefore, Honda Pridor was introduced by the company and offered a unique design with a modernistic style, comfort, better economy, and safety compared to CD70 and CG125, which were very basic in comparison.
The Honda Pridor was released for just Rs. 83,000 back in the day, however, the price has been increased significantly since, which has brought it to Rs. 161,900 (as of November 1, 2022). However, the bike does offer a lot of features in the given price compared to the competition in the market.
The motorcycle offers very easy maintenance and parts availability, which is always a point in favor of Atlas Honda and the end user does not have to worry about finding the right spares if he encounters any kind of trouble.
Technical Specifications
Honda Pridor 2023 comes with a 4-Stroke OHC Air-Cooled engine (100cc) that is mated with a 4-speed constant mesh transmission and capable of producing 7.5 horsepower (hp) at 8500 RPM and 7.2 Newton meters (Nm) of torque at 5500 RPM. Furthermore, the Honda Pridor comes equipped with a 9.7 liter fuel tank, which is perfect considering the good mileage of the motorbike.
Here are the complete specifications:
| | |
| --- | --- |
| Engine | 4-Stroke OHC Air-Cooled |
| Displacement | 97.1 cm3 |
| Bore & Stroke | 50.0 x 49.5 mm |
| Transmission | 4-Speed Constant Mesh |
| Starting | Kick Starter |
| Final Drive | Roller Chain |
| Dimensions (LxWxH) | 1986 x 718 x 1050 mm |
| Seat Height | 798 mm |
| Ground Clearance | 156 mm |
| Fuel Tank Capacity | 9.7 Liters (Reserve: 1.5 Liters) |
| Wheel Base | 1226 mm |
| Tire at Front | 2.75 – 18 (4 PR) |
| Tire at Back | 2.75 – 18 (6 PR) |
| Suspension at Front | Telescopic Fork 94 mm Travel |
| Suspension at Back | Swing Arm 84 mm Travel |
| Dry Weight | 96kg |
It must be noted that all features of the latest available model of the Honda Pridor 2023 are the same as previous year, which is no exception as motorcycle manufacturers tend to keep these models more or less similar except some minor cosmetic changes like the adhesive sticker.
Colors
The motorcycle is available in three color options as shown below:
Red
Black
Blue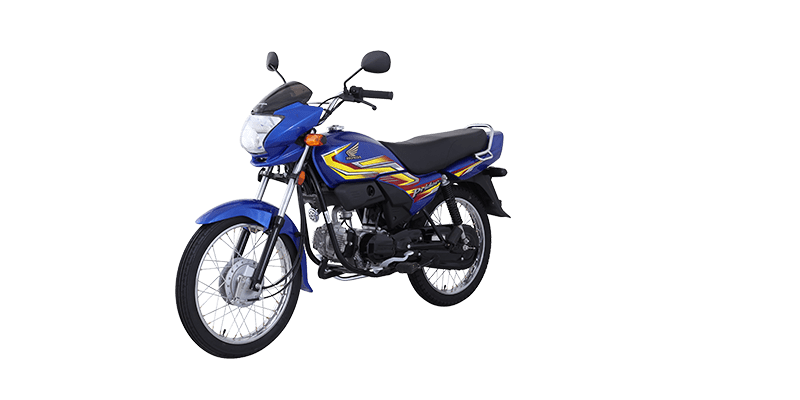 Honda Pridor 2023 Price in Pakistan
The price of Honda Pridor 2023 in Pakistan is Rs. 161,900 (w.e.f 1 November 2022) for the latest model. However, if you are planning on buying the motorcycle, we'd recommend not to waste any time as prices do tend to rise quickly in the country, especially with increasing inflation.
Latest Model Pictures
Honda Pridor 2023 Installment Plan
Atlas Honda is offering customers an easy and interest-free (no markup) installment plan for Honda Pridor 2023 with up to 6 monthly payments via MCB. However, it must be noted that mentioned installment plan is only available for MCB credit card holders.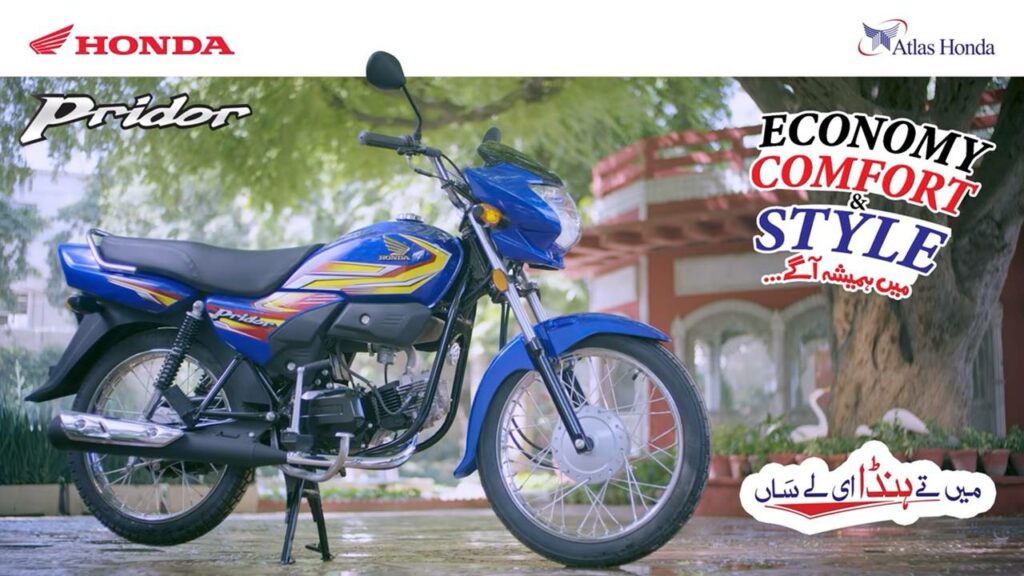 Furthermore, the customer has the option to pick up to 36 monthly installments, but anything over 6 months will incur a certain markup by the bank. In this article, we are primarily focusing on MCB's 3- and 6-months installment plan.
Note that customer will have to pay some extra cash in the form of processing fee / charges to the bank.
Installment Plan Breakdown
| | |
| --- | --- |
| Price | Rs. 161,900 |
| 3 Months Installment | Rs. 53,667 |
| 6 Months Installment | Rs. 26,983 |
Note that exact monthly rental / installment depends on the down payment as well so please refer to the bank or Atlas Honda for further details.
Conclusion
The above-mentioned installment plan for Honda Pridor 2023 offers customers easy and interest-free monthly installments and brings the motorcycle in the budget for many people, who otherwise would have difficulty paying the entire amount upfront, especially during the current economic conditions and resulting inflation.
For more details regarding the Honda Pridor 2023 installment plan, you can refer to Atlas Honda's official website and go their installment section or contact MCB support on their helpline (111-000-622) or visit their website.
Link to Atlas Honda's Installment Page is www.atlashonda.com.pk/bank-leasing-plans/
Read more about other installment plans in our Automotive Section.
Honda CG 125 2023 Installment Plan
Moreover, you can check your Honda CG 125 installment plan as well.
Read more: Honda CG 125 2023 Installment Plan – Zero Markup
Follow INCPAK on Facebook / Twitter / Instagram for updates.