As people look for more affordable commute options, Ride Star has launched a Hybrid Bike in Pakistan, which can give you a mileage of 180 to 200 km on a single charge and 1 litre of petrol combined, the company claims.
Ride Star Hybrid Bike provides two power options, an electric motor as well as a petrol engine, which can give user a better mileage and more affordable way to commute, especially in this economy with sky-high fuel prices.
Ride Star Hybrid Bike
The Ride Star Hybrid Bike comes with a 1,500W electric motor that is powered by a 60V 30aH Lithium Phosphate battery that can be fully charged in 2 to 3 hours and provides up to 90 kilometers of mileage.
Meanwhile, the bike also comes equipped with a 70cc engine that is capable of providing 55 to 60 kilometers per litre, which makes this one of the first hybrid bikes to be introduced in Pakistan.
Furthermore, one of the interesting features of the Ride Star Hybrid Bike is its ability to charge the battery while it runs on the petrol engine. According to the YouTube review, the bike can recharge the battery for another 25 kilometers usage in only 1 litre of fuel consumption or 55-60 kilometers.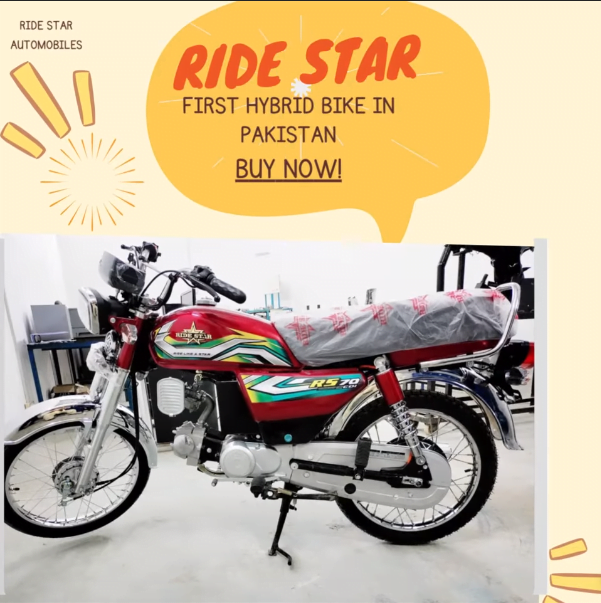 Booking
In order to book Ride Star Hybrid Bike in Pakistan, you can contact the number given below.
Mian Muhammad Naeem, General Manager, Sales and Marketing
03006614385
03218675658
Zulqarnain Haider Manager Sales and Marketing
03072637770
03004886489
Mohammad Shahnil Gul Coordinator Sales and Marketing
03092637770
03106650143
Specifications
1500W Electric Motor
70CC Engine
60V 30aH Lithium Phosphate Battery
2-3 Hours Charging Time
7-8 Liters of Petrol Capacity
90 Kilometers on Battery
55-60 Kilometers on 1 Litre of Petrol
180-200 Kilometers Combined Mileage
Diamond Company Tires
Ride Star Hybrid Bike Price in Pakistan
The price of the Ride Star Hybrid Bike in Pakistan is Rs. 220,000 (as of February 2023), but please make sure to contact the numbers given above for the exact rates.
Pakistan is witnessing an influx of electric bikes / scooters as people look for petrol alternative due to high prices of petroleum products.
Read more: Metro Launches T9 Electric Scooter in Pakistan.
Follow INCPAK on Facebook / Twitter / Instagram for updates.