With increasing inflation and rising car prices, it is becoming very difficult for an average citizen to purchase a vehicle. However, there is always an option to opt for a vehicle financing / leasing from a bank and get your desired car. In this article, we are specifically focusing on the Suzuki Alto 660cc VXL AGS 2023 installment plan under financing from Bank Alfalah.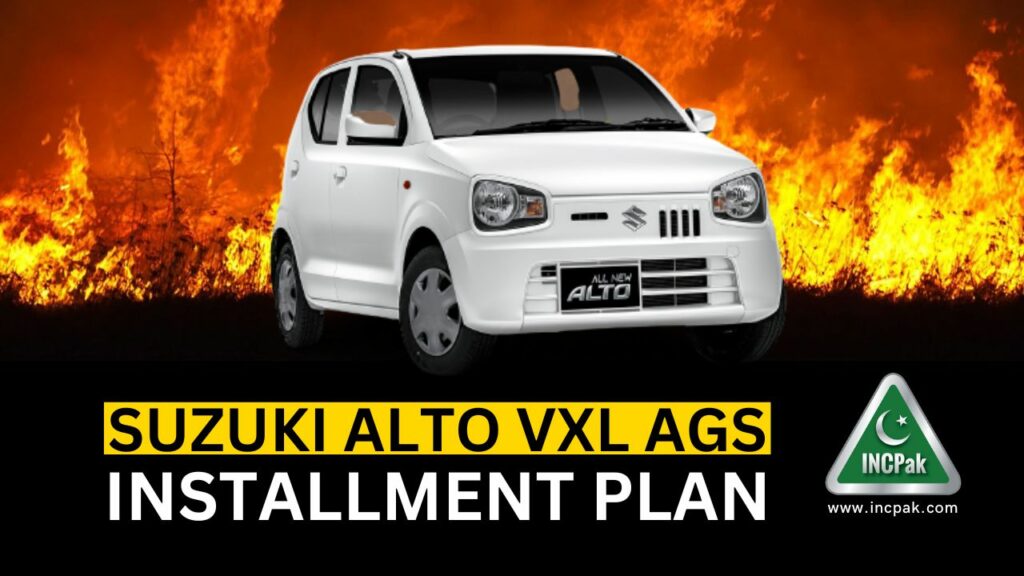 If you're considering on buying Suzuki Alto VXL AGS 2023 and are a little short on budget, you may consider applying for the installment plan and get the vehicle with easy monthly payments that will be lighter on your pocket in the short term.
Let us discuss a little bit about the Suzuki Alto 660 VXL AGS before diving into the installment plan details, which are going to be mentioned in the post below.
Specifications
The Suzuki Alto Alto VXL AGS 2023 comes with a 660cc engine that is capable of producing 39 horsepower (hp) along with 56 Newton meters (Nm) of torque. Furthermore, the vehicle is equipped with an Automatic Gear Shift (or AGS for short).
The vehicle actually comes in four different variants, which include the Suzuki Alto VX, VXR, VXR AGS, and VXL AGS. However, we are just going to focus on the top-of-the-line variant, the VXL AGS, in this post and discuss its installment plan details.
Features
The Suzuki Alto VXL AGS is pretty basic in terms of features and doesn't offer anything special or extraordinary since it is meant to be a budget car for buyers and it is the cheapest vehicle being produced by the Pak Suzuki Motor Company (PSMC) following discontinuation of the Mehran.
The car does offer a basic infotainment system, air conditions, power windows, and power steering. Furthermore, the Suzuki Alto VXL AGS comes with Anti-Lock Breaking System (ABS) and airbags for driver and passenger safety.
Suzuki Alto VXL AGS Price in Pakistan
The price of the Suzuki Alto VXL AGS 2023 in Pakistan is Rs. 2,223,000 and you can get the vehicle on easy installment plant from Bank Alfalah without having to pay the entire amount all at once, which brings the vehicle into the buying power of many people, who otherwise would be unable to purchase it.
Alfalah Auto Loan
You can buy the Suzuki Alto VXL AGS 2023 through an easy installment plan using Bank Alfalah's Auto Loan. According to the details, Bank Alfalah provides the following features while buying a car using its Auto Loan:
You can choose a locally assembled/manufactured new or used car
Affordable markup rates to choose from
Residual value option to lower your instalment
Partial Payment Option Available
Option to Defer Insurance & Registration charges
Zero charges on Car replacement option
Flexible financing tenure

Minimum 2 years & Maximum 5 Years (Vehicles up to 1000 CC)
Minimum 2 years & Maximum 3 Years (Vehicles above 1000 CC)
Suzuki Alto VXL AGS 2023 Installment Plan
As per Pak Suzuki Motor Company (PSMC) website, you can get Suzuki Alto VXL AGS 2023 on an easy installment plan by depositing a down payment of Rs. 666,900 (excluding Rs. 8,700 processing fee). Furthermore, your first year insurance amount will be Rs. 55,575, while monthly payment aka installment will be Rs. 43,521.
Installment Plan Breakdown
| | |
| --- | --- |
| Price | PKR 2,223,000 |
| Down Payment (30%) | PKR 666,900 |
| Processing Fees | PKR 8,700 |
| 1st Year Insurance Amount | PKR 55,575 |
| Monthly Payment (5 years) | PKR 43,521 |
| Total Down Payment | PKR 675,600 |
Disclaimer: Above calculations are tentative and subject to change. Monthly rental is inclusive of takaful amount, registration fees and withholding tax
For more details regarding the Suzuki Alto VXL AGS installment plan, you can visit the official websites of Pak Suzuki Motor Company's (PSMC) or Bank Alfalah.
To check out installment plans for other vehicle, make sure to visit our automotive section.
You should also check out details of Suzuki's RV Financing below.
Read more: Suzuki Offers Easy Car Installment Plans Through RV Financing.