There are currently four camouflaged / wrapped KIA cars driving around Karachi and INCPak team was able to take some exclusive pictures while the vehicles were parked at Lucky One Mall.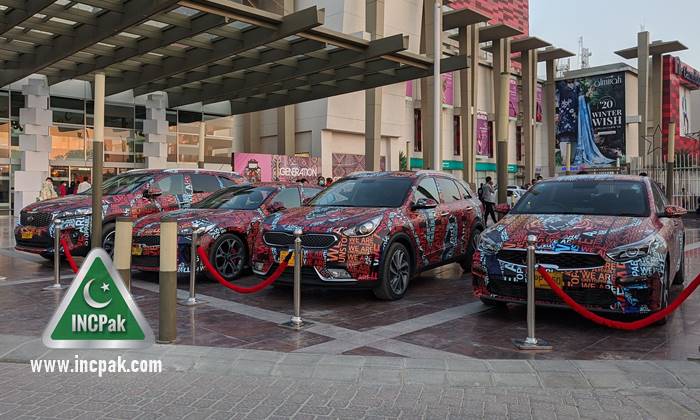 The convoy of the four wrapped KIA cars consists of two sedans and two SUVs are out on the road for testing drive and marketing as the company is planning to further compete with Toyota Indus Motor Company (IMC) and Honda Atlas.
Read more: MG HS Price in Pakistan – Booking Open.
It was easy to identify the four wrapped KIA cars based on their lights and body shape and it appears that the two sedans are the KIA Stinger and Cerato while the mid-sized SUV is a KIA Sorento and the compact-SUV is a KIA Niro.
Based on these models it seems that the company is planning to compete against the already popular Honda City, Honda Civic, Toyota Yaris, Toyota Altis, Honda BR-V and the Toyota Fortuner.
The Big3 (Honda, Toyota and Suzuki) have dominated the automotive industry in Pakistan for decades enjoying their monopoly with constant increase in prices while the quality of their vehicles have been deteriorating over the years.
However, with the introduction of the Auto Development Policy (ADP) 2016-21, other companies have arrived enjoying tax-exemptions with their green-field status under this initiative while increasing much needed competition in the automobile sector.
The company is expected to start launching these vehicles from December of this year to take advantage of the ADP 2016-21 and enjoy five years of tax exemption.
What to expect from KIA cars?
Unlike the dominant Big3 (Honda, Toyota and Suzuki), KIA cars are focused on quality and safety measures while including the latest features which were regularly ignored in Pakistan.
Exclusive Pictures
[embed-google-photos-album link="https://photos.app.goo.gl/D2K6ew7252xyzwho8″ mode="carousel"]
We know you want to know more about these four wrapped KIA cars being launched in Pakistan and will be posting detailed posts on each of these vehicles very soon.
Have you spotted these cars on the road? Let us know in the comments below.
Read more: Master Motors launching Changan Alsvin in Pakistan.
Follow INCPAK on Facebook / Twitter / Instagram for updates.