A short report on Economic indicators of Pakistan 2018, It is important to understand the economic situation of the country. 
Prime Minister Imran Khan said all the economic indicators showing positivity, As Pakistan has entered in the phase of emerging economy.
"Had the economic situation been really bad, there would have been no foreign investment to the country," the prime minister said in his brief remarks, aired by the state-run television. "We are inviting renowned international companies to explore minerals, particularly oil and gas in offshore areas," he added. – Tribune 
An economic indicator is a statistic about an economic activity. Economic indicators allow analysis of economic performance and predictions of future performance. 
Read More: Economic indicators improving – Asad Umar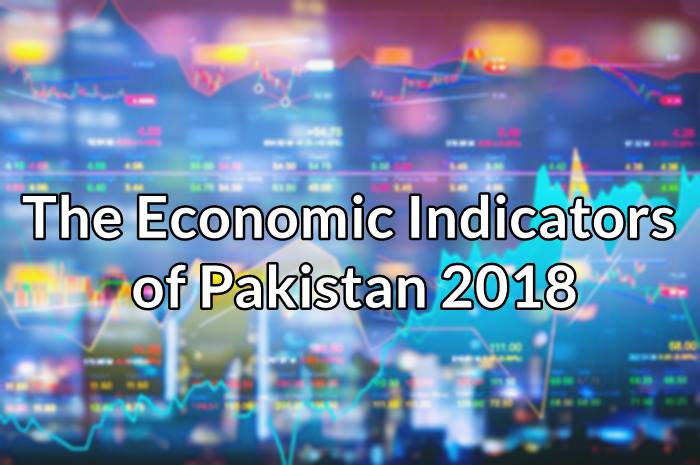 The Economy of Pakistan: Latest 2018

Population: 202 Million
Budget 2018: Rs 5.9 Trillion
Agriculture Budget: 1100 million
Defence Budget: Rs. 1.1 Trillion
GDP: $304.14 Billions
Imports: $57.4 Billion
Exports: $24.7 Billion
Trade Deficit : $32.7 Billion
Forex Reserves: $7.7 Billion
GDP Growth: 5.8%
Inflation Rate: 3.9%
CPI Inflation : 6.5%
Per Capital Income: $1641 or Rs.206766
Ranked: 42th According to GDP.
Ranked: 25th According to PPP.
Interest Rate: 8.5%
Average Inflation Rate: 3.9%
Agricultural Growth: 3.81%
Agriculture Labour Force:42%
Industrial Growth: 3.21%
Monetary Growth: 10.5% to 11.5%
Current Account Deficit: $17.99
Unemployment Rate: 6.6%

GDP Share
Service: 60%
Industrial: 20% 24% of GDP
Agriculture: 18%

Main Exporter
USA: 15.6%
UK: 7.1%
China: 7.0%

Main Importer
China: 20.5%
UAE: 15.8%
Indonesia: 8%

Courtesy
State Bank of Pakistan
Pakistan Bureau of Statistics
Asian Development Bank
World Bank Report
Economic Survey of Pakistan 2018
Update: Securities and Exchange Commission of Pakistan (SECP) has registered 1,060 new companies during the month of November 2018.
As compared to the corresponding month of last financial year, it represents a growth of 20 percent raising the number of registered companies to 93,157.