Habib Bank Limited (HBL) has been trending on social media as the banking institution continues deducting balance of customers in the name of duplicate transactions (Recovery of IBFT Adjustment Principal Amount) and even taking customers' balance into negative balance.
Furthermore, the customer support of HBL continues to misbehave with customers as they try to launch a complaint regarding the balance deductions.
The Facebook Group by the name of Voice of Customers is full of such complaints regarding HBL. The bank is arguing that the money taken from their account belonged to the bank as it was duplicated transactions but customers have reported that no such duplicate transactions took place and they never received any extra money in their HBL accounts.
I have a payroll account in HBL and today i received a message that my account is debited with a transaction of 50k PKR. my account at that moment had a balance of 34K. When i opened my account, my balance was zero. And i see a transaction of "Recovery of IBFT Adjustment Principal: 50,000". Which means as soon as i transfer the amount to my account, a further16k amount will be deducted. I then called the helpline and the guy told me that this is an attempt by the bank to avoid fraudulent activity and got really offended when i told him you can't withdraw money from people's account like that! He told me it will be reversed by COB 6 pm. Never happened, i called helpline again. the guy now told me that it's a reversal of a duplicate IBFT. (which btw never existed before as i always keep a very close tab on what comes into my account) This duplicate transaction that they are referring to; is infact my personal account from SCB. in my SCB statement, there is only one transaction of 50k (no duplication deduction in SCB). But somehow i received 100k instead of 50k???????? and now they are deducting my 50k? If it was received twice in HBL, it should have been deducted twice from SCB too!!!????

Satisfied HBL Customer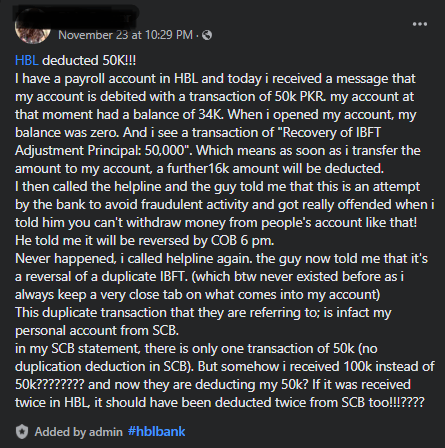 Another customer had an amount of Rs. 11,500 deducted from his account for the same reason.
Today at 6pm my account was debited for 11,500pkr in name of Recovery of IBFT Adjustment, then I contacted the branch manager and she said she'll work on it tomorrow. I thought of it as a random error but now while I was scrolling Voice of customer group I saw that not few but many, like hundreds of posts regarding HBL issue; so if you are using HBL please transfer your funds to your other bank accounts, only if you don't want to lose your hard earned money and try to avoid using HBL for a few days until the issue by them isn't solved. Attaching the picture of my account and screenshots for reference!

HBL Customer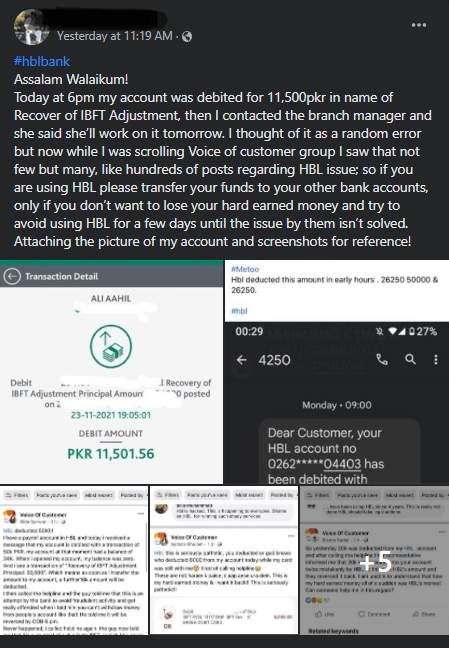 There are several cases being reported where HBL have been deducting balance and taking customers' account into negative balance.
Another HBL Customer had an amount of Rs. 300,000 deducted from their account.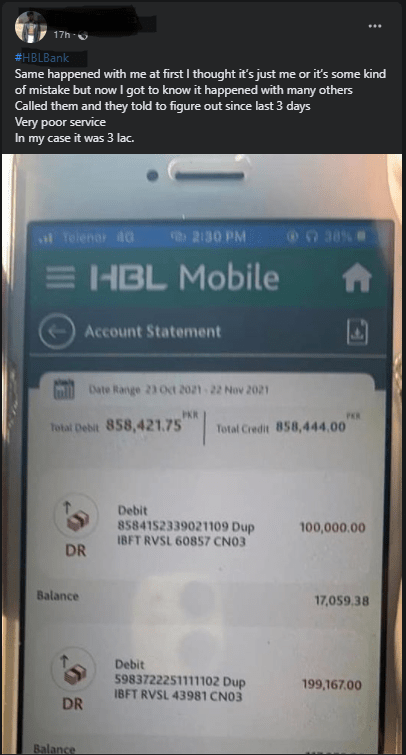 Being someone who regularly reconciles his finances, I can confirm that an IBFT that I received in my HBL account was mistakenly credited by HBL twice. So I ended up with double the money.

And HBL recovered the same amount back today. That's fine by me, as that extra money wasn't mine to begin with.

But nonetheless, extremely embarrassing event for such a huge bank, on such a massive technical flaw in their system.

Definitely going to move money out of HBL to a more reliable bank.

HBL Customer
Meanwhile, the State Bank of Pakistan (SBP) has not taken notice of the matter and HBL continues its balance deduction spree without any fear of consequences.
Read more: Petrol Strike: These Petrol Pumps to Remain Open on Nov 25.