Pak Suzuki Motor has increased its Suzuki Alto VX price starting 7 July 2020 by Rs. 63,000 owing to the rapid devaluation of Pakistani Rupee against US Dollar.
According to the circular send to all authorized dealerships, the new Suzuki Alto VX price will take effect from 7 July 2020 and will not affect those customers who have already booked the car with full payment on the old price.
Pak Suzuki Alto VX Price:
| Model | Old Price (PKR) | Increase (PKR) | New Price (PKR) |
| --- | --- | --- | --- |
| Suzuki Alto VX | 1,135,000 | 63,000 | 1,198,000 |
The above mentioned retail price is inclusive of all Ex-Factory price and Freight Charges according to the circular.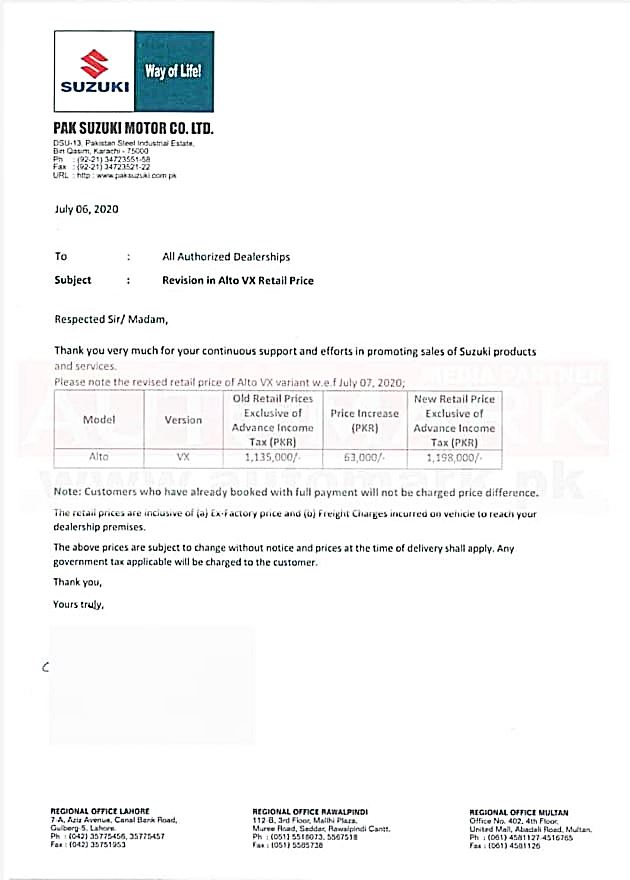 Pak Suzuki also recently hiked prices for its motorcycles starting 1 July 2020 together with other automobile manufacturers who are increasing prices for their cars and motorcycles as well.
Read more: Pak Suzuki Bike prices revised [July 2020].
It is expected that Atlas Honda will soon revise prices for its vehicles. The company has already increased prices for its motorcycles starting 1 July 2020.
In related news, Regal Automobiles has also started pre-bookings for Glory 580 and 580 Pro vehicles. For more information on that please check our post below.
Read more: Regal Automobiles reveals Glory 580 & 580 Pro Prices, pre-booking opens.