Regal Automobiles Prince is set to launch Prince Pearl 800cc car in Pakistan, The booking of Prince Pearl REX7 is expected to start by mid of this month.
United Bravo replaced the 800cc position right after Suzuki Mehran's production ended after 30 years. United Bravo offered much better features under a million price slot.
Read More: Prince Pearl price and information – launched in Pakistan
The Expected Price of Prince Pearl in Pakistan is Rs 1,075,000/-
The hatchback cutie pie will be available in five different colors.
It appears there will be two variants will be available, Automatic and Manual Transmission, perhaps it is too early to say will there be any variant available without Airbags and power windows? reminding us of oldie Mehran!
Now Regal Automobiles (Prince) company about give a tough time to United Bravo by adding spare wheel in 800cc classification.
The built quality appears far more superior than United Bravo as well as the additional features The Regal Automobiles targetting consumers with low budget and looking for fuel-efficient, stylish, power-packed with features and 3 years warranty.
Latest Images of Prince Pearl REX7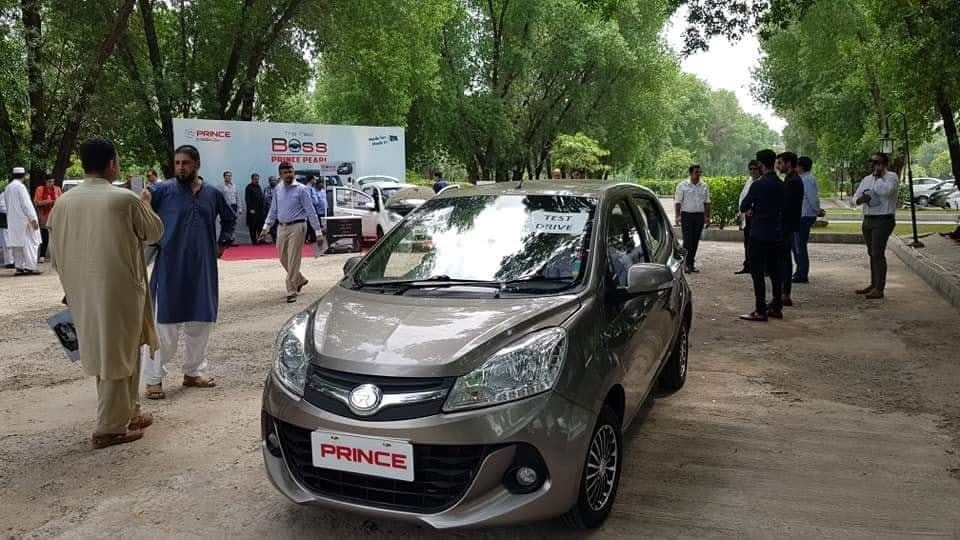 The Prince Pearl REX7 2019 model is a joint venture by Pakistan Regal Automobiles and a Chinese Company.
The Automobile prices are increasing rapidly, Pak Suzuki Motors revised the price of All new Alto 660cc now getting out of reach for a common man to buy a new car.
The expected price of new Pearl REX7 might cross over a million.
The company might maintain the price tag for some time to compete with United Bravo.
Some of the Prince Pearl Prince Pearl Specs are mentioned below:
Prince Pearl REX7 Features
Prince Pearl REX7 Specifications

Engine

A 796cc engine that produces 40hp at 5500 RPM.

Mileage

Mileage is expected to be 20KM/L in city and 22KM/L on highways.

Colors

Pure white,
Cairo gold
Brown
Pearl red colours.

Torque
60.5nm torque at 3500 RPM

Horsepower

40 HP
Fuel tank capacity

27 Litres
Gearbox

Automatic and manual transmission
796cc EFI Engine – 40 hp at 5500 RPM
LCD Screen (Multimedia Touch Screen Android Player)
Fog Lamps
Airbag (optional)
Power windows
Spare wheel,
Power Steering
Power Door lock
Immobilizer
3 Years or 60,000 Kilometers warranty.
Read More: Prince Pearl price and information – launched in Pakistan
New Prince Pearl 800cc is a perfect entry-level hatchback in the Pakistani market.
UPDATE: Prince Pearl 800cc rolls out from the factory, delivery will start from February 2020.
Follow INCPAK on Facebook / Twitter / Instagram for updates.