People are searching the what makes Toyota Yaris better than the competition and even its predecessor Toyota Corolla that has been replaced by Toyota Indus Motor Company (IMC) in Pakistan.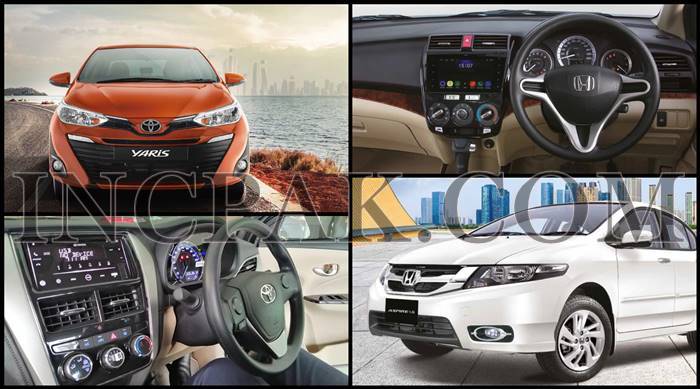 Toyota Yaris bookings have already started on 19 March 2020 as the launch event that was suppose to take place was suspended due to the coronavirus outbreak.
Read more: Toyota Yaris 2020 booking information anddealership list.
Honda City and Suzuki Ciaz are the main competitors in the market right now however new competition is coming to Pakistan that will go up against the Toyota Yaris but for this post we will focus on the Honda City and what makes Yaris the better choice.
More specifically we will be focusing on the base variants of both cars that is the Toyota Yaris GLi 1.3L and the Honda City 1.3L and both cars with manual transmission.
Read more: Toyota Altis 12th Generation to be introduced by IMC.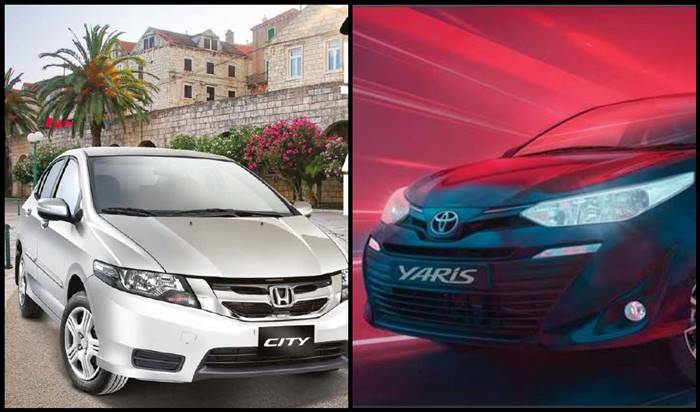 Why is Toyata Yaris better than Honda City?
Safety Features:
First off the most important category that Toyota Yaris simply dominates the Honda City are the safety features. It is clear that the City is now outdated technology and doesn't have all the safety features like SRS Airbags, vehicle stability control (VSC) with traction control or hill start assist. The Yaris also has ISOFIX Child Seat Anchors which are missing in the Honda City
These lack of safety features should be enough to convince anyone that Yaris takes the lead as what could be more important than your safety while traveling.
Engine:
Coming to the rest of the aspects of both cars, lets take a look at the engines. Now the engine performance is very similar on paper with the Toyota Yaris housing a 1329 cc engine producing 98 hp at 6000 rpm and 123 Nm of torque at 4200 rpm however the Honda City houses a 1339 cc engine producing 100 hp at 6000 rpm and 128 Nm of torque at 4200 rpm.
Brakes:
Coming to braking of the Toyota Yaris and Honda City, both cars are exactly similar with ventilated disc brakes in the front and drum brakes in the rear with both cars equipped with Anti-Lock Breaking System (ABS) with brake assist.
Suspension:
The suspension of the cars include MacPherson Strut Suspension in with stabilizers in the front while the rear side has a torsion beam in the rear.
Exterior:
Coming towards the exterior of the cars, again both base models hold similarities like the lack of Day-time Running Lights (DRLs) and fog lamps which are however available in the more expensive variants of both vehicles. However Toyota Yaris has a much more updated look than the Honda City which has seen very few changes since the launch of this generation in Pakistan in 2009.
Body dimensions:
The body dimensions are not that far off with Toyota yaris having a length and width of 4425 mm and 1730 mm respectively and a height of 1475 mm where as the Honda City is 1695 mm wide, 1480 mm high and 4395 mm long.
The turning radius of Yaris is only 5.1 meter where as the City has a turning radius of 5.3 meter. Coming to the boot space of trunk City has a much better capacity 506 liters compared to Yaris with just 476 liters. Both cars have the exact same fuel tank capacity at 42 liters.
Interior:
Now coming towards the interior of the car, we will break it down for features that are different in both cars however, first we will discuss features that are common across both vehicles.
Some of the features that can be found in both vehicles are:
Electronic Power Steering
Power Windows
Central Locking
Air-conditioning and heating
Tachometer
Analogue Speedometer
Immobilizer
Fabric Seats
Dual-tone interior
Rear seat head rests
Front Center Console box
3 Spoke Steering wheel with adjustment
Now coming to features that present in the Toyota Yaris but lack in City:
Remote Trunk opener
Outside Temperature display
Multi Information Display
3 separate rear headrests in Yaris.
Pigmented Inside Door handles
Right now, this isn't really a competition with a new car going up against a decade old model when it comes to the Honda City. The new Honda City 2020 has been introduced however there isn't much information about when Honda Atlas will be introducing the car in Pakistan. There are more details in the post below.
Read More: Honda City 2020 launching soon and Honda Atlas plans.