Why Entire Pakistan Hates MALALA ?
The reason behind this recent development may  be Abdul Hai Kakar's, (the BBC reporter who worked with Malala) recent accounts of how the whole idea came about. Post this, rumors and conspiracy theories questioning the credibility of the 11 years girl's account are resonating in the surrounds.
Essentially, in order to bring about a 'humanitarian angle' to the situation in Swat and in Northern areas,  as Kakar mentions in his online interview to a newspaper,  how he came up and structured the idea of Swat Diary to be written by a young girl, in order to 'creatively and objectively portray the situation on ground in Swat'.  The concept was to choose a local girl to 'express her emotions' and so  the silenced majority of Swati girls who were denied their right to education were given a face – Malala's. He further elaborated that with her father's unresistant willingness to choose Malala for the job, he would phone her up every day so she could narrate the happenings of her area and her reflections on the same.
Now, whether it was Malala's own narrative or the reporter trying to elicit a formatted response and later manicuring it to pass for a child's narrative, are questions that seem to disturb a large audience. An audience who had happily credited an 11-year old Swati girl for her surprising maturity and sheer bravery in breaking ideological and physical shackles to raise her voice against injustice. However, my question is, should this be the pivot of importance or the fact that a father was willing to risk his child's safety and a young girl who feared the least voicing the truth out loud, only to protect her fellows from the austerity Taliban had in ample stocks. Shouldn't this effort be appreciated instead of being questioned?
Recently, there seems to be a concentrated effort on face book, twitter and other social media forums to justify attack against Malala, calling her a US agent and the whole issue a foreign conspiracy.
' Why Malala alone? Why not a dozen of Pakistani women who die of drones everyday or those who become a sacrifice in terrorist activities? Why Obama has his helicopter on hold for only her?   Why prayers are being said for Malala and not for several other daughters attacked and bruised in various terror strikes?'
As a monosyllabic response: True. If you ask for more, what's the surprise here? This is only our national tragedy to idolize those who manage to blaze the news. The rest deserve a discriminatory attitude and to learn a lesson that to earn one's basic rights and people's support, you've got to make it to the headlines, else you're eclipsed.
Hence,  we must put the conspiracy theories to rest, for there are better matters clamoring for attention, including getting rid of the terrorist elements hostaging our children and lands to meet their own ends and our own disposition of noticing things only when they get a hype.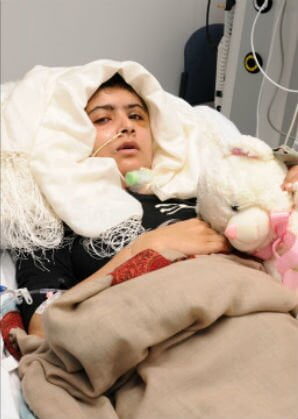 Source http://blogs.thenews.com.pk/blogs/2012/10/is-malala-a-conspiracy/