Turkish actress Esra Bilgic more famously known by her role of Halime Sultan has seen a lot of criticism over her bold dressing choices or what Pakistanis deem bold and inappropriate. She has been the victim of moral policing at the hands of Pakistanis many times that she event turned comments off for one of her photos on Instagram.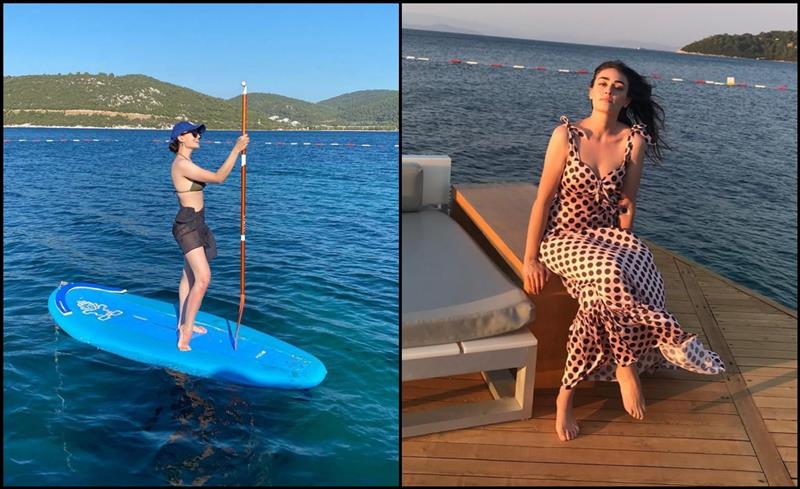 However, turning comments on for some newer photos seemed to be a bad decision as Pakistani fans are back with their criticism over her dressing choices and they're not taking it easy on her.
Read more: Esra Bilgic shares a bikini photo but turns off comments.
Esra Bilgic has gained a lot of popularity from her role has Halime Sultan in the Turkish drama serial Ertugrul Ghazi or Dirilis Ertugrul which started airing in Pakistan during Ramazan.
Esra Bilgic latest photos to receive criticism:
Recently she uploaded a photo on Instagram which Pakistani fans did not approve of and started to bash the actress for wearing inappropriate and vulgar clothing.
As you can see from the comments, Pakistani fans went straight to moral policing the Turkish actress telling her to read Hadith and wear the Pakistani dress Shalwar Kameez.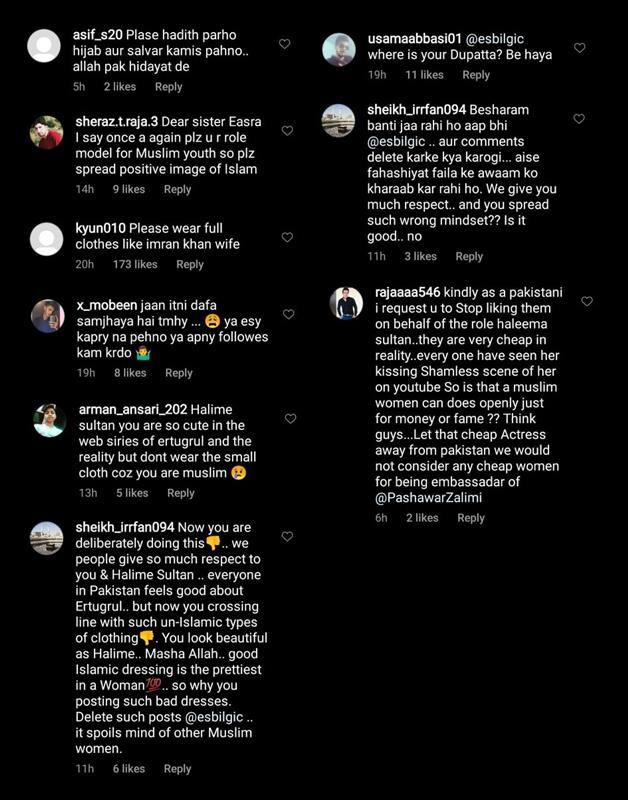 Others asked Esra Bilgic where her Dupatta was and went as far as to call her "Bay Haya" and even accused her of wearing such clothes deliberately failing to realize that she is an actress and they forget that she has her own life and expect her to behave like her character Halime Sultan.
This problem is common within Pakistan as people like to judge others, call them out over what they don't agree with and expect others to behave a certain way forgetting that they have no right to demand anything of the sort.
This wasn't the only photo which didn't sit well with her Pakistani audience as people did not like another recent photo posted by Esra Bilgic on her Instagram wearing a t-shirt and tights.
Pakistanis seem to have x-ray vision and tend to see right through the clothing and act like the other person isn't wearing anything all.
A surprising thing is that majority Pakistanis think that Turkey is also a Muslim country but fail to understand that it is a Muslim Majority country but a secular state.
Previously, Esra Bilgic received a lot of hate over her kissing scenes in other projects too when videos of the star started going viral on YouTube.
Read more: Ertugrul Ghazi star Esra Bilgic dance & kissing videos go viral.
How Pakistanis expect Esra Bilgic to behave and dress?
Pakistanis first of all want Esra Bilgic to quit her acting career as it is Haraam and portraying a Muslim woman in a drama about Turkish Muslim history was still acceptable.
Secondly, they want to even quit any modeling and start dressing appropriately like a Muslim woman as she is a role model to other Muslim females all over the world.
They want Esra Bilgic to dress as she dressed in the drama Dirilis Ertugrul which Pakistanis think is a traditional muslim dress after Hijab. They might be more happy if the actress wears an acutal Hijab too.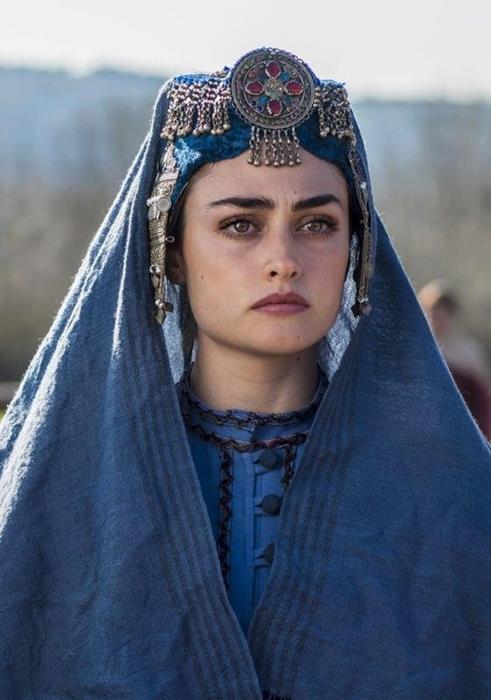 Other Ertugrul Ghazi stars being moral policed:
However, Bilgic isn't the only Ertugrul star who has faced criticism as Pakistanis have even moral policed by her Pakistani fans. The lead actor of Ertugrul Ghazi, Engin Altan Duzyatan was criticized for keep a pet dog as he is a Muslim and something like that is unacceptable in the religion.
Even another star of the show Burcu Kiratli was criticized by everyone for wearing a bikini and people dug deep into her Instagram to find some photos and videos that were almost one year old.