We have been noticing that Google India has been gradually taking over Google News Pakistan search results with Indian news sites ranking on top of Pakistani news sites most of the time. It is important to mention that we use Google.com.pk but results seem to suggest as if we are using the Google.co.in variant of the search engine.
This trend started a few months ago where big Indian news sites like Hindustan Times and Times of India started taking over news results from major Pakistan news sites like Dawn and The News International.
However, miraculously the only Pakistan news site which seems to be surviving these Google search results is The Express Tribune. The search giant which operates in the region out of India has been constantly de-ranking Pakistan news sites and giving priority to Indian news sites even though most of these Indian sites are blocked in Pakistan. So basically Google is giving priority and promoting Indian news sites which don't even get any traffic from the country at all.
Whether you are searching for the coronavirus cases in Pakistan or you are searching for multiplayer game PUBG that got banned in Pakistan. Indian news sites are always there to break the news despite there being thousands of news sites in Pakistan with majority of them holding one of the top ranks globally these are ranked lower than their Indian counterpart.
Read more: PUBG Ban in Pakistan – What makes it a wrong decision?.
Following is an example of the Google News results in Pakistan when you search the term "Coronavirus cases in Pakistan". We can clearly see that out of the top 10 search results there are only two Pakistani news sites while the rest are all Indian news sites that are being given priority while the search term has nothing to do with India and there are a thousand big sources from Pakistan.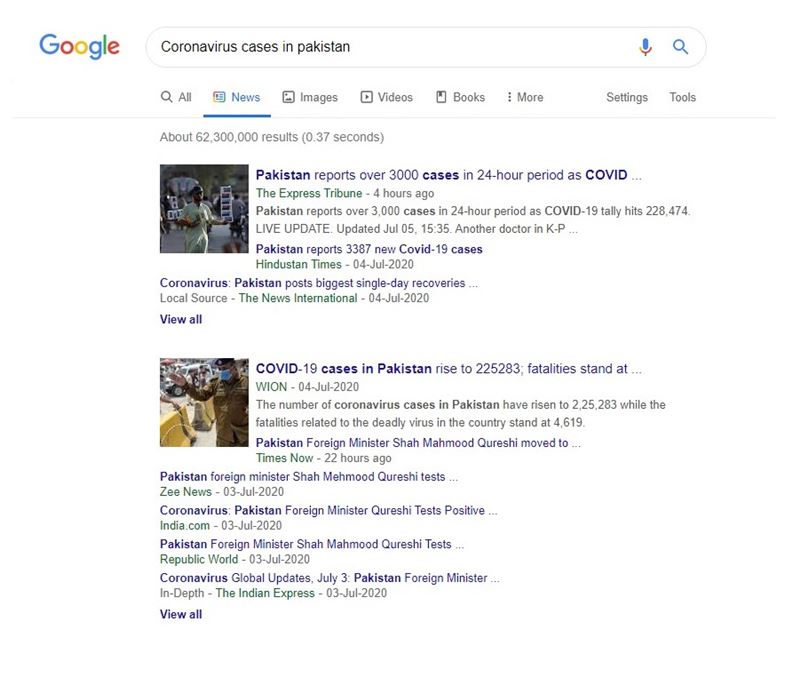 Similar if you search for the Prime Minister of Pakistan Imran Khan, instead of showing Pakistani news sites and updates regarding the Prime Minister from official Pakistani sites like Radio Pakistan and Associated Press Pakistan, Google instead promotes and gives priority to those Indian news sites that are mostly blocked in the country by Pakistan Telecommunication Authority (PTA).
You can clearly see that out of the seven top search results Google only managed to show two Pakistani news sites and decided to fill the list with all Indian results.
Now if you search Google about Indian ceasefire violation along Line of Control, the search engine throws Indian news sites with the title of Pakistan ceasefire violation in your face.
We have also noticed that when a news breaks out Indian news sites are prioritized as Top Stories in Google web getting majority of the traffic and later when the news starts to die down, these are replaced by Pakistani news sites although Google News results are still held up by the Indian sites.
Even if Pakistani news sites broke the news before and were providing regular updates, Indian news sites take over as soon as they post about the subject with their version of the story.
Pakistani users don't even want to look at the Indian news sites regarding what is happening in Pakistan but Google seems to be forcing Pakistani users to get their information from these Indian sites despite them being officially banned in Pakistan and inaccessible to everyone.
Note to the Government of Pakistan and the Pakistan Telecommunication Authority (PTA), instead of focusing on banning a game you should focus on the matter in hand that each story is being replaced by an Indian version. It is not too late to take action regarding this problem of Google Pakistan being replaced with Google India.
Read more: Developers had access to Facebook data from inactive apps.