The superhighway between Karachi and Hyderabad was upgraded from four-lane to six-lane motorway. It took around 30 months to complete the upgradation spanning over 134 kilometers and was named as Motorway M9 completed in 2018.
یہ کراچی حیدر آباد موٹروے ہے جس کے افتتاح کو ایک سال سے کچھ زیادہ ہوا ہے، اس کا موازنہ اگر بائیس سال پرانی لاہور اسلام آباد موٹر وے سے کیا جائے تو زمین آسمان کا فرق ہے، یہ موٹروے ابھی سے غیرمتوازن اور بھدی ہو گئی ہے، سڑک کے نشانات مدھم پڑ گئے ہیں۔اس فرق کی کیا وجہ ہو سکتی ہے؟ ? pic.twitter.com/ZWjD1QICuT

— Iqrar ul Hassan Syed (@iqrarulhassan) June 20, 2019
It is the only Motorway in Pakistan which allows motorbikes, Rikshaws, and even Bicycle since this Super Highway was never planned to be upgraded as Motorway M9.

Strangely where the Motorway M9 ends at Hyderabad toll it gets merged with Indus Highway and National Highway N5 which means there is no alternate route available if in future NHA and FWO along with Communication ministry tenders Hyderabad-Sukkur Motorway M6.
Latest: Multan Sukkur Motorway M5 will be operational by August 2019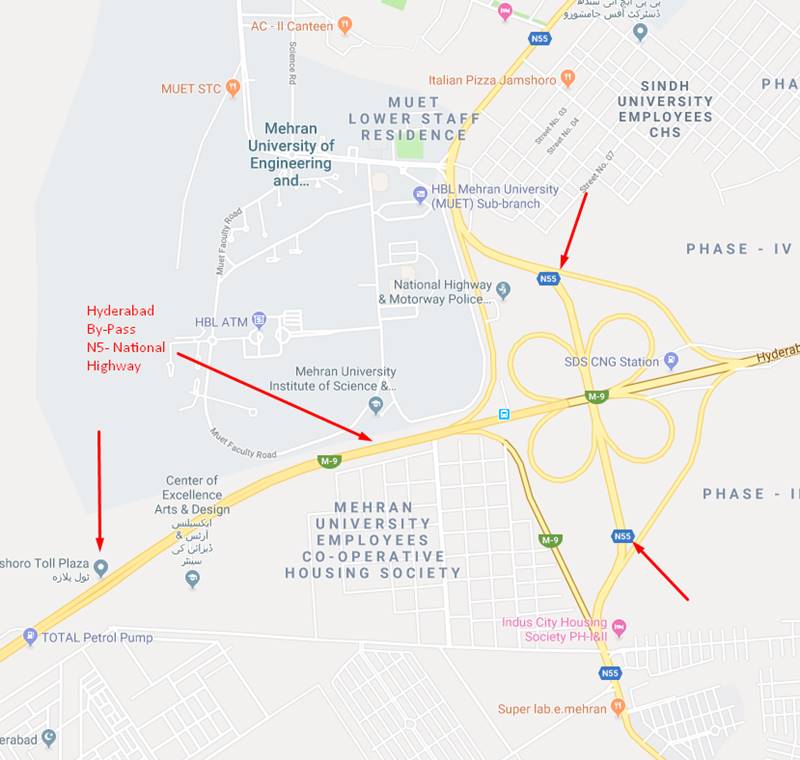 Motorway M9 aka Super Highway is the busiest road in Pakistan and Within a year the condition of the motorway is worst than one can imagine.
The heavy payload of trucks rolls over it and the way motorway being used is exemplary in its own way.
According to the NHA & MP (Motorway Police) notification, only heavbikes 600cc and above, however, this rule doesn't apply on Motorway M9.
In a normal scenario, vehicles get fined if driver and passenger not wearing a seat belt or over speeding but on motorway M9, Police appears to have no control over Trucks double overtaking and blocking the overtaking lane.
The upgradation of superhighway into motorway was just a lollipop for the people of Sindh. The standards which Motorway Police and National Highway Authority have set for other Highways and Motorways does not apply here because Motorway M9 crosses from various townships and industrial zones like Nooriabad and Public townships Bahria Town, DHA City, Qaim City, and Wonder city.
Bahria Town interchange which incomplete since day one still diversion exists and it is being made by Bahria Town Authority nobody from NHA & MP bothers to notify when will it finish.
Indeed it won't be wrong to say, Motorway M9 is a wonder itself.

In Punjab and KPK there are designated service areas but on Motorway M9 you can pull over on any gas station.
Before Motorway M9, the toll charges were Rs.30 for a car/jeep and van now commuters have to pay Rs.230 and in return not even getting a lollipop to suck.

Either the government make the alternate route for heavy traffic movement because the condition of the road is getting worse day by day

People from Sindh are not aware of the Motorway Standards and Quality of service which is being offered in other two provinces (Punjab and KPK)

M-Tag Facility?
NHA & Motorway Police have introduced M-Tag facility on Motorway M2 (Lahore-Islamabad) whereas it is being implemented on other motorways as well.

NHA and Motorway police should charge accordingly but in return provide the same standard and quality of Motorway not the lollipop to the people of Sindh.
There's no sign of M-Tag facility on Motorway M9 so far, hopefully, the government will implement it soon.
Read More: M-Tag made Mandatory to Enter Motorway
What about the Motorways In Balochistan?

Karachi-Quetta route requires a Motorway which is not included in a mega project of China Pakistan Economic Corridor (CPEC).

Quetta needs to be connected with entire Pakistan specially with Karachi due to its importance but it appears government is running out of funds and there will be no motorway for Balochistan.

So, The people of Sindh are enjoying lollipop meanwhile nothing for the province (Balochistan) which is the backbone of CPEC. How amazing?
New Updates about Motorway M9?
NHA & Motorway Police has started to fence Motorway M9 which will cause a hell of a disturbance for locals, The motorway is not elevated and there are no crossings beneath it as it was not planned but upgraded from superhighway.
Just like Punjab and KPK, Sindh and Balochistan deserves the equal rights and standards, this double standard policy creates hatred among one to another and like this country cannot be united nor there will be a proper justification why federal government is being so hypocrite when it comes to southern provinces.