It may sound fictional but it's not, Climate is being controlled by the Governments and the Impact of it we've witnessed in the past, It took me long to case study before writing, My friend Waqas Ahmed ( The Author ) Of Reality of Floods in Pakistan has came up with several evidences in his book which clears the doubts and unfolds the myth behind unusual weather behavior, unprecedented rains and floods.
People think it's the Nature turned aggressive even some said God is unhappy with us, but the fact remains undiscussed among the masses, neither it was nature's aggressiveness nor the God unhappy with us, it's was pre-planned setup by our rivals and enemies to de-stabilize us, time after time, ofcourse we don't see any Jets flying above us no gun shots and no missiles so we don't even both to consider that our enemies are behind this brutal weather.
It's not shocking that, India is using Climate as a weapon against Pakistan, while the people think Nuclear War is destructive  ( US, India  and Other countries ) has already experimented this lethal weapon against other countries.
If you are aware of HAARP Project you must be knowing how United States is controlling weather and Vietnam War how they used it against rival forces, It's not the Nuclear which is the biggest threat but Climate Change, by bring the destruction to any nation, make it complete disable, deemed to survive, massive death toll and financial loss of billions, It is happening already and we are damn to busy watching movies and thinking that it's all fictional but it's a fact.
We have to take it seriously to understand Lester Brown Founder of World Watch, Founder Earth Policy Institute , Writer of Plan-B said : Nations are begging to create a new system of international Environmental governance 
Slide Show
Waqas Ahmed In his book,  gives a clear and on ground picture of how weather modification is surpassing climate change rhetoric.
Pakistan has seen un predictable and un forecast able floods in 1992 , 1995 ,2010, 2012 & 2013 due to unprecedented rain.
The major reason of these floods was un expected rain system and not just  the lack of water storage and channelization network
Pakistan's Metrology Department forecasted low then average rain and drought for year 2010 (before the floods, Pak Met reports are available in the book).
For un forecast able rains of April/ May 2014, the PMD had no clue.
With the advent of climate change ministry, it is therefore established on national level that Pakistan is facing the dire consequences of global-warming-climate-change.
The fact that both India and China are doing weather modification are totally being ignored as their weather operations can easily produce collateral for both Pakistan and in the entire region.
Climate change is the major word used in the policy deriving book Plan B 4.0 by Lester Brown.
The  Book "Reality of Floods in Pakistan – a normative case study of climate change, weather modifications and man-made floods of 2010", ISBN no  978-969-9926-006   is the first book on climate change and weather modifications in Pakistan. The book caters for the following key points.
In depth explanation and chronology of weather modification operation since 18th century
In depth explanation and chronology of covert weather modification operations , including the United States Air force operation pop-eye, the Royal Air force Operations and  tens of declassified reports.
Explanation of climate, climate change and the business opportunities and scope for climate change industry. This also shows how politicians like Al-Gore are lobbying for climate change business initiative like carbon tax and climate industry.
In depth study of leaked emails of climate change scandal which nullifies the United Nations 4th assessment report regarding the global-warming-climate-change
List of all covert operations being done around the globe with available evidences.
Authors hypothesis about the floods in Pakistan.
Evidence of American weather modification operations in Afghanistan that influenced the 2010 floods in Pakistan.
Official evidence of Indian CAIPEEX program that resulted in 2010 floods in Pakistan.
The broken rhetoric of Pervez Hoodbhoy. The in detailed discussion between the opinions of Dr. Atta ur Rehman and Dr. Pervez Hoodbhoy
How the objective of world governance will be served by the idea of global-warming-climate-change.
Waqas Ahmed tells us about the dark future ahead , Its 2020, Pakistan's weather pattern have mutated so much that our agricultural output has started to hit the economy. Extreme temperature events have increased floods and drought manifold. Meteorologists are continuously losing the reliability over their weather prediction models. Our normal life that we knew, has changed. We are have warm clothes for the month of April and our mangoes are nowhere to be seen in summer due to changing patterns of extended monsoon systems. Augmenting the tyranny, we are now paying carbon tax on our air-tickets, gasoline and almost any thing we buy.
Truth is stranger then fiction.The question of the future is that can we take control of our weather? The rivers on the sky carry more water then the rivers on ground. Will our neighboring countries quench our skies of moisture which was once the source of life in our rivers? Will we be able to stop what made the collapse of the Indus Valley civilization 4000 years ago. Will we be ever technically prepared to counter strike the big Cs.
Climate Change is real.. its happening at the faster rate then we Pakistanis can comprehend.
Lets unite to take control of our lifeline and our future generations by educating ourselves about the Geo-engineering that is in progress for the installation of a "Global Thermostat".
Please  tell everyone to join the following even
https://www.facebook.com/events/1650260271873022/
Be there with your family and friends all are invited  ( Kuch Khas ) Address House 1, Street 1, F-6/3 (Main Margalla Road), Islamabad, Pakistan 
The book is available at Saeed Book Bank & Idress Book Bank in Islamabad/Rawalpindi. It will be available at Readings Lahore by 25th September.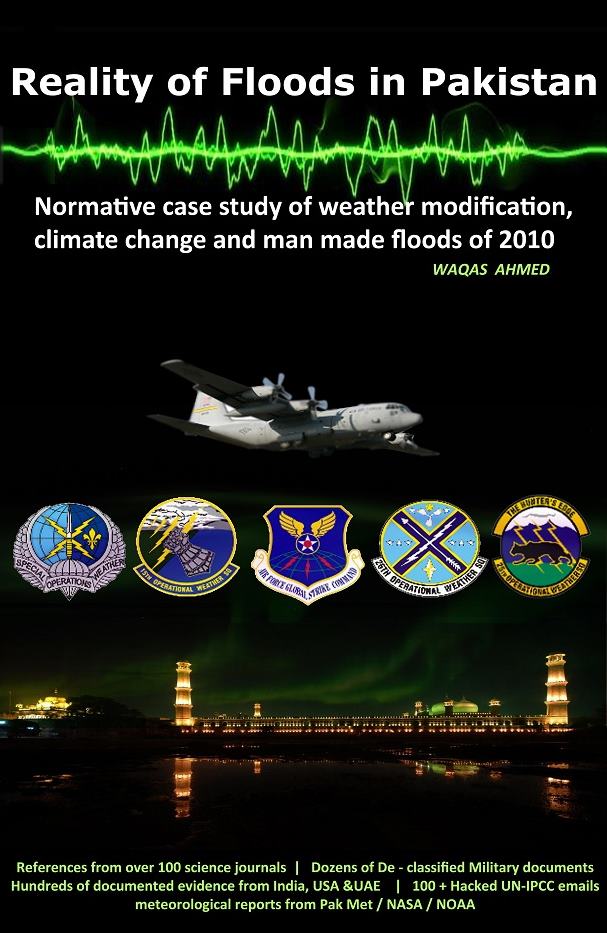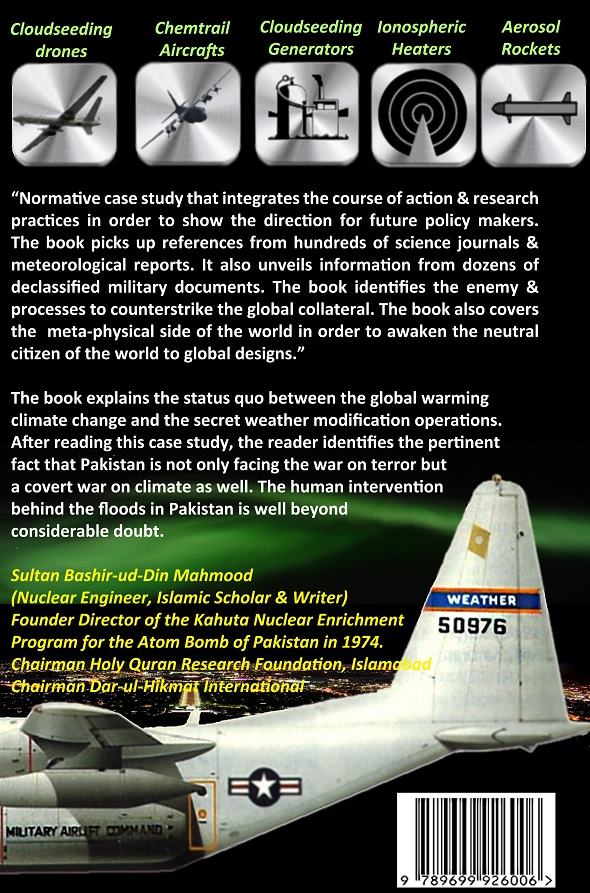 Online links 
http://www.libertybooks.com/bookdetail.aspx?pid=21882 
http://saeedbookbank.com/prod.asp?bstslrid=252279