India and Pakistan, started up together when finally got over from British Empire rule, on 14th and 15th August 1947. The Both Nation's Leaders were No Doubt Hero's  M. Gandhi and Muhammad Ali Jinnah  It was the great struggle of Gandhi, after he returned from South Africa in 1915 to India.  After both countries got Independence there's so much bloodshed spilled over the streets roughly estimated a million people died, while people were migrating from both portions In 1947 after partition as well, the sudden shock which both nations faced was the assignation of Gandhi and the death of M.A.Jinnah in 1948 ( some sources say he was poisoned ). Year 1948 the issue of Kashmir got worst, and both countries went for a WAR over Kashmir, which lead Kashmir into 2 parts , Pakistan side ( zad Kashmir and Indian side IoK, Indian Occupied Kashmir).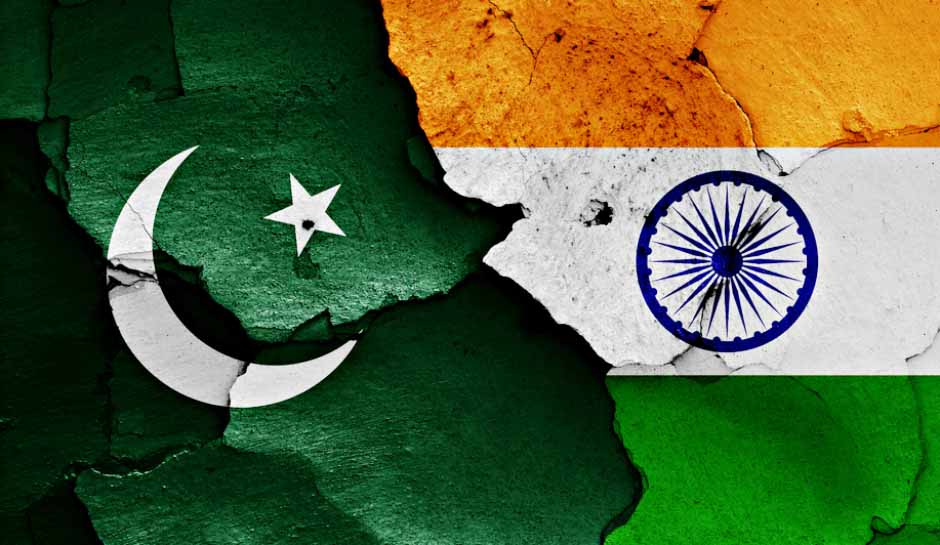 I do understand that Muslims and Hindu's has different ritual and beliefs, their religious practices are different, but before partition they were living together as one. Today Pakistan population is over  180 Million and India's above 1 billion, from which Pakistan has 3% Minority if i go in figures it won't be more than 3 million which consist of " Christian , Hindus , Sikh , Parsi , etc.. ) where India has 20% of Minority in figures 35 Million ( Mostly Muslim , Christian , Buddist , jains etc.. ) Almost the double Population of Pakistan.
India and Pakistan, could have had good relations and trade between both countries allowing industrial, agriculture, modern science, electrical item, vehicles, to be traded. But Due to War In 1965 Just after 18 Years, When Pakistan was Under Martial Law , went for War with India, again the issue was same Kashmir ( disputed valley ) Messed up the relations, Just after 6 Years In December 1971 Again another war, This Time Pakistan Lost its land on 16th December 1971 Pakistani Forces surrendered Under Indian Forces and Very Next day an announcement was made Of new Country Bangladesh.
After The Great Loss of Pakistan, Pakistan turned toward Democracy and Constitution was passed in 1973 which is still the Constitution of Pakistan, By Prime Minister and later President of Pakistan Zulfiqar Ali Bhutto, One of the leading names in the history of politics.The Simla Agreement signed by Prime Minister Indira Gandhi and President Zulfikar Ali Bhutto of Pakistan on 2nd July 1972 was much more than a peace treaty seeking to reverse the consequences of the 1971 war (i.e. to bring about withdrawals of troops and an exchange of PoWs). It was a comprehensive blue print for good neighborly relations between India and Pakistan. based on simple points
1. A mutual commitment to the peaceful resolution of all issues through direct bilateral approaches.
2. To build the foundations of a cooperative relationship with special focus on people to people contacts.
3. To uphold the inviolability of the Line of Control in Jammu and Kashmir, which is a most important CBMs between India and Pakistan, and a key to durable peace.
Since than Line Of Control ( LoC ) which is the border of Pakistan and India being monitored and though Pakistan been under siege of Martial Law, when Z.A.Bhutto was Executed by Chief of Army Staff. Zia-ul-Haq, Country Suffered a lot in his era 1979 to 1988.He was the one to support United States to fight against Soviet Union, On the Soil of Afghanistan with the help of mujahideen (today known as Taliban ) . This is the same era when Taliban were introduced entirely funded and trained by Elite Forces of United States. finally the mission they had they achieved it in 1988 breaking Soviet Union, free Afghanistan. But The Kashmir Issue was still there, United Nation Imposed There on both sides of LoC but yet no solution. Pakistan and India again took a step forward to be friends.
In December 1996, Babri Mosque was demolished in india by Indian Religious Extremist, all thou court orders were on stay. dispute was Hindu religious leader said, it is the birthplace of RAM ( Hindu GOD ) where this Mosque was. This was one tragic scene Indian Muslim suffered and where All Indian forgotten than their flag has three colors green too which is equally divided. This was getting worse for Pakistani Muslims and government condemned on it, In 1997 , 12th December Indian ( Parliament was under attack by terrorist ) Indian Claimed ISI ( Inter Service Intelligence ) Pakistani Agency for it, friendship almost cracking instead of getting stronger it was getting worse. never the less both sides been accusing each other so finally
On May 11, 1998, India tested three devices at the Pokhran underground testing site, followed by two more tests on May 13, 1998. The nuclear tests carried out at 3:45 pm on May 11th were claimed by the Indian government to be a simultaneous detonation of three different devices – a fission device with a yield of about 12 kilotons (KT), a thermonuclear device with a yield of about 43 KT, and a sub-kiloton device. The two tests carried out at 12:21 pm on May 13th were also detonated simultaneously with reported yields in the range of 0.2 to 0.6 KT. This was not the first time India tasted Nuclear first time was on May 18, 1974, this was after 24 years. which made Pakistani Government and people Panic, since Pakistan was also capable of such tests since the history of Pakistani Nuclear program Started  too Under the Prime Minster Z.A.Bhutto who initiated the program with a meeting of physicists and engineers at Multan in January 1972. But it was never tested knowing that Pakistan capable of it. Finally the restlessness after India tested 2nd time on 11th May 1998 just after days couple of weeks.
May 28, 1998 Pakistan announced that it had successfully conducted five nuclear tests. The Pakistani Atomic Energy Commission reported that the five nuclear tests conducted on May 28 generated a seismic signal of 5.0 on the Richter scale, with a total yield of up to 40 KT (equivalent TNT). Dr. A.Q. Khan claimed that one device was a boosted fission device and that the other four were sub-kiloton nuclear devices. on May 30, 1998 Pakistan tested one more nuclear warhead with a reported yield of 12 kilotons. The tests were conducted at Baluchistan, bringing the total number of claimed tests to six. It has also been claimed by Pakistani sources that at least one additional device, initially planned for detonation on 30 May 1998, remained emplaced underground ready for detonation. In 1998 Prime Minster Nawaz Sharif took this step to make the balance in the region which was appreciated by Pakistani Nation.
MAY 1998 made both nation aware of each other's nuclear strength, but it increased more tension in the region, specially on ( LoC ) where in public War talks were getting common and the most common word which I heard the most was ( CTBT ) everywhere nuclear power war being discussed. In May 1999, once again 4th time went for a war Kargil Valley ( 20 percent of it is on Pakistani side higher ground lever and 80 percent was on indian Jammu Kashmir lower level ) war continued in the valley loss of many lives civilians and armed forced, ended by United States Clinton's Administration. to cease-fire In July 1999 War Ended Pak Army stepped back and gave Kargil  to India, though Pakistani Army had the full control of the Kargil valley.
Indians considered their Victory but it was an order by Clinton's Administration to keep peace in the region just after few months in October 1999, Gen.Pervaiz Musharraf (Chief of Army Staff Pakistan) got the charge dissolving the Parliament of Pakistan, as Chief Executive of Pakistan and Chief of Army Staff. so much corruption was going on in Pakistan it was not named as Martial Law like before but right after 10 years of democratic rule once again, Pakistan was under Army rule. he went for referendum and became the president of Pakistan in 2002, his first visit was to india and he very well stabled the nations relations between India and Pakistan.
In 2002 Gujarat Genocide, killing of Muslims in india made more worse when the time of elections came. Hindu Extremist once again not only demolished but burnt Muslims ( male , female, children alive ) so when it was done, all they did made Muslim President to show that we still believe in democracy. Things weren't in good shape in 2006 finally agree to start Train Service from Sindh to Rajasthan ( finally it was running by 2007 ) time after time, affords are being made beside resolving the Kashmir Issue, as things were getting bit better, in 2008 November Mumbai was under siege, for 4 continuous days due to few terrorists, finally one was captured alive, he came up to be Pakistan (Mr.Ajmal Kasab) hanged by Indian court last year 2012. while investigation and accusing Pakistan ISI and Government involvement, In March 2009, In Lahore Sri Lankan Cricket team was attacked by terrorists. without a single thought on the media it came the terrorist are from India and they are linked with Indian agency RA, again Blame Game started up.
Relation between both countries never been friendly, specially Kashmir Dispute over which every now and then clash happens on Line of Control, Does Pakistani and Indian government is in favor of cease-fire agreement for 25 years as it was signed Lahore Declaration between both prime ministers In 1998. do they think about what people want?
Personally I don't think there would be peace in this region until and unless, Kashmir issue is not being resolved according to UN Resolution.
By Farhan Imaan – Written Year  2009 / Edit for INCPak