The authorities in Rawalpindi have announced that all educational institutions in the city, including schools, colleges and universities will remain closed on 18 December 2021 on account of the Organization of Islamic Cooperation (OIC) Foreign Ministers Conference.
However, this order does not apply to educational institutes (schools, colleges and universities) located in cantonment areas.
The announcement was made via a notification issued by the Deputy Commissioner Office in Rawalpindi. "All Educational Institutions i.e. Universities, Colleges & Schools (Government as well as Private) situated in the limits of Rawalpindi City areas excluding Cantonment areas, shall remain closed on 18.12.2021 (Saturday) on account of the OIC Foreign Ministers Conference." said the notification.
This is a copy of the notification: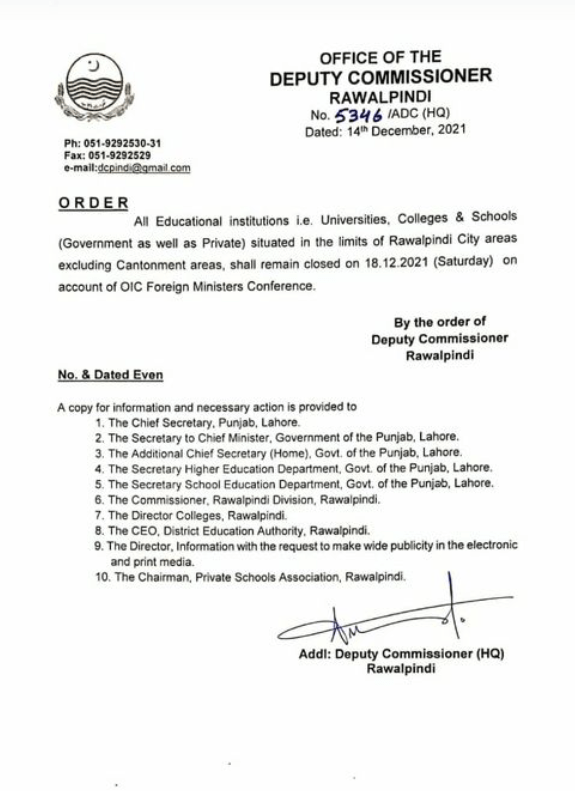 It is pertinent to mention that provincial governments are scheduled to announce the final decision on winter vacations after the National Command and Operations Center (NCOC) meeting to be held tomorrow.
The Inter-Provincial Education Ministers Conference held on Tuesday and has decided on providing winter holidays from December 25 to January 4, however, the final decision is yet to be taken.
Read more: Winter vacation in Pakistan to be announced tomorrow.
Follow INCPAK on Facebook / Twitter / Instagram for updates.