Students tend to have a lot of questions regarding the Ehsaas Scholarship Programme and its entire application process.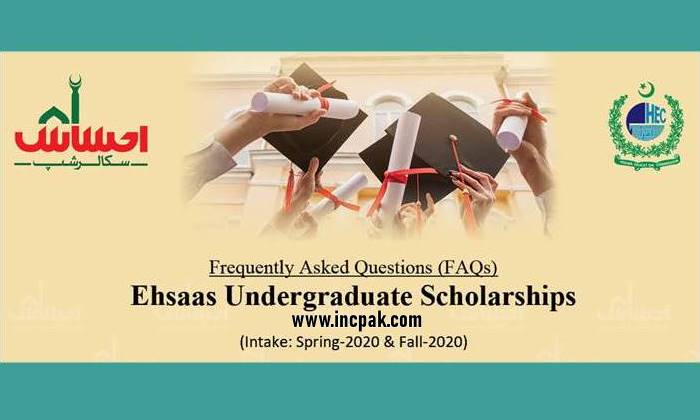 For that very reason we have taken the most frequently asked questions (FAQs) from the Ehsaas Undergraduate Scholarships Programme and compiled them over here.
These include information on who is eligible and how to apply for the initiative with ease. Just read through these FAQs and if you have any trouble, leave a comment and we'll do our best to assist.
Ehsaas Scholarship Programme [FAQs]
1. Will there be a test for candidates for Ehsaas Undergraduate Scholarships?
No, There will be no test for award of Ehsaas Scholarship.
2. What is the eligibility criteria to apply for Ehsaas Undergraduate Scholarships Programme?
Those students are eligible who:
Are newly admitted in Spring 2020 and Fall 2020 Sessions.
Have secured admission on merit only. Merit means that the student has fulfilled the admission criteria of the institution in which he/she intends to study.
Are encrolled in degree programmes allowed by HEC.
meet the age criteria set by institution's regulation, i.e the maximum age for eligibility of scholarship is the same as the maximum age to apply for admission in undergraduate programme at the respective higher education institute.
3. What documents are required to be submitted to the Financial Aid Office?
Follwoing supporting documents are mandatory to be submitted to the Students Financial Aid Office of the respective university along the printout of Online Application Form:
Copy of CNIC/ B.Form of the applicant
Copy of CNIC (Father, Mother/Guardian)
Salary Slip/ Income Certificate (Father/Guardian, Mother)
Copy of latest Month's Utility Bills (if facility available) containing history of bills of last six months (Electricity, Gas, Telephone, Water)
Copy of Rent Agreement in case of a Rented House.
Copies of Last Fee Receipts of Applicant and Sibilings (If applicable)
Copies of Medical Bills/ expenditure related documents (if applicable)
One Passport-size Photograph of applicant
Pictures of House (Front Elevation)
4. How to edit/correct the information if any mistake occurs while filing the Online Application Form and it is also submitted, e.g error in Date of Birth, Age, spelling Mistake, Income Amount, Expenditure info, etc.?
Please take printout of the submitted online application from and make changes in printed form with signature of the applicant at the place of changes. Proof of changes is also required to be submitted to the Financial Aid Office (FAO) of your university. These marked changes will be entered by FAO staff in the Evaluation Sheet and that change will be considered final.
5. Are Students enrolled in Private Sector universities eligible to apply for Ehsaas Scholarship?
Student enrolled in Private Universities/ Institutions/Affiliated Campuses are not eligible to apply for Ehsaas Scholarship.
6. Can a Student of Government College/Affiliated college apply for Ehsaas Scholarship Programme?
Students of Affliliated Colleges/Campuses (public/private) are NOT ELIGIBLE for Ehsaas Scholarship.
7. Are Students of Evening Degree Programme/Distant Learning/Self Finance/ Self Sustain Programme eligible to apply for Ehsaas Scholarship Programme?
No, these are students are not eligible for Ehsaas Scholarship.
8. I am a student of 3-Year Bachelor's Degree / 2-Year Master's Degree Programme in a Public Sector University. Am I eligible to apply for Ehsaas Undergraduate Scholarships Program?
Students of two-year post-higher secondary or equivalent programmes, two-year associate degree programmes, Master's and the nomenclature of BA/BSc programmes are not eligible for Ehsaas Scholarship.
9. How to proceed further, if applicant's mother is deceased and her CNIC Number or CNIC Expiry Date is not available?
The student can add CNIC details of his/her father, brother or sister.
10. If student's father is retired / jobless / laborer, which document will be attached as supporting document as proof of Family Income / Salary information, etc.?
If father is retired, please attach copy of Pension Book/Latest Bank Statement.
If father is a laborer on daily wage / shopkeeper / private job, then attach undertaking of Income Certificate on minimum amount of stamp paper. In case of shopkeeper, please attach two pictures of the shop with Income Certificate.
If father's job is outside Pakistan, than Income Certificate should be in currency of the respective country.
If father is jobless or deceased and paternal or maternal uncle / khala / family friends, etc. are supporting applicant's family, then mention only the partial amount received by the applicant which he/she receives as a support. Do not mention full income of Guardian / Family Friends in the application form.
11. What is the Online Application Submission Process and how to apply for Ehsaas Undergraduate Scholarships Programme?
Step-1: All eligible applicants / students may apply through Online Application Portal at http://ehsaas.hec.gov.pk
Step-2: Completed Forms (Hard Copy) along with necessary Supporting Documents should be submitted to Financial Aid Office of the respective university for further scrutiny process.
12. I have filled the Online Application Form. May I submit hard copy of the Application Form to HEC / BISP?
Please Do Not send hard copy of Application form directly to HEC or BISP
13. Is awarded scholarship transferable to any other university?
The awarded scholarship is non-transferable to any other university, academic degree programme and session.
14. What is the last date to apply for Ehsaas Scholarship Programme?
The last date to apply for the Ehsaas Scholarship is October 30, 2020.
15. If my application is Saved, and not Submitted, will it be considered?
Applications in the "Saved" mode will not be acceptable.
16. If I am awarded the Ehsaas scholarship, what are the conditions for continuation of scholarship?
Scholarship funding shall continue for next semester/ year subject to the satisfactory academic performance and attendance in the class.
17. If hard copy of my application form has missing documentation, will I be considered for an interview by the university's selection panel?
Incomplete application form in any respect will be rejected.
Read more: Kamyab Jawan Program Online Loan Application [Complete Guide].