ISLAMABAD: The government has opened the Ehsaas Undergraduate Scholarship Programme for the academic year 2020-2021. The prospective students can submit their scholarship applications online on using the web portal.
Ehsaas Undergraduate Scholarship Programme is created for the deserving students who cannot afford higher education. To overcome the poverty and uneven distribution of education, it is important for the lower-income students to have higher education.
The Ehsaas Undergraduate Scholarship Programme is just the right step taken by the government to tackle the issue of uneven distribution of education make higher education accessible to more students.
Ehsaas Undergraduate Scholarship Programme Application Submission Deadline
Special Assistant to the Prime Minister on Poverty Alleviation Sania Nishtar tweeted on Tuesday to announce the last date for the application submission for the Ehsaas Undergraduate Scholarship. She said the portal is open till October 30.
Furthermore, Dr Sania Nishtar stated that prospective students must enter the name of the university concerned in the application. The special assist tweeted saying:
All students studying in four or five-year undergraduate programs in 119 public sector universities of the country can apply for scholarships. Students whose family income is less than Rs. 45,000 can apply for Ehsaas Scholarship.

The Ehsaas Scholarship also includes a 100% tuition fee and a monthly subsistence allowance of Rs. 4,000. The scope of the program includes public sector universities in the four provinces, Azad Kashmir and Gilgit-Baltistan.
The Objectives of Ehsaas Undergraduate Scholarship Programme
As pointed out in the HEC website the objectives of the Scholarship Program are as under:
It is a paradigm shift in a policy of the Government of Pakistan to support undergraduate level students who after completing FA/FSc./Intermediate are unable to pursue university education due to limited financial resources. Unlike past financial assistance schemes that were aimed at MS or PhD programs, the Ehsas Undergraduate Scholarship Project focuses on the most critical segment, namely the 4-5year undergraduate programs, which contributes the most to income of the individual who completes the bachelors degree.
It is one of the sizeable project funding under the Government of Pakistan's Ehsaas social safety net program which aims to provide 50,000 undergraduate scholarships with an average budget of Rs.6 billion annually. Over a period of the next four to five years, these scholarships will be increased to around 200,000.
The scholarship covers university tuition fees and stipend throughout four-five years of degree duration. It is a significant step to ensure affordable higher education in all major fields of education including agriculture, arts and humanities, business education, engineering, medical, physical sciences, and social sciences.
The project aims to support female education therefore 50% of scholarships are reserved for the female students in the overall Project's target.
To encourage physically challenged students, 2% of the scholarships are reserved for them.
It is a vibrant program that will facilitate the creation of the competent workforce thus enhancing employability factors in youth.
It foresees to create a drive for education among those students who have discontinued studies due to limited financial issues.
By targeting the most vulnerable segment of the young population through this initiative, poorer households would be enabled to come out of poverty, which is the long-run expected to have a positive impact on individuals, their families and the community.
READ MORE: PM launches Ehsaas Undergraduate Scholarship programme
Eligibility Criteria for Ehsaas Undergraduate Scholarship Programme
Scholarships are offered for:
Newly admitted students
Admissions secured on merit only. Merit means that the student has fulfilled the admission criteria of the institution in which he/she intends to study
Degree programs allowed by the HEC.
The age limit set by institution's regulations, i.e., the maximum age of the eligibility for the Ehsaas Undergraduate Scholarship Program is the same as the maximum age for applying for admission in undergraduate programs at the HEI.
Ineligibility Conditions:
A student is ineligible for the scholarship if found
Availing any other scholarship or continuous grant
Enrolled in distant learning programs and affiliated colleges (both public/private )
Secured admission on a self-sustain/ self-support/ self-finance basis, or in evening programs with higher fee structures
Documents Required
After submission of the online application form of Ehsaas Undergraduate Scholarship Project, the applicant is required to take a printout of the application form and attach the following supporting documents:
| | |
| --- | --- |
| Sr.no | Supporting Documents |
| 1 | Copy of applicant CNIC / B. Form |
| 2 | Copy of CNIC (Father, Mother/ Guardian) |
| 3 | Salary Slip / Income Certificate (Father/Guardian, Mother) |
| 4 | If father is Labourer on daily wage / shopkeeper / private job, then attach undertaking of Income Certificate on minimum amount of stamp paper of Rs. 50/- |
| 5 | Copies of last Six Month Utility Bills (Electricity, Gas, Telephone, Water) – (If applicable) |
| 6 | Copy of Rent agreement in case of Rented House |
| 7 | Copies of Last Fee Receipts of Applicant and Siblings (If applicable) |
| 8 | Copies of Medical bills/ expenditure related documents (if applicable) |
| 9 | 01 Passport size Photograph of Applicant |
| 10 | 01 Picture of House from outside Front |
Important Note: The hard copy of the application form along with the supporting documents will be submitted to the Student Financial Aid Office of the university only.
Ehsaas Undergraduate Scholarship Program Award Process
All students are required to apply through https://ehsaas.hec.gov.pk/ online system and SUBMIT the application form. Applications in the "Saved" mode will not be acceptable.
Applicants are required to submit hard copies of the application form along with the supporting documents to the financial aid office of the university by the given deadline.(list of supporting documents are specified on the website)
The Scrutiny Committee of the university will short list all candidates who fulfill the eligibility criteria, based on the information provided in their applications, and who have provided all the information sought for under the rules such as proof of family income, assets, past academic record, age (where appropriate) etc.
Incomplete application form in any respect will be rejected.
The Institutional Scholarship Award Committee of the universities will interview/ recommend potential applicants for the award of scholarship.
Scholarship awardees will be asked to sign a deed of agreement on a stamp paper.
Financial Aid Office of the university shall issue the Final Scholarship Award Letter.
Awarded scholarship is not transferable to any other university/ academic program/ academic session.
Scholarship funding shall continue for next semester/ year subject to satisfactory academic performance.
Note: Students are advised to fill the online application form very carefully and provide authentic documentary proof of household income and expenditure for assessment and evaluation by the scholarship award committee. If during any stage of the degree program it is found that the Scholarship Awardee has provided false information in the application form/forged/tampered the application form or income certificate in order to secure the scholarship, the university will be liable to take strict disciplinary action as per rules which may include, but not limited to the refund of all scholarship funding.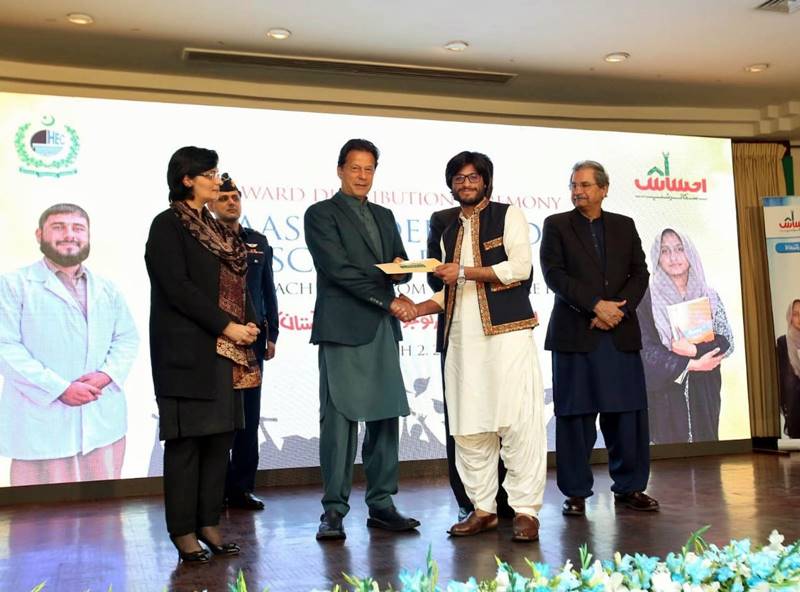 Financial Support
The Program covers funds for the following expenses:
University fee as per actual fee as per actual
Annual Stipend
List of Universities
SINDH
Shaheed Zulfiqar Ali Bhutto University of Law, Karachi
Shaheed Benazir Bhutto University Benzirabad Nawabshah
Sindh Agriculture University, Tandojam
Sukkur Institute of Business Administration, Sukkur
Benazir Bhutto Shaheed University Lyari, Karachi
Dawood UET Karachi
QUEST Nawabshah
Shah Abdul Latif University, Khairpur
The University of Karachi
SHAHEED MOHTARMA BENAZIR BHUTTO MEDICAL Larkana
Dow University of Health Sciences, Karachi
Institute of Business Administration, Karachi
BBSUTSD) Khairpur Mirs
Liaquat University of Medical & Health Sciences Jamshoro
MUET JAMSHORO
Peoples university of medical and health science, Sindh
NED , Karachi
Shaheed Benazir Bhutto University of Veterinary And Animal Sciences Sakrand
SMI,Karachi
The University of Sufism and Modern Sciences, Bhitshah
University of Sindh jamshoro
PAQSJIMS, GAMBAT
Jinnah Sindh Medical University, Karachi
Government College University, Hyderabad
The Shaikh Ayaz University, Shikarpur
PUNJAB
Punjab Tianjin University of Technology-Lahore
GCU-Lahore
Government College Women University, Sialkot
Information Technology University Lahore (ITU)
King Edward Medical University
Kinnaird College For Women, Lahore
Lahore College for Women University (LCWU)
National College of Arts (NCA)
National Textile University -FSD
Fatima Jinnah Medical University-Lahore
Rawalpindi Medical University (RMU)
UVAS-Lahore
PFID-Lahore
University of Narowal
Fatima Jinnah Women University-Rwp
University of Okara
UET-Taxila
University of Sahiwal
University of Gujrat
UET-Lahore
University of Punjab, Lahore
University of Education
University of Health Sciences, UHS
University of Sargodha
PMAS-Arid Agriculture University, Rawalpindi
GCU, Faisalabad
GCWU, Faisalabad
UAF, Faisalabad
Ghazi University, D G khan
BZU, Multan
Women University, Multan
MNS UET, Multan
MNS Agriculture University, Multan
NFCEIT, Multan
Nishtar Medical University, Multan
IUB, Bahawalpur
GSCWU, Bahawalpur
Cholistan University of Veterinary and Animal Sciences, Bahawalpur
Khwaja Fareed University (KFUEIT), R Y Khan
Faisalabad Medical University, Faisalabad
Rawalpindi Women University, Rawalpindi
University of Mianwali
University of Home Economics, Lahore
ICT
Air University, Islamabad
Bahria University, Islamabad
Federal Urdu University of Arts , Science and Technology
Islamic International University (IIUI)
Institute of Space Technology, Islamabad
NDU-Islamabad
NUML, Islamabad
National University of Medical Sciences, Rawalpindi
NUST, Islamabad
NUTEC-Islamabad
PIEAS-Islamabad
Quaid-E-Azam University, Islamabad
SZAB Medical University, Islamabad
COMSATS-Isb
KPK
FATA University, Kohat
Agriculture University Peshawar
Women University Mardan
UET Mardan
Women University Swabi
University of Swabi
IMS Peshawar
Islamia College Peshawar
UET Peshawar
University of Haripur
Khushal Khan Khattak University, Karak
UoT Nowshehra
KUST Kohat
University of Buner
AUST Abbottabad
Khyber Medical Peshawar
Gomal University
Shaheed Benazir Bhutto University Shringal, Dir Upper
Abdul Wali Khan University
University of Swat
University of Malakand
University of Lakki Marwat
Hazra University Mansehra
University of Peshawar
University of Chitral
University of Science & Technology, Bannu
Shaheed Benazir Bhutto Women University, Peshawar
Bacha Khan University
BALOCHISTAN
UET Khuzdar
Lasbela University of Agroculture Water and Maring Sciences Uthal
Sardar Bahadur Khan Women University Quetta
University of Turbat
University of Loralai
Balochistan University of Information Technology, Engineering and
Management Sciences(BUITEMS), Quetta
Bolan University of Medical and Health Sciences. Quetta
University of Balochistan, Quetta
GILGIT BALTISTAN
Karakorum Internatinal University, Giglit
University of Baltistan
AJ&K
MUST, Mirpur, AJK
AJKU, Muzaffarabad
Women University, Bagh, AJK
University of Poonch, Rawlakot
Kotli University, Kotli, AJK
Ehsaas Undergraduate Scholarship Programme – Apply Online
The students are required to apply through HEC Online Application system. The following link will take you to the HEC online apply portal. Click on the following link.
READ MORE: Govt to establish cyber crime wing for Ehsaas Program
Follow INCPak on Facebook / Twitter / Instagram for updates.