LAHORE: There is a fake Twitter account under the name of the education minister Murad Raas spreading false information regarding closing of schools in Punjab.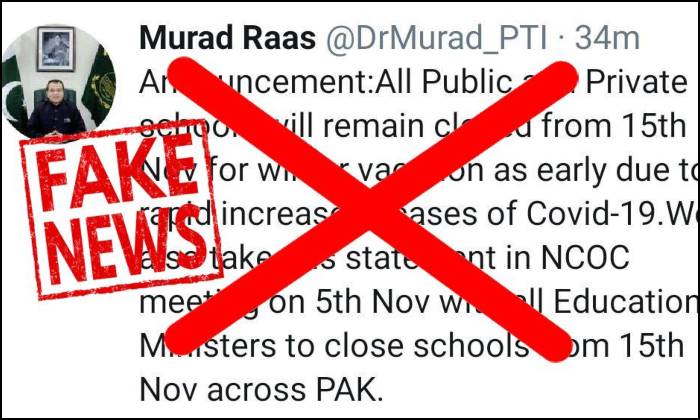 However, the education minister has confirmed that all such news being circulated under his name is fake and schools in Punjab are not closing since no decision has been regarding the matter yet.
Punjab's education minister Murad Raas took to Twitter with screenshots from the fake Twitter account shutting down all rumors regarding the closure of educational institutes and confirming that schools will remain open and running as scheduled.
NOTE: @DrMuradPTI is the real Twitter account of the education minister.
FAKE TWITTER ACCOUNT
The following is the tweet from a fake Twitter account operating under the name of education Minister Murad Raas spreading false news regarding closing of schools in Punjab.
Everyone can go to @DrMurad_PTI and report the account.
A meeting has been scheduled for education ministers to review and discuss the current situation and decide further measures regarding closing of schools but no decision has been made yet.
Read more: Education ministers to decide about closing schools on 5th Nov.