LAHORE: New school timings in Punjab will be observed starting 16 October 2020 according to a notification issued by the Provincial School Education Department.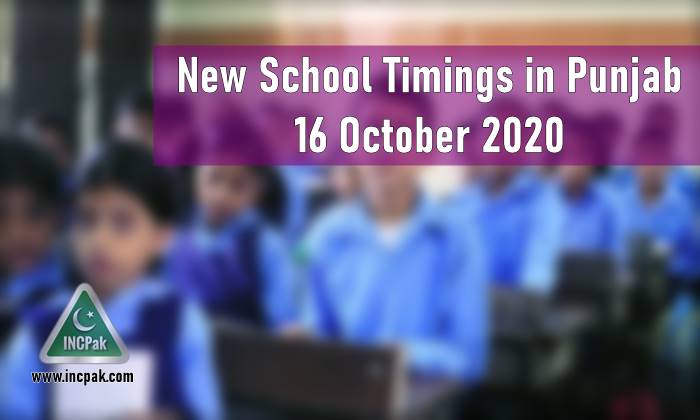 According to the notification, the new school timings in Punjab will go into effect from 16 October 2020 and remain in place until 31 March 2021.
The new school timings have been divided into single shit and double shift system. Following is the new schedule as mentioned in the notification:
School Timings in Punjab
Days
Single Shift Timings
Double Shift Timings
Monday to Thursday & Saturday
8:30 am to 1:30 pm
8:15 am to 12:15 pm (morning)
1:00 pm to 4:30 pm (evening)
Friday
8:30 am to 12:15 pm
8:15 am to 12:15 pm (morning)
2:00 pm to 5:00 pm (evening)
Furthermore, the notification states that the Chief Executive Officer (DEA) concerned may make adjustment of 15 minutes in opening and closing time of boys and girls schools on case to case basis keeping view the local problems but the study hours shall be strictly observed.
Moreover, the head teacher in consultation with the concerned Controlling Officer may make plan for 10 minute recess (2 times) daily except on Friday with students' break up in such a manner that proper social distancing as per standard operating procedures (SOPs) is maintained.
Read more: Punjab to establish 'Insaf Academy' for students: Murad Raas.
Follow INCPAK on | Facebook | Twitter |Instagram | for updates.