LAHORE: The University of Health Sciences has announced the admission procedure, date for the academic session 2020-2021 for the Bachelor of Medicine, Bachelor of Surgery (MBBS), and Bachelor of Dental Surgery (BDS) disciplines.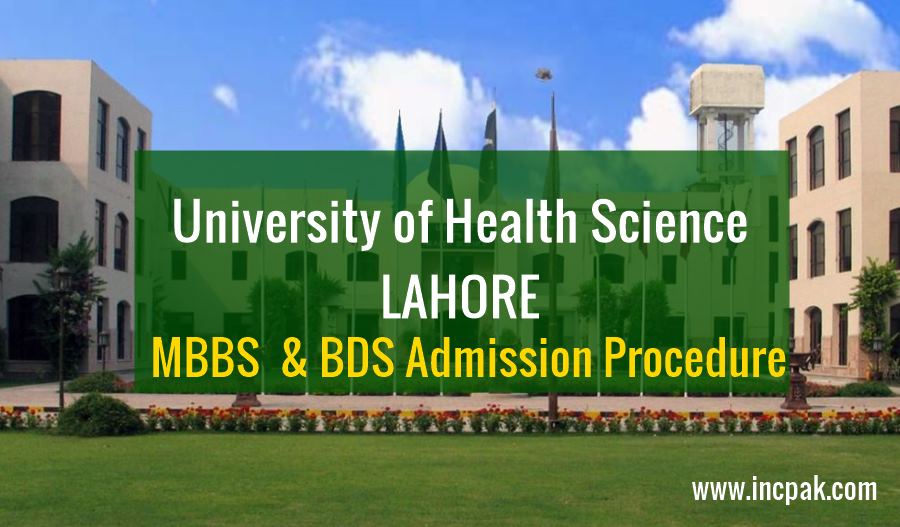 The Eligibility Criteria, Admission procedure, and Information is mentioned below as per the University of Health Science of Lahore, Kindly follow the instructions below carefully.
Online applications are invited from eligible candidates for admissions to First Year MBBS/BDS in the public sector medical/dental institutions of the Punjab, for the session 2020-2021.
Read More: British Council scholarships for women in STEM 2021-2022
Eligibility Criteria
The applicant has passed HSSC or F.Sc (Pre-Medical) or equivalent examination with minimum 65 percent (715/1100) marks.
The applicant has domicile of any district of any district of Punjab. Candidates having domicile of Islamabad (ICT) are eligible to apply against open merit seats.
The applicant has scored minimum 60 percent (120/1200) marks in the National MDCAT-2020. For Foreign/Overseas Pakistani seats, SAT II scores (minimum 60 percent marks in each subject i.e Biology, Chemistry, and Physics/Mathematics) or International MCAT* scores (minimum 60 percent) are also acceptable. In SAT II, weightage of Biology will be 40%, chemistry 35%, and Physics/Mathematics 25%.
For Foreign/Overseas Pakistanis seats, the eligible candidates must have obtained his/her HSSC or equivalent 12th Grade qualification from outside Pakistan (abroad).
Candidates shall be required to fulfill additional eligibility requirements for various categories of seats as given in the Prospectus.
MERIT CALCULATION:
The weightage criteria for calculation of Aggregate percentage shall be as follows
SSC/Matriculation/Equivalent – 10%
HSSC/F.Sc. Pre Medical/ Equivalent – 40%
MDCAT – 50%
Mimimum aggregate percentage required to apply against open merit and Reciprocal seats is 85%.
ADMISSION PROCEDURE:
Online Application Process
The application process shall be completely online and no manual or paper-based application shall be accepted.
The candidate shall have to first register on the web portal at UHS PUNJAB using his/her e-mail ID and a password.
Once the candidate has logged in, He/She will enter his/her profile information (Name, Domicile, Marks, etc..) after marking all entries candidate will be required to upload his/her scanned mandatory documents, photograph, signatures, and left thumb impression (LTI) as per the list provided in the Prospectus.
Order of Preference for Colleges: Every applicant is required to list the medical and dental colleges in order of preference, starting with his/her first choice. The order of preference once given shall be final and cannot be changed subsequently. An application shall not be considered for a college, he/she has not listed in his/her order of preference.
After the final submission, the applicant will not be able to edit his/her application.
Hafiz-e-Quran and students with disabilities must tick the relevant box in the application and upload required documents. An SMS and e-mail shall be sent to the candidate containing information about the venue, date and time of the Hifz-e-Quran/Medical Board.
Submission of Process Fee:
On final submission, the candidate is required to visit any branch of the Bank of Punjab, with the Final Copy of application and fee challan, to deposit Admission Processing Fee of Rs.500/– and bank service charges of Rs 150/- (both non-refundable), after which the application process will be completed.
ADMISSION SCHEDULE
| | | |
| --- | --- | --- |
| Sr No. | Activity | Date |
| 1 | Online application Start date | 11th January, 2021 (from 9:00 AM) |
| 2. | Online application closing date | 22nd January, 2021 (at 4:00 PM) |
| 3. | Hirz e Quran Test | 26th to 30th January, 2021 (at UHS Lahore) |
| 4. | Medical Board for Students with Disabilities | 26th to 29th January, 2021 |
| 5 | Provisional Merit List of applicants | 5th February, 2021 |
| 6 | Final Merit List of applicants | 8th Febuary, 2021 |
| 7 | First College-wise Selection List | 11th Febuary, 2021 |
| 8 | Last date of submission of fee at colleges | 19th February, 2021 |
| 9 | Second Selection List | 24th February, 2021 |
| 10 | Commencement of Classes (MBBS/BDS) | 1st March, 2021 |
| 11 | Third Section List, if any | 5th March, 2021 |
ADMISSION SCHEDULE
IMPORTANT:
Any candidate found to have submitted forged/fake/fabricated documents or incorrect/false information shall be debarred from admission for a period of 7 years.
Candidates are advised to enter their correct and active cell number and e-mail in their applications.
Applicants which are incomplete in any manner or those received by post and/'or after due date shall be rejected. it shall be the responsibility of the candidate to submit application as per the instruction given in the prospectus.
After the last date of submission of online application, any result, SAT II score, revised result cards, increase in marks by board/universities, or for that matter any other document shall not be acceptable.
Candidates having foreign qualification such as A/O Level, etc.. shall have to upload the Equivalence Certificate issued by IBCC otherwise application shall be rejected.
No receipts of documents under process of preparation (e.g domicile, equivalence, etc.) shall be acceptable.
MBBS/BDS Admissions Govt Medical & Dental Institutes of the Punjab. Session 2020-2021 pic.twitter.com/04ZrjFdtR8

— University of Health Sciences Lahore (@uhslhrofficial) January 6, 2021
Read More: MPhil and PhD Scholarships in Medical Field by P&SHD
Follow INCPAK on Facebook / Twitter / Instagram  for update.