The drop dead gorgeous and extremely talented Ayeza Khan has a Brazilian doppelganger (lookalike), which not only resembles in appealing facial features, but also has a lot other in common. Namely Leticia Almeida, discovered to be the carbon copy of Meray Pass Tum Ho actress, is a renowned model and actress herself.  
A very peculiar trend took over the Pakistani showbiz in 2020, which was to locate the lookalikes of female celebrities. And, when this sounds like a crazy statement, some carbon-copy individuals from all over the world stole the limelight, owing to their uncanny similarity with many distinguished personalities.
Hence, we found a head-to-toe duplicate of actress Mahira Khan in Pakistan, followed with Iqra Aziz's Lebanese and Mehwish Hayat's Iraqi twins. The famous Ertugrul Ghazi's male lead Engin Altan's beaded colon was also spotted as Pakistani Youtuber.
Read More: A doppelganger of Mahira Khan was spotted on Instagram
Likewise, the eminent actress of Cake, Sanam Saeed also posted a picture lately, highlighting her resemblance to the Queen gambit's star Anaya Taylor Joy, known globally as Beth Harmon.
Ayeza Khan and lookalike, Leticia Almeida
Keeping the strange trend alive, the audience has just discovered the astounding International carbon-copy of critically acclaimed actress Ayeza Khan. And, her doppelganger, Leticia Almeida shares more than just those diamond eyes, flawless bridge, mesmerizing smile and perfectly shaped jawline.
Other than gifted features, Ayeza Khan and her doppelganger Leticia also shares the same profession. When Ayeza is a Pakistani television queen, Leticia happens to be Brazilian actress and model.
Moreover, the two beauties are happily married, and have two offspring. Both Ayeza and Leticia are mothers to a daughter and son each. Following are some portraits of Ayeza Khan and her doppelganger Leticia.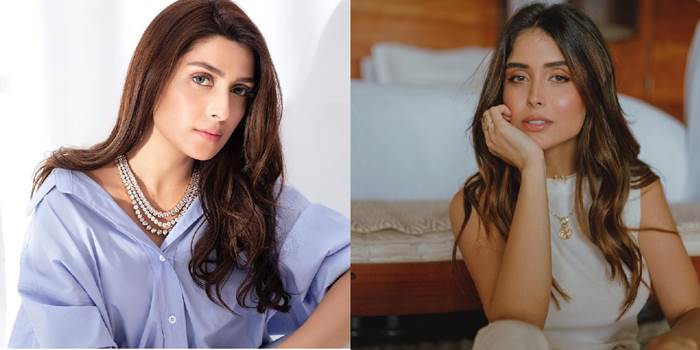 Read More: Gigi Hadid is a fan of Pakistani Shan Masala
Follow INCPAK on Facebook / Twitter / Instagram for updates.