The awe strikingly gorgeous and exceptionally talented queen of showbiz, Ayeza Khan has achieved another milestone as she surpasses Aiman khan and Mahira Khan and now secures the title of most followed Instagram celebrity in Pakistan. The actress bags a total of 8 million die-hard followers on the photos-sharing platform to date.
The bold and beautiful Ayeza Khan stepped into the showbiz universe at the age of 18, as a supporting actress and model. She was strong minded on acquiring a distinguishable name among the leading ladies of the country and her mesmerizing craft at acting backed her dreams. Hence, after adopting few more side roles in television serials like tum Jo Milay, Sandal etc. Ayeza Khan finally made her debut as a leading actress in Geo TV's romantic drama Tootay Huay Par. Following that, she established herself as a central with drama serials like Aks, Adhuri Aurat, tum kon piya and Mere Meherbaan, all of which brought Ayeza wide recognition.
It was until 2014's running success Pyaray Afzal that garnered Ayeza Khan critical acclaims, marking her as one of the most talented actresses. The screenplay also earned her first Lux Style Award for best TV actress. And, since then, Ayeza has been unstoppable, winning the audience with one after other blockbuster performances. Meray Pass Tum Ho, Do Qadam Door Thay, meherposh, Koi chaand rakh and Yariyaan are among Ayeza Khan's highly celebrated presentations. Besides, Meray Pass Tum Ho also won her international award for best TV actress.
Read More: Netizens hit out at Hajra Yamin for wearing cropped dress
In addition to this, Ayeza Khan tied knot with fellow actor and heartthrob Danish Taimoor in 2014, which added to her escalating fame. The couple now locks up the title of most adorable celebrity couple and often appears in mutual presentations, captivating the audience in their ravishing on-screen chemistry.
Ayeza Khan achieves a milestone
Other than being a classical actress and model, Ayeza also has a socializing touch within her personality. The starlet is spotted very active on social platforms, keeping her fans updated on her professional as well as personal life. It is Ayeza's simplicity and elegancy that attracts wide audience towards her.
Owing to that, Ayeza Khan now top the lists of most followed Instagram celebrities of Pakistan, as she surpassed the previously leading Aiman Khan today. Ayeza's followers' count exceeded 8 million, whereas Aiman follows with 7.9 million. Third in the list is the drop dead gorgeous Mahira Khan with 7 million followers.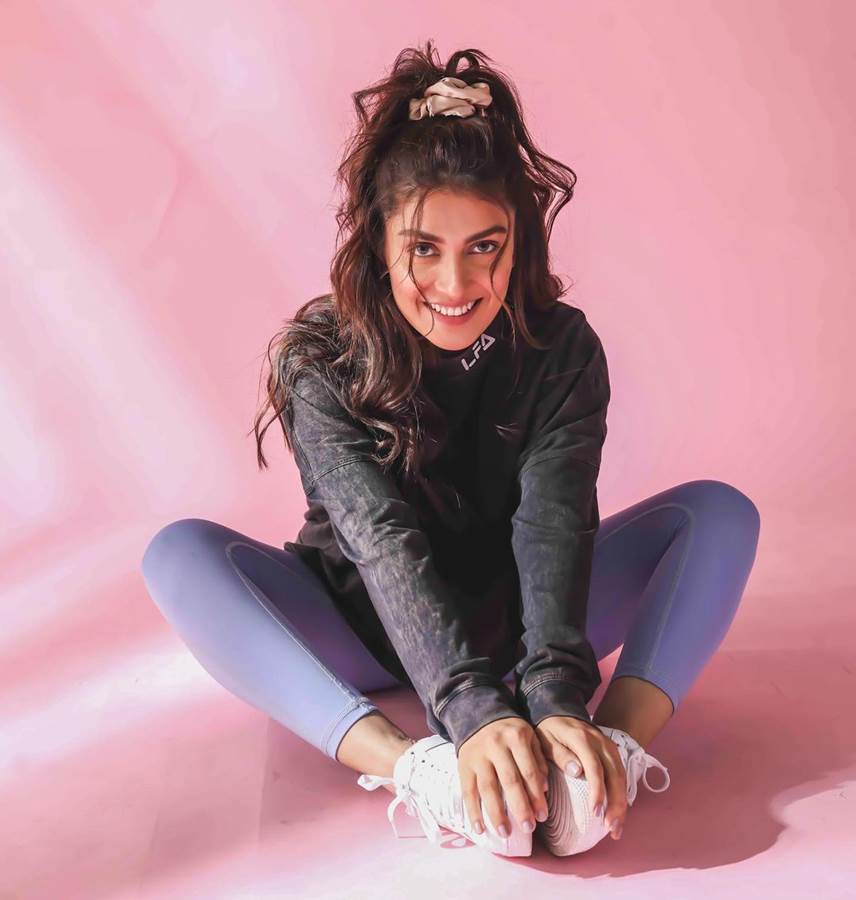 Celebrating the milestone and thanking her fans for immense love and support, Ayeza shared a detailed, heartfelt note on her Instagram profile, which reads:
"Thank you guys so much for the love and respect! It is exciting to have such a huge number of followers on here. But I must say that, the only reason I am able to celebrate this today is because I know how hard I worked to achieve whatever I have on this day. But I wanna say one thing. I never focused my work and life towards getting a bigger number of followers. It never works in the long run. My mother has always taught me that it's important to work hard and build your legacy, and be patient. When you have those all the good stuff comes without you knowing."
Ayeza Khan continued, "Growing number of followers don't guarantee a long term success if you're hollow from the inside. There is a reason why someone with a few thousand followers on Instagram can have more influence on people than someone with tens of millions of followers. Please Don't be that fool that runs after numbers. The fruit of hard work is always the sweetest. So be what you wanna be but always strive for a long term success rather than enjoying a mere number of likes you got on your last post. For me, I never worked towards growing my Instagram numbers. Instead I have always focused all my energy into my work, my acting and modelling specially, and the fan following grew itself. and I'm thankful to all of you guys, because It feels great to have so many people recognise your talent and work, rather than blindly taping that follow button and not even knowing what I actually do. I love you guys, thank you."
To conclude, Ayeza has been in the entertainment industry for almost a decade now. However, still remains clean of any type of conspiracies and online criticism. Hence, that justifies the dignified persona of the actress. And the beauty and decency she holds within, which makes Ayeza the apple of everyone's eyes.
Read More: 'Are you Muslim?' – Netizens ask Amna Ilyas for uploading bold pictures
Follow INCPAK on Facebook / Twitter / Instagram for updates.