The spellbinding beauty queen and social media influencer Dananeer Mobeen, who became known as the 'Pawri Girl' from her 'Pawri Ho Rahi Hai' video. has given a sneak peek into her everyday makeup essentials, revealing a secret to her flaunting, glimmering skin. The beauty interview was conducted by Mashion.pk, which is a beauty-line owned by the ravishing Mahira Khan.
18 years old Pashtun beauty Dananeer Mobeen embraced wide fame and recognition overnight, owing to her viral "Pawri horai hai video." Dananeer had created the video for fun purpose only, where he was spotted chatting in 'burger accent.' However, little did she expect, the  four seconds short clip became one of the biggest trend in both Pakistan and India, with citizens, showbiz personalities and major brands, recreating their versions of "Pawri horai hai."
Hence, Dananeer Mobeen escalated to immense popularity, with her Instagram followers' count surpassing a million. Other than that, Dananeer was also appointed as brand ambassador of Peshawar Zalmi franchise for HBL-PSL season 6.
Dananeer Mobeen Makeup routine
The renowned Pawri girl Dananeer Mobeen in an interview with Mashion.pk revealed her everyday makeup essentials. Besides giving a glance at her products, Dananeer also had some useful skin and beauty tips for her girl admirers.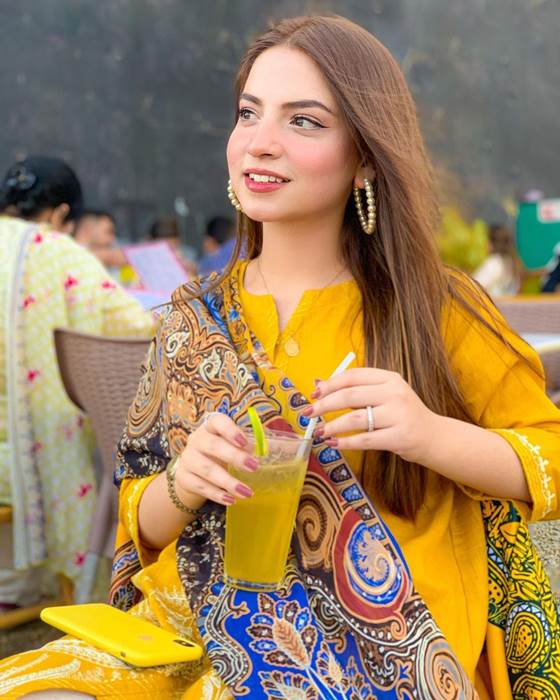 Read More: Dananeer Mobeen – The girl behind 'Pawri hori hai' video
Dananeer's daily cosmetics kit houses primer, foundation, lipstick, mascara and a setting spray. Here are the details shared by Dananeer Mobeen.
"The first product which I like is 'Bubble Gum Primer By Entice Cosmetics'. This is an amazing primer which gives a beautiful glow and natural look. The next thing I have is 'Foundation By Fah Beauty By Fatima Ali'. It has a really good coverage and I've been using this from past two months. Next is my lipstick 'Change Is Good Lip Crayon By Maybelline'. It is super natural and I wear it on daily bases. Second last product is my Mascara 'Sensational Lucious Mascara By Maybelline'. The last thing is 'Cocofix Setting Spray By Entice Cosmetics'. This product gives an ultimate glow after I'm done with my entire makeup."
Other than that, she also revealed a DIY face mask she wears habitually. As said by Dananeer, the products used in mask are "Chickpea flour, yogurt, Aloe Vera gel and turmeric powder."
Furthermore, Dananeer Mobeen also added a few handy tips before concluding her interview with Mashion.pk. She advised that "you should never sleep with makeup on. Clean your face before you sleep and when you wake up."
Read More: Jannat Mirza to make Lollywood debut with Tere Bajre Di Rakhi