The desi aunties of Cannoli Cafe Soul in Islamabad have responded to the criticism and public outrage after a video went viral on social media showing the owners of the eatery humiliating their manager for his "poor English".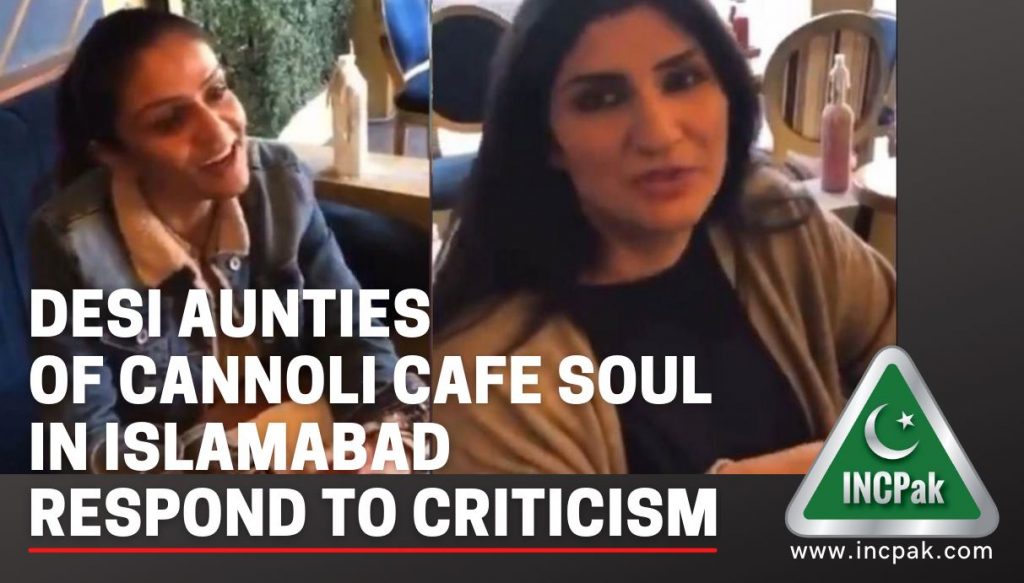 Two gaudy owners of the Cannoli Cafe Soul in Islamabad, named Uzma and Dia decided to have a little fun by demeaning their manager Awais, through his English speaking power.
However, their ostentatious attempt has landed the whole establishment in hot waters, as public screams boycott Cannoli Cafe Soul began surfacing on social media.
It all started with a video clip posted by the owners themselves, where the two ladies were spotted satisfying their boredom by squashing the staff members.
The video starts with the snobbish individuals introducing themselves as Uzma and Dia, followed with interrogating their manager Awais of his 'English speaking abilities.'
Just got sent this. Sick to my stomach. No words for our eNgLisH fLueNt elites. Never seen more tone deaf women with this confidence. pic.twitter.com/5eIj9hWOnZ

— N✨ (@__Dragunov) January 20, 2021
The duo asks Awais to introduce himself 'in English' to which the confused manager replies with a broken yet comprehendible sentence.
However, as he did not meet the standards of the Cannoli Cafe Soul owners, they started to make fun of the manager for his English language skills.
The video went viral on social media causing an uproar and everyone started criticizing the owners for their offensive remarks towards the hardworking manager.
Read more: 'Boycott Cannoli Cafe' trends after owners humiliate manager.
Desi aunties of Cannoli Cafe Soul respond to criticism
Taking to Instagram account of the eatery, the owners shared their response saying that they were "saddened and appalled by the reaction of the people," as they had "misconstrued our banter with a team member."
"This video depicts the gup shup between us as a team, and is never meant or taken in a hurtful or negative way. If anyone was hurt or offended we apologize, however that was never our intention." the owners said in their statement.
"We are not required to prove or defend ourselves as kind employers. Our team has been with us for a decade, that should speak for itself." they added in their Instagram post.
The owners further said "We are proud Pakistanis who love our language and our culture."
Read more: PM Imran Khan Doppelganger spotted in Sialkot.