The legendary star Engin Altan, who gained popularity in Pakistan through Ertugrul Ghazi, had to abruptly leave Pakistan, owing to the controversial arrest of his host Kashif Zameer previous month. However, the blonde haired Tiktoker has once again returned, as he promises to bring back the Turkish celebrity in near future.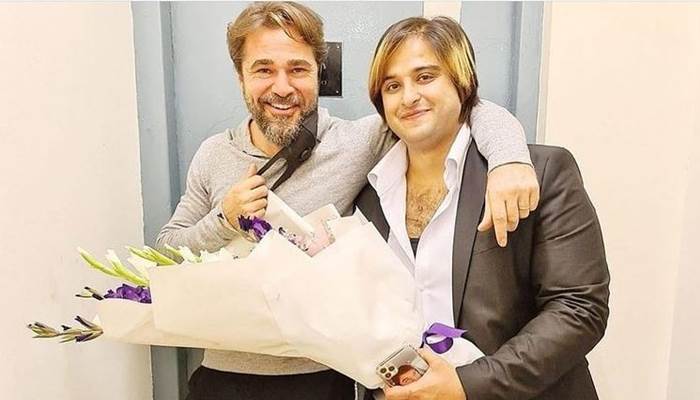 Engin Altan arrived in Lahore, Pakistan on 10th December, after contracting a deal of Rs.17 Crore with gold-laden businessman Kashif Zameer. The entrepreneur had booked in the Ertugrul central as the global brand ambassador of his firm Chaudhary group of companies. Hence, Engin spent a quality time together with his entertainer Kashif Zameer and was looking forward to their future partnership. Also, the star garnered immense love and appreciation from his Pakistani admirers and was pleased by the warm welcome he experienced here.
However, a week later, an unwelcomed controversy grabbed Engin's blonde-haired host Kashif Zameer, which landed the Tiktoker in hot waters. Kashif was discovered to be a wanted felon, with nearly eight fraud charges filed against him.
Hence, it was a matter of few hours that Kashif was apprehended by the police officials, leaving his deal with the Turkish legend Engin Altan hanging in the air.
Read More: Kashif Zameer who hosted Engin Altan in Pakistan arrested
It is pertinent to mention that Kashif Zameer had paid the decided advance to Engin Altan prior to his arrest. Nevertheless, according to the agreement, the other half was to be salaried on the completion of the contract.
Kashif Zameer to re-invite Engin Altan
According to the latest update, Kashif Zameer is out of prison on bail. And, subsequent to that, he has assured to re-host Engin in the first half of January.
In a recent interview with Daily Pakistan, Kashif dismissed all the rumors relating to fraud with Engin, naming them nothing more than planned conspiracies out of jealousy. As said by him, higher authorities, through electronic media are spreading fake news in order to filth his name.
Furthermore, Kashif Zameer also mentioned his on-going telephonic contact with Engin Altan, assuring the audience of his unharmed relations with the actor. And, on the words of Kashif, Engin Altan will be in Lahore after 10th January.
Below attached is full interview of Kashif Zameer with Daily Pakistan.
Read More: Ayeza Khan has an astounding doppelganger in town
Follow INCPAK on Facebook / Twitter / Instagram for updates.