The lead star of the popular Turkish drama Dirilis Ertugrul or Ertugrul Ghazi, Engin Altan released a video wishing Pakistani fans Eid Mubarak on the occasion of Eid-ul-Fitr.
The Turkish drama started airing in Pakistan on PTV Home at the start of Ramazan in an Urdu dubbed version and garnered millions of views on its YouTube channel as well since fans seemed to love the show and the cast.
Today Engin Altan released a video message wishing Eid Muabarak to his Pakistan fans and showing his gratitude for the immense support and love that they have given Ertugrul Ghazi and its cast.
Read more: Eid prayers offered at Mosques across Pakistan.
In his video message he started by saying:
I cannot thank you enough for the unimaginable love and incredible response you are giving to Ertugrul Ghazi Urdu by PTV. And I also would like to thank PTV for bringing Ertugrul Ghazi to your home,
Engin Altan than ended the video extending Eid greetings saying:
Aap sab ko meri taraf say Eid Mubarak!
(EId Mubarak to you all from me)
On Friday, Engin Altan also extended his condolences to the families of everyone lost in the PIA plane crash on Friday, the Dirilis Ertugrul star took to Instagram saying:
I am very sorry to hear about the crash in Karachi. My condolences goes out the the families who lost a loved one.

I pray for Pakistan.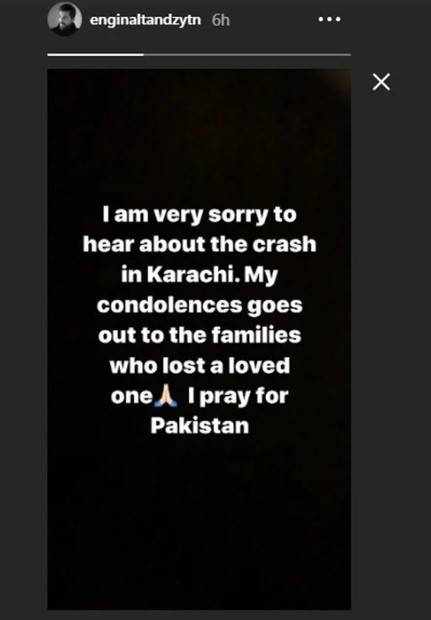 Read more: Pakistani Model Zara Abid Confirmed Dead in PIA Plane Crash.