The Ertugrul Ghazi star Esra Bilgic who portray the role of Halime Sultan in the Turkish drama shared some stunning pictures from a photoshoot with a Pakistani Magazine.
Esra Bilgic fans have been in love with her character on the Turkish drama and she has garnered a huge following from Pakistan on her social media accounts.
Read more: KTN to release Sindhi version of Ertugrul Ghazi.
Update: The fan favorite Esra has posted more photos on Instagram from her photoshoot with Pakistani magazine.
Like always, Esra Bilgic looks ethereal in white.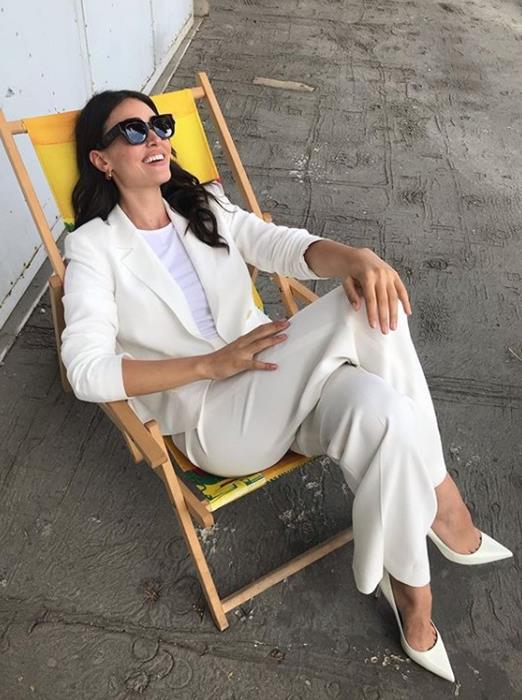 However, it just so happens that having Pakistani fans on your social media comes at a cost. For Esra that cost has been the disapproval of her fan base in Pakistan when it comes to her clothing choices.
Pakistan fans seem to forget that she is an actress and has her own life ending up expecting her to dress as her character of Halime Sultan in real life.
The actress is pretty bold when it comes to her dressing wearing western clothes and even bikinis but she ends up being criticized by her fans in Pakistan in the comments section on her social media posts with sometimes fans taking their criticism as far as to call her "bay haya" or stuff that can not be said on here. The following picture of Esra Bilgic is one example of her picture that did not sit well with Pakistani audience.
Read more: Esra Bilgic dressing choices – Why Pakistanis have a problem?.
However, pictures that seem pretty normal also end up disappointing the fans so it seems that everyone in Pakistan will only be happy once Esra Bilgic wears a hijab.
Read more: Asim Azhar talks about getting friendzoned by Hania Amir.