A controversial video call between popular TikTok star Hareem Shah and Mufti Qavi has gone viral on social media making them the center of attention once more.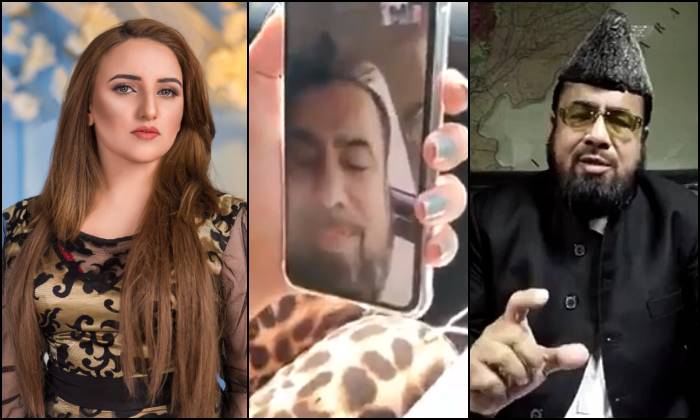 TIkTok star Hareem Shah and cleric Mufti Qavi are no strangers to controversies but this time both have been involved in one together after a conversation on video between the two went viral on social media.
Mufti Qavi can be heard telling Hareem Shah not to angry at him and even called the TikTok star "Meri Shahzadi" which means my princess while continuing the conversation and mentioning how he wanted to see her.
Read more: Ansar Abbasi knows how to sexualize women exercising.
He mentioned how he left everything and made time to see Hareem earlier when he visited but unfortunately it didn't pan out as the TikTok star was sleeping.
While Mufti Qavi was talking, the TikTok star Hareem Shah told the cleric that she didn't call him to listen to his non-sense speeches. The exact word in Urdu she used was "bakwaas".
However, the cleric just laughed it off and started flirting to which Hareem Shah responded by telling him to stop and that it isn't appropriate for him to flirt with someone who is young enough to be his daughter.
Mufti Qavi asked Hareem Shah to show her face during the video call but the cleric was again shut down by the TikTok star who told him she doesn't show her face to hypocrites.
Here is the entire video call so you can watch it for yourself:
Earlier a video started circulating on social media showing Cleric Mufti Qavi dancing to song along with a Korean lady. However, the cleric denied such a thing ever happened and claimed that the video was doctored to malign his reputation.
Read more: Mufti Qavi claims controversial video going viral is fake.
The cleric has also been part of the Qandeel Baloch's murder case and was arrested as a suspect before letting go due to lack of evidence or direct connection with the victim.