The Jazz Drive-In Cinema has arrived in the City of Lahore at Khayaban-e-Amin, Ring Road. Before the first show, an inauguration ceremony took place with Jazz's Head of Marketing Rizwan Fazal and Regional Business Head – Central (A), Tariq Durrani.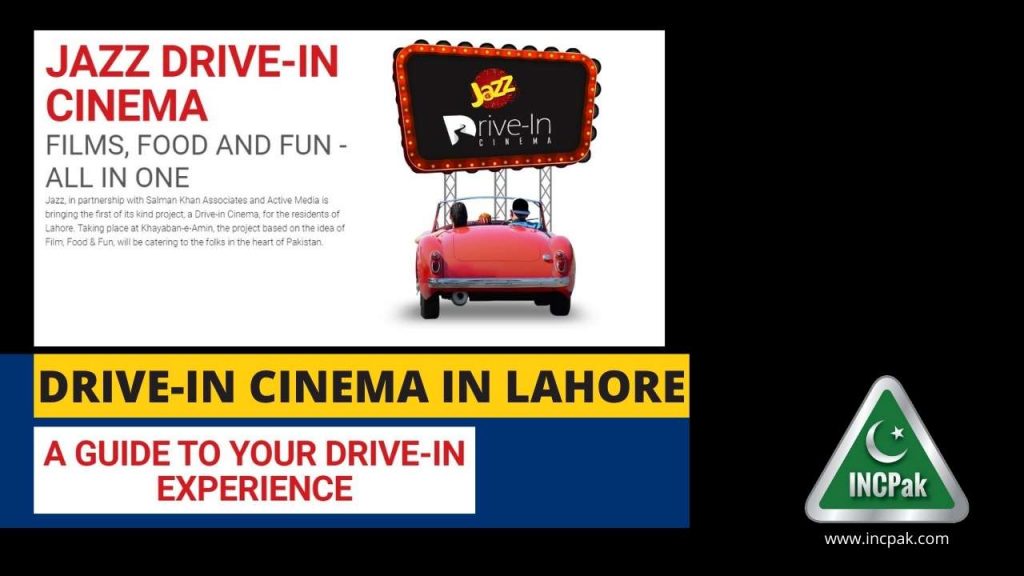 From Friday to Sunday, Lahoriites can Lahoenjoy the outdoor cinema experience in a family-friendly environment. Movies will follow a week-wise theme ranging from classics to action, science fiction, fantasy, and animations – a movie for each member of the family.
This is an initiative of Jazz, Pakistan's number one 4G operator, and the largest internet and broadband service provider, in partnership with Activemedia and with the collaboration of Salman Khan Associates, and Bookitnow.pk.
JazzCash is the official digital payment partner for this drive-in cinema with all food stalls and ticket counters offering mobile payment solutions. To promote digital payments, tickets, and food purchased at the Jazz Drive-in Cinema in Lahore via JazzCash will result in 50% cashback for a limited time period.
Movie-goers are provided space to park their vehicles in an orderly manner with the movie audio individually heard through each vehicle's stereo via radiofrequency.
"The drive-in cinema was launched to provide families and youngsters an entertainment avenue during the pandemic. After its success in Islamabad and Karachi, we now want people from Lahore to celebrate this nostalgic initiative as well from the safety of their cars. Initiatives like these are a testament to Jazz being a digital lifestyle partner, offering customers experiences that matter," said, Rizwan Fazal, Head of Marketing, Jazz.
"Activemedia believes in creating quality entertainment avenues and after Covid-19, Jazz Drive-in Cinema was an initiative taken to provide entertainment in a safe environment. So, I urge people of Lahore to visit the Jazz Drive-In Cinema with their family & friends to enjoy movies in a safe environment," added Saad M. Khan, CEO – Activemedia.
With a hygienic, socially distant and controlled environment, the Jazz Drive-In Cinema in Lahore is sure to bring the big screen back into the lives of Lahoriites when most entertainment avenues have been closed off for the public.
HOW TO GET YOUR TICKETS
• Purchase online on www.Bookitnow.pk
• Pay via JazzCash QR code
• Get 50% Cashback
Ticket price is Rs.1000/Car
MOVIE SCHEDULE – FIRST WEEKEND
| Date | Movie | Start Time |
| --- | --- | --- |
| 1st Oct | The Lion King 2019 | 7:30pm |
| 1st Oct | Venom | 9:50pm |
| 2nd Oct | Beauty and the Beast | 7:00pm |
| 2nd Oct | The Equalizer 2 | 9:30pm |
| 2nd Oct | Glass | 11:50pm |
| 3rd Oct | Maleficent: Mistress of Evil | 7:00pm |
| 3rd Oct | X-Men First Class | 9:20pm |
| 3rd Oct | The Curse of La Llorena | 11:50pm |
Read more: Cinemas reopening in 8 cities, says Fawad Chaudhry.
Follow INCPAK on Facebook / Twitter / Instagram for updates.