The former 'world's loneliest elephant' Kaavan is lonesome no more. The giant after his safe transfer from Islamabad to the Cambodian Wildlife sanctuary is now enjoying his new home, making contact with other species, after eight years of aching solitude.
The news was announced by Pheaktra Neth, the spokesperson for the Extraordinary Chambers in the Courts of Cambodia (ECCC), who shared a picture of a very content Kaavan from Kulen Promtep Wildlife Sanctuary, in the Preah Vihear province of Cambodia.
In another tweet, Neth presented the pictures of 36 years old Kaavan, adapting to the new atmosphere quickly as he was sighted greeting another female resident elephant. The gesture was applauded all over the world, as International reports read, "World's loneliest elephant, has after eight long years made contact with another of his species."
Moreover, the arrival of Kaavan in the state of Cambodia was also celebrated wholeheartedly. The elephants had been coached by vets and experts for nearly three months in Islamabad, on how to enter the metal crate in which he travelled. This was done so Kaavan became familiar with the crate and wasn't distressed during when the time came for him to fly to the Cambodian sanctuary.
 Additionally, as soon as the flight landed, the giant was welcomed by government officials, activists and American pop singer Cher, who were waiting for him with food and a lotus flower "symbolizing peace, prosperity".
Backstory of Kaavan
Kaavan is a male, Asian elephant who was born in Sri Lanka in 1985. Upon his birth, the giant was gifted by Sri Lanka to Pakistan, as a gesture of positive relationship between the two countries. Since then Kaavan, being the only Asian elephant in Pakistan had been a resident of Islamabad zoo, until November 2020.
Although Kaavan stayed in Pakistan for more than three decades, the animal was not always lonely. A female elephant named Saheli was brought from Bangladesh in 1990 and remained as Kaavan's partner until her death in 2012. And subsequent to that, the poor soul had spent his life captivated in isolation.
It is pertinent to mention, that Kaavan had been kept chained by Islamabad zookeepers since 2002, after concerns regarding violent behavior on the elephant's part.
In 2015, a petition was signed by many people, sending it to Zoo authorities and then prime-minister Nawaz Sharif but to no avail.
But, later in 2016, portraits of unfortunate Kaavan, chained and deserted in Pakistan went viral, creating a stir globally. The highlights caught eye of the renowned American pop singer Cher. Hence, she initiated a campaign #saveKaavan, followed with a petition demanding immediate release of the giant into a safe and independent dwelling. The diva was supported by huge populations and the petition earned approval of nearly 200000 people.
In addition, the campaign also reported that Kaavan the elephant was locked up in a small enclosure without adequate breathing space and with only a small pool of water in usual 40-degree summer temperatures.
Read More: Ishaq Dar exposed during BBC HardTalk interview
IHC announced to free the elephant
After five years of wait, on 21 May 2020, the Islamabad High Court took over the matter. Islamabad Zoo was immediately ordered to be shut down, instructing the authorities to shift the animals to their sanctuaries within the next 60 days. However, lack of elephant's dwelling in Pakistan was another matter at hand. Pakistan houses 4 other African elephants, but Kaavan couldn't be kept with them due to his Asian breed. Therefore, the court requested wildlife officials to consult with Sri Lankan authorities to find a suitable sanctuary for Kaavan in another country within 30 days.
The court decision was appreciated both nationally and abroad. Even the American diva, who played huge part in the freedom of Kaavan posted, "We have just heard from the Pakistan High Court that Kaavan is Free. This is the Greatest moment of my life." The singer also thanked the Prime Minister Imran Khan for this humble and just pronouncement, concerning the wild life.
On 17 July 2020, Cher's 'Free the Wild' broadcast that the Pakistan Government had ruled that FTW had their consent to relocate Kaavan to Lek's sanctuary in Cambodia. "A place we have personally visited and vetted and are delighted for Kaavan to call home."
Later in August, the organization sent the proficient vet Dr. Amir Khalil to Pakistan, to look after and prepare Kaavan for his departure. After the three months long efforts of Dr. Khalil, from befriending the giant to helping him lose weight for flight, Kaavan was booked to fly from Pakistan to Cambodia on November 30th.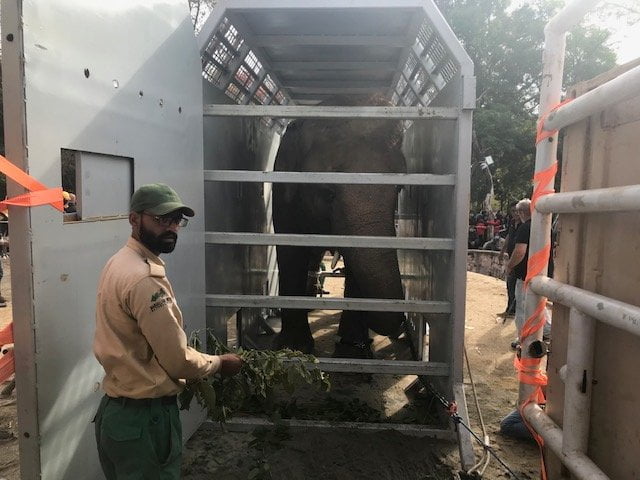 Owing to that, Cher alongside journalist and businessman Eric Margolis, and Dr Frank Goeritz personally arrived in Pakistan, to assist Kaavan in his relocation.
Hence, Kaavan the elephant, who stayed in Pakistan for thirty-five years of his miserable life, finally said goodbye to the Islamabad zoo on the last day of November.
Now, Kaavan is enjoying every bits of existence in his true sanctuary in Cambodia. The animal is socializing with other of his kinds. Moreover, it is also said that the giant would be shifted to bigger and better land, with other three Asian female elephants, once the organization is done with Covid19 protocols.
Read More: Humayun Saeed & Adnan Siddique to produce Pak-Turkish drama