The 26 year old dazzling starlet Mehar Bano has landed herself in hot waters, owing to her revealing and indecent outfits that she opted in her recent photoshoot. Hence, the actress is getting severely critiqued by the audience.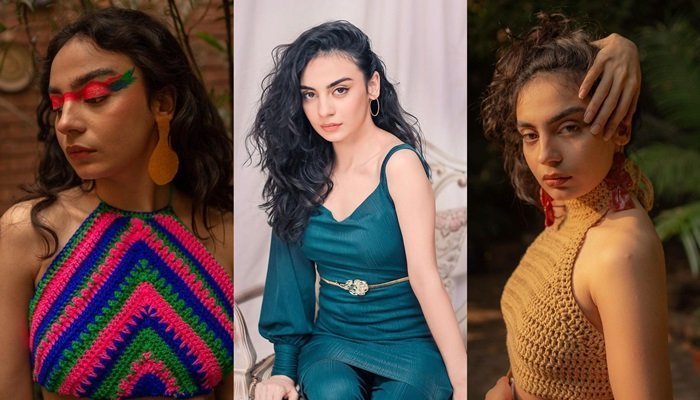 Pakistanis are known for their obsession with criticism. And, hence every celebrity, be it a male or female, is at a brim of getting denunciated anytime. However, the commonest object of criticism is the choice of dressing of the starlets, which is not considered satisfactory and acceptable in the Islamic society like Pakistan.
Likewise, the ravishing young actress Mehar Bano who earned massive accolades for her character of Zubaida in immensely popular web series Churails is back into spotlight, though for not so pleasing reasons.
Recently, Mehar was spotted posing for a brand new apparel line, namely SidCraft. Needless to say, the Bala actress rocked the cropped tops with blended makeup and hairdos.
Mehar Bano Pictures
However, the attires were way too skimpy and revealing, welcoming severe criticism and hurtful comments towards her direction.
Read More: Syra Yousuf & Sheheryar Munawar gets criticized
About Mehar Bano
Mehar Bano stepped into the world of showbiz in 2012, with a role of Umama in television serial Daagh, for which she received a nomination for Best actress at Lux Style Awards. Since then, the actress has appeared in various projects, beautifully depicting central or supportive characters. The drama serials that portrayed Mehar as lead are, Miss Fire and Bunty I love you. Meher's other applauded serials include Balaa, Meray Pass Tum Ho and Ghalati, to name a few.
Furthermore, other than television, Mehar Bano also made her silver screen debut with 2018's mega-hit film 'Motorcycle Girl.'
Recently in 2020, Mehar astounded the viewers by incredibly representing character of Zubaida in female liberation based digital web series Churails and therefore garnered huge acclamation. Zubaida, as masterly played by Mehar was a young boxer, belonging to a conservative household who seek nothing but love and independence, and when disowned by her parents, joins the four-'churails' club.
Churails became a massive hit globally. However the series was also criticized equally by the viewers, over promoting feminism and adult content.
Read More: Mahira Khan and Dr Sania Nishtar among BBC's Top 100 women