A petition has been filed in the Lahore civil court to cease the Mere Pass Tum Ho finale from being screened in cinemas on the 25 January, 2020.
The petition reads:
The writer of this script has shown his mental harshness against the dignity of women in a very disrespectful manner,
MPTH finale was scheduled to screen in cinemas across the country on Saturday, 25 January, 2020. The show stars Ayeza Khan, Hira Mani and Humayun Saeed among others.
Read more: Mere Pass Tum Ho Tickets being sold across cinemas.
According to Dawn, a notice has been issued by civil judge Naila Ayub to PEMRA, Nadeem Baig and Humayun Saeed to respond and set a hearing by January 24.
The petition reads:
The story of said Drama is based on humiliation against respectable women community as well as it creates huge discrimination between male and female gender in the society,
further adding:
The very fact is that it has created such hype and uproar in the society that probably becomes the first drama that is scheduled to go on air on big screens of cinema houses on 25 of January 2020. It is enough to prove that the Drama aims are creating restlessness in the civil society and puts its peace at stake,
If the court decides in favor of the petitioner then the finale of the show Mere Pass Tum Ho (MTPH) will not be airing in cinemas on Saturday, 25 January, 2020.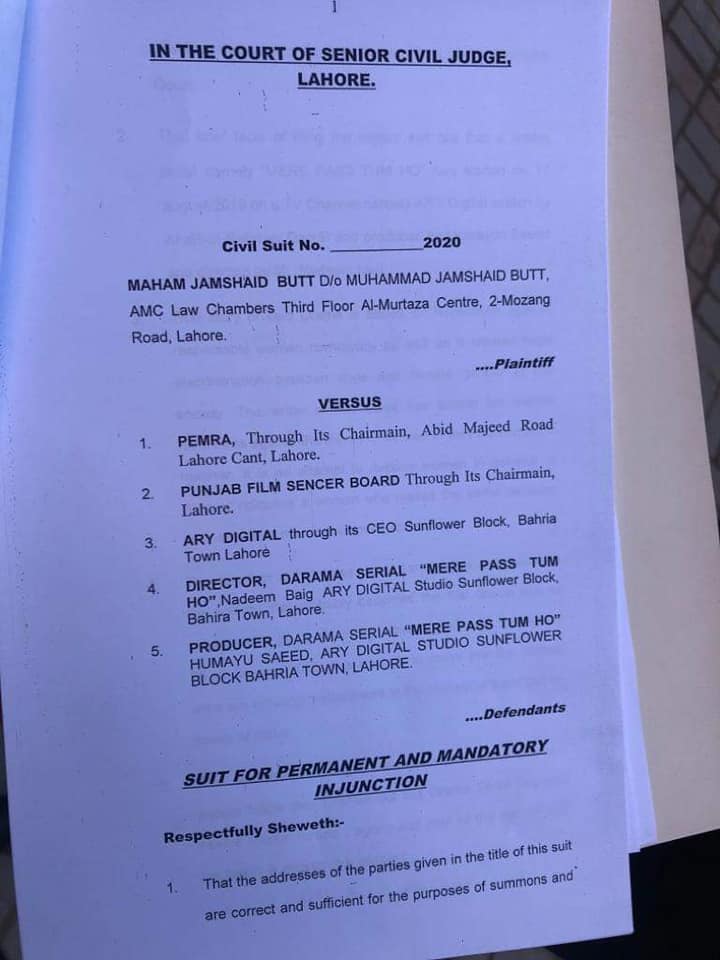 Read more: Sarmad Khoosat will not release Zindagi Tamasha.
Follow INCPAK on Facebook / Twitter / Instagram for updates.