Bold and beautiful starlet Minal Khan has had enough of the criticism and hate speech thrown at her repeatedly, and has finally responded to the gruesome mentality with sharp riposte, shushing the critics once and for all. In a recent Instagram post, some user criticized Minal for her bold dressing. However, the Jalan actress was not in a mood to tolerate any pessimism.
The young, spellbindingly gorgeous and exceptionally talented Minal Khan lies among the topnotch actresses of Pakistan. She fascinated the viewers with her invincible acting craft, and consequently garnered wide recognition and massive fan following, with her instagram followers' count reading almost 7 million.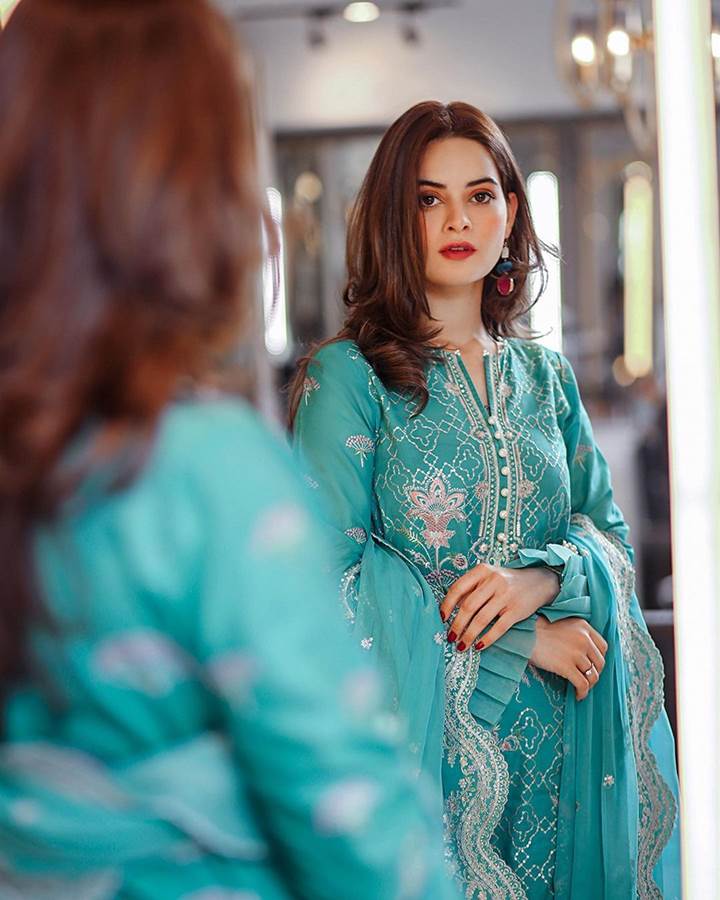 Minal had started as a child artist in "Kaash Main Teri Beti Na Hoti" and then within limited time period, progressed to the status of leading lady in majorly celebrated screenplays. It was Minal's strong game of expressions, mesmerizing features and her decency that had escalated her to such prestigious rank in showbiz. 
Some of Minal's blockbuster projects include Jalan, Nand, Ki Jana Main Kaun, Sun yaara, Parchaaye and Mere Meherbaan to name a few.
Minal Khan slammed for spreading indecency
Besides Minal's flawless acting knack, her decency and courtesy is what caught public eye and made her the fan favorite. However, since a long time now, Minal Khan has moved out of her simplicity bubble, challenging her abilities with more bold projects, avatars and attires. Other than that, since the actress started dating Parchaaye co-star Ahsan Mohsin, the two had been public love birds, treating the fans with one after other proximate portraits.
It is therefore the reason, Minal' courageousness is often termed as indecent and obnoxious, for which she is frequently under severe criticism. Nevertheless, the 'kabhi band kabhi baja' actress picks to ignore the unconstructiveness thrown at her and keeps flaunting.
Read More: Faryal Mehmood opens up about her character in Raqeeb Se
Minal Khan responds to hateful comment   
Minal had been overlooking the public disparagement over her choice of outfits and love life, for a long time. However, the actress is now exasperated of the recurrent trolls, as she decided to give a shut up call to her haters.
Minal Khan had posted a portrait on her instagram handle, in which she had courageously garbed stylized, western apparel. The picture was from an upcoming episode of 'Timeout with Ahsan Khan' with Saboor Aly and Minal as guests. However, the viewers did not approve Minal's outfit and hopped in to throw sick remarks and compliments. And, that was the time, Minal Khan decided to silence the faultfinders once and for all.
Replying to one of the upsetting comments, Minal sarcastically stated "Please lecture somewhere else, move to another shop, we aren't welcoming window shopping here."
This is not the first time the actress has been a target to such mocking comments. Just a few days back, Minal Khan had to endure similar criticism on her portrait with fiancé Ahsan Mohsin.
Read More:  Minal khan and Ahsan Mohsin upset fans with recent post