FRANCE: Thousands of people gather for record-breaking Smurf Gathering in western France on Saturday.
Three thousand five hundred people gathered fighting the fear of coronavirus and dressed up as the blue characters.
The record-breaking Smurf Gathering in France beats the previous record held by Germany. Germany had managed to gather 2,762 Smurfs last year.
According to the organizers of the Landerneau carnival, three thousand five hundred people gathered in Brittany dressed as the characters.
This gathering has beaten the previous title held by Germany. The French Smurf now holds the title of largest Smurf gathering.
About the Character Smurf
Smurf was the outcome of a silly conversation between Pierre Culliford and a Belgian artist Peyo.
Both of them were dining with a friend, who had a momentary lapse of vocabulary. He could not remember the word SALT and asked his friend to pass the "schtroumpf".
Making fun of his friend responded " Here's the schtroumpf. When you are done schtroumpfing, schtroumpf it back."
This all leads to the novel idea and comic strip was shortly born.
The Smurfs are specifically "three apples" tall.
READ MORE: Australia: Women fight over toilet roll as coronavirus panic grows
The answer to the age-old question "What color does a Smurf turn when it's choking?" is purple.
The character Smurf comes from a Belgian comic series centered on a fictionary colony of small blue, human-like creatures. These characters live in mushroom-shaped houses in the forest.
More about Smurf
The character Smurf was introduced by Belgian artist Pierre Culliford (Peyo) in 1958. They were known as Les Schtroumpfs.
There are more than a hundred Smurf characters. They are named as an adjective defining their characteristics.
"Jokey Smurf" was the one who played practical jokes on his fellow smurfs.
The first female smurf introduced in the series was "Smurfette".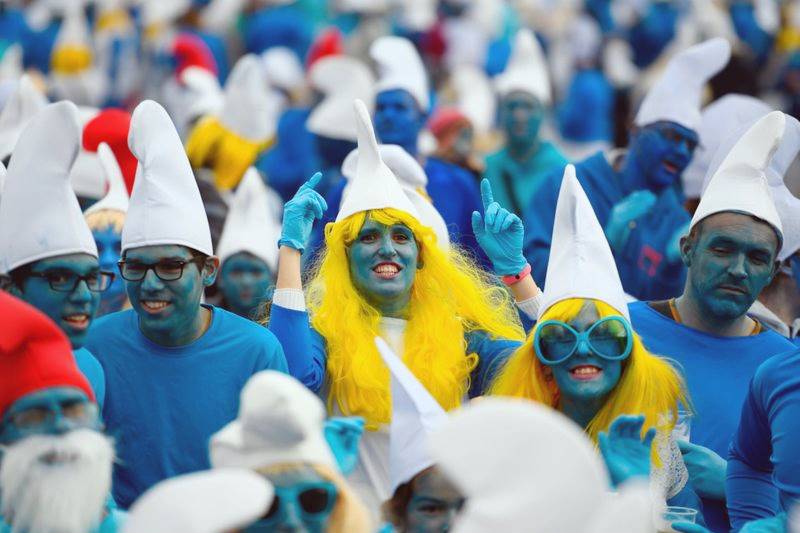 The Smurfs wear Phrygian caps.
The word Smurf is the Dutch translation of French "schtroumpf".
The Smurf franchise began as a comic and extended into films, TV series, advertising, dolls, ice Capades, theme parks, and video games.
READ MORE: 25 killed in Skardu including 2 children as bus plunges into river