Romantic movies compartment of streaming giant Netflix is a small treasure box, with loads of twists, heartbreaks, captivating passion, fits and laughter and much more. However, there are some best of the best Romantic movies on the digital web; you surely don't want to miss.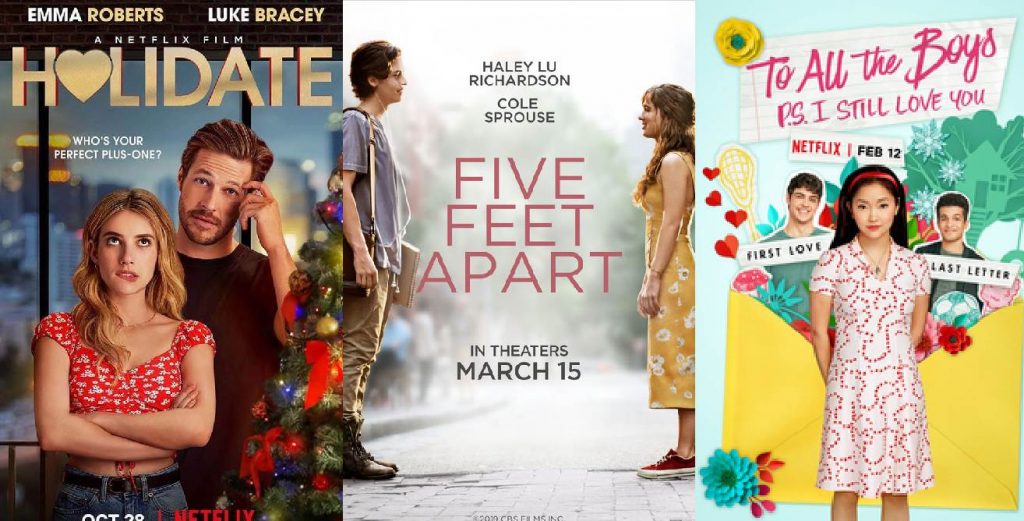 Netflix is a house to huge bundles of movies, TV shows and much more, providing limitless binge on material for every genre subscribers. However, the romantic movies compartment of the streaming giant bags a separate fan base. And, each rom-com or romantic bubble flick premiered on the platform sets forth wide records of viewership.
Hence, if you're looking for some fascinating romantic movies on Netflix, following are the top 10 massively acclaimed titles, which captivated the audience in their mesmerizing romantic aurora, and therefore are highly celebrated on the digital web.
1. To All The Boys
To All The Boys I've Loved Before tops the rankings of most watched Romantic movies on Netflix. The film features an appealing, shy, Korean teenager Lara Jeans, brought to life by the beautiful Lana Condor, who has written five love letters, dedicated to all her crushes since childhood. Lara is too reluctant to send them out, but her younger sister Kitty isn't, as she mails them secretly, bringing huge explosions and turns of events in Lara's life.
The story follows with Lara ending up with one of her crushes, named Peter Kavinsky, played by the mesmerizing Noah Centineo, as they both fake being couple for their own motives.
The movie is comprised of three parts, with the final chapter "To All The Boys: Always and Forever" released earlier this month. All three sagas were immense success, and smashed major records of viewership.
2. Holidate
The running success of 2020, Holidate garnered massive public responses, owing to its delectable timeline and secures a notable rank among the best romantic movies on Netflix.
Fed up with being single on holidays, two strangers agree to be each other's platonic plus-ones all year long. Nevertheless, it's only a matter of few evenings, the two strangers turned bosom buddies catch feelings for each other, but the stubbornness steals the way.
3. The Perfect Date
One of the most cherished titles on Netflix, The Perfect Date is a teen Rom-com flick, starring an adorable duo of Noah Centineo and Laura Marono. Comprised of an intense storyline and hilarious plots, the story follows Brooks Radigon and his greatest life wish of getting admitted in Yale University. However, his middle-class status is the real obstacle, and to overcome it, Brooks opts for a twisted pathway, which is loaded with huge barrels of laughter and a modern world awe-striking love story.  
4. Five Feet Apart
Justin Baldoni's Five Feet Apart is another of American teen romantic movies on Netflix that shattered a million hearts on the way to its high accomplishments. Hence, if you're planning on watching the movie, grab a tissue box just in case.
The story features two young cystic fibrosis patients who develop affection during their drug trials. As every love story has hurdles, the young Stella and Will has the toughest ones. Being intensely attracted to each other, there are boundaries as the couple has to maintain 6 feet distance at all costs in light of their diseases.
Read More: Top 10 most followed Instagram accounts from all over the globe
5. The Kissing Booth
Most watched and the greatest of all times Romantic Comedy flick, The Kissing Booth has an enormous number of celebrators, thanks to its first rate plots and events.  
With two successful chapters and a third awaited this year, The Kissing Booth is a story of two best friends, Elle and lee, whose friendship remains unharmed, until Elle's crush who is unfortunately Lee's brother, messes up the matter, by igniting adorable romance at kissing booth of some carnival. Moreover, the popular one of the brother has also been a childhood crush of Elle, and hence she isn't letting go of him.
But, with Lee's brother in the picture, things get complicated between the two buddies.
6. Love Guaranteed
Set in Seattle, Susan (Rachael Leigh Cook) is a mostly pro bono lawyer for Whitaker Associates who 'goes undercover' to investigate the online dating website 'Love, Guaranteed.' Her client, Nick (Damon Wayans Jr.) has had 986 dates through them with no luck finding love. The three dates she tries go decidedly wrong, and she also goes to secretly observe his 1000th date to make sure he's on the up and up. But, the fate holds some other surprises in store, and maybe dating app isn't where he's supposed to find love.
7. Always Be My Maybe
This film stares Ali Wong and Randall Park, so you know it definitely falls on the "rom-com" side of romance. They play people who knew each other as kids, and re-connect as adults after several years, possibly rekindling their teenage spark.
8. The incredible Jessica James
One of the most spine-chilling romantic movies on Netflix, think of this as a more romantic version of Strangers on a Train: Two lovelorn people admit they won't stop checking in on their exes on social media, so they make a pact to stop following their own exes and follow each other's instead. What could go wrong? In addition to a thorny romantic situation, this movie features a breakout performance from The Daily Show's Jessica Williams.
9. Set It Up
Two overworked assistants when tired of their boring routines come up with a plan to get their bosses off their backs, by setting them up as a date. The team work starts professionally to seek some me-time and proceeds with intense friendship, and a lot more.
10. Rebecca
A young newlywed arrives at her husband's imposing family estate on a windswept English coast and finds herself battling the shadow of his first wife, Rebecca, whose legacy lives on in the house long after her death.
Read More: Ryan Coogler to fetch 'Wakanda' series for Disney+ outlet