The top-notch soulful voice Asim Azhar is back with another beautiful melody Soneya, dropped on Youtube yesterday. The song has proven to be a comeback for illustrious and skillful singer Asim, as his previous songs faced lots of criticism from the audience.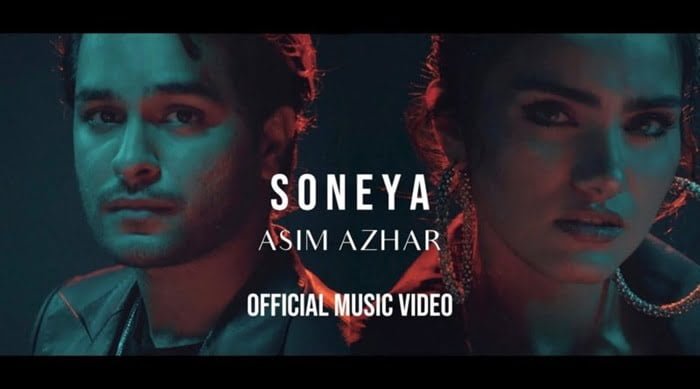 Asim Azhar, who was a recent target of social media trolls for ongoing Hania-Asim controversies, has slammed the haters with his new single 'soneya.' The heart touching soundtrack was released about 18 hours ago on Asim Azhar's official Youtube channel and within a few hours, the song has crossed 506K views with 76K likes.
In addition, the heartfelt song Soneya by Asim Azhar is garnering huge appreciation and positive feedbacks from the viewers, for its extremely sentimental and evocative lyrics. It looks like the fans had high hopes for this new rendition as the song went viral as soon as it was released.
Read More: Asim Azhar talks about getting friendzoned by Hania Amir
About Soneya:
Asim Azhar's beautiful rendition soniya has been written by Indian song-writer Kunal Verma, however the song is composed by Asim himself.
The adorable voice of Pakistan, Asim Azhar announced his new sound track Soneya a couple of days ago on his Instagram and twitter profiles. Jo tu na mila singer hinted the expression of his feelings through his upcoming song. He captioned:
"I am somebody who is driven by his art. I like my work to talk. I like to speak thru my actions, rather than pointless banter, especially on the internet. I am extremely grateful for being able to create art that I want & to show it to the world. I am happy where I am, I am content, Alhamdulillah. I am constantly working towards making myself better, a better son, a better friend, a better artist & above all, a better human. And I pray that we all find happiness & peace within ourselves & deal with all the challenges that we face with as much patience as we can."
Later, Asim posted a teaser of his new heartbroken anthem on his Instagram, sharing a small part of lyrics from the song as caption. Soon after the first look was dropped, the audience became exhilarated, praising Asim for his masterpiece.
Moreover, the singer seemed very excited about his upcoming musical video as he was spotted updating the fans about its release every now and then.
Soneya has proven to be fortunate for Teriyaan singer, as his previous songs were not much successful. The song is collecting critical acclaims from the audience, as you can see from the tweets below:
Asim Azhar's earlier song 'Tum Tum':
Previous month, Asim released his other single Tum Tum, featuring the emerging talents of Pakistan. Asim had collaborated with young stunners for 'tum tum' and also starred the famous tiktoker Areeka Haq. The song has outreached 5.7 million views so far. However, the feed backs were not that encouraging as the track became a center of memes for a very long time.
Nevertheless, with his new blockbuster performance in Soneya, Asim Azhar has put an end to all social media trolls and memes, once again maintaining his rank among celebrated singers of Pakistan.
The musical video of Soniya by Asim Azhar is attached below:
Read More: Daimi Bahar – Hadiqa Kiani pays tribute to Kashmir martyrs