The American action comedy titled The Sleepover is scheduled to hit globally famous streaming service Netflix on August 21st, 2020 which is this coming Friday.
Top notch entertainment forum Netflix is always working on each of its movies' categories, providing bundles of movies every month for its users. Lately, Netflix seems zestful specifically for children and family-friendly contents, bringing out the best light-hearted family packed screenplays.
Likewise, Netflix's forthcoming children's comedy The Sleepover is a whole bundle of feel-good family adventure that takes a cue from movies like 'Spy Kids' and 'Kungfu Panda.'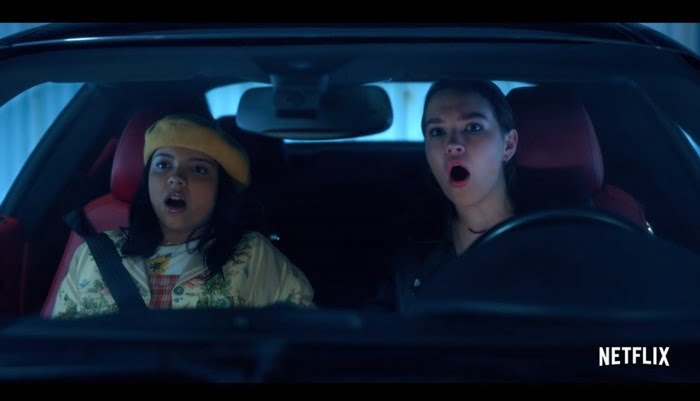 However, there's a twist. Astoundingly, the courageous, unflinching and adventurous kids' gang of The Sleepover will be shielding their abducted parents.
Read More: Netflix's The Devil All The Time to star Tom Holland, Robert Pattinson
Plot summary of The Sleepover:
Approaching Netflix Sitcom 'The Sleepover' brings you a night full of light-action, riddles and clues and whole barrel of comedy, wrapped with youngsters utilizing their brains and ninja techniques in rescuing their missing parents.
Everyone has a past they leave in the dust. So does Margot, an apparently perfect wife and mother. However, little does her family know that she's a former criminal and outclass thief. Moreover, when Margot's past profession crosses path with her happily married life, she gets in great trouble.
In this one-night comedy The Sleepover, Margot and her innocent husband gets kidnapped by a group of dangerous robbers, linked with Margot's ex life. Nevertheless, when her valorous children learn about their mother's past life after their parent's sudden disappearance, Clancy and Kevin, along with a bunch of friends, teams up for 'rescue mission.'
The young mischievous gang will now follows clues after clues, in order to bail their abducted parents.
The official Synopsis reads:
"In this family adventure-comedy, Clancy (Sadie Stanley) and her kid brother Kevin (Maxwell Simkins) discover that their seemingly normal stay-at-home mom Margot (Malin Åkerman) is actually a former high-end thief in the witness protection program. When both their mom and dad (Ken Marino) are kidnapped and forced to pull one last job with an ex-flame of Margot's (Joe Manganiello), the siblings must team up to rescue their parents over the course of one action-packed night that they'll never forget."
Cast:
Directed by Trish Sie of Pitch Perfect 3 and scripted by Sarah Rothschild, The Sleepover casts:
Sadie Stanley as Clancy Finch
Maxwell Simkins as Kevin Finch
Malin Akerman as Margot
Ken Marino as Glen
Dalila Bela as Lucy Forester
Mallory James as Holly Smith
Jayden Bartels as Laura Forester
Lucas Jaye as Lewis
Furthermore, The Sleepover has been produced by Mickey Liddell under the banner of LD entertainment, and will be premiered as Netflix Original Film on August 21st.
Below attached is the official trailer of The Sleepover:
Read More: Engin Altan Duzyatan aka Ertugrul to visit Pakistan